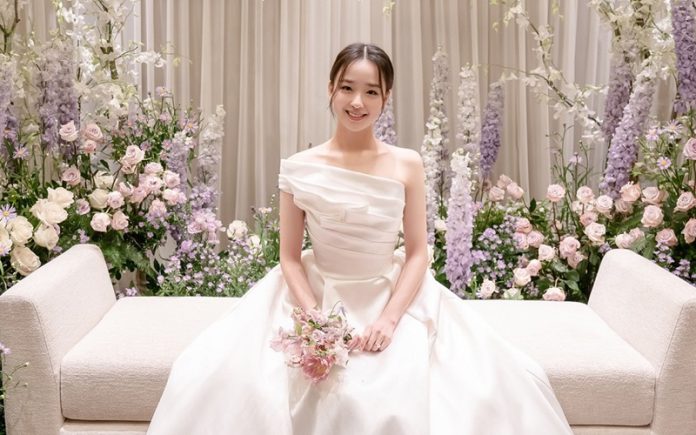 Roowedding.com – Korean style has been popular among the world not only in K-Drama, movies, and singers but also with their flawless makeup and fashion design. Even in wedding dress style, some Korean looks have become a trend recently. It's no surprise that modern brides are interested in learning how to incorporate Korean style into their wedding gowns. Simple elegant Korean wedding dresses mostly have minimalists with fewer appliques and modest designs.
Look at these Korean wedding dress ideas down below! From a long skirt that is very large to the short wedding dress that would make you look elegant to walk down the aisle. It's worth noting that Korean wedding dress trends are inspired by international designers and the latest wedding trends in order to create stunning wedding gowns. Not forgetting, they usually prefer more to simplicity and elegant style even with fewer details.
So, if you are interested now, let's find out about the 16 simple elegant Korean wedding dress styles that would inspire you with stylish gown collections ever. Without any further ado, let's check them out down below!!!
Modern Hanbok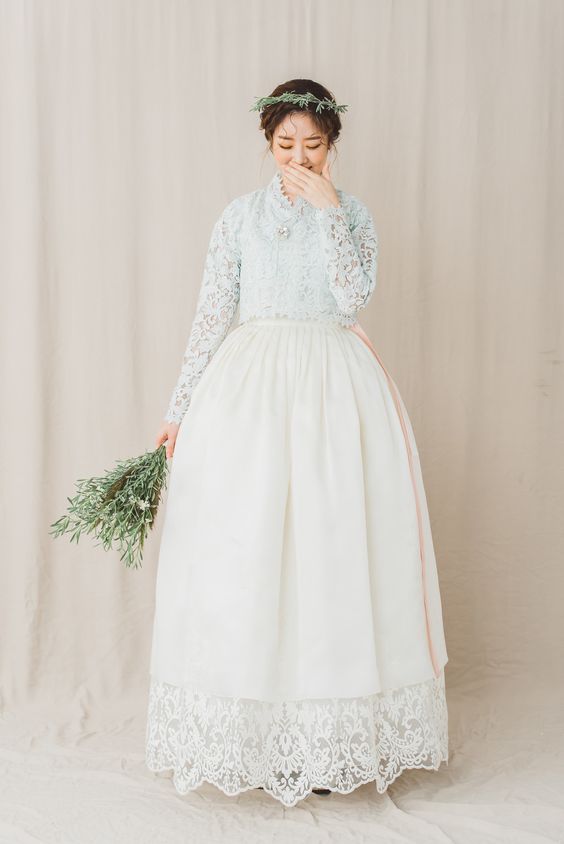 Do you want to still honor your Korean heritage in a modern wedding? For this, you can wear Korean hanbok wedding gowns have been a choice for traditional bride's fashion for centuries. Fyi, Korean hanbok designs and styles are constantly evolving. While tradition says that the bride, groom, and family members should wear specific colors (generally, the bride in red and the groom in blue), recently modern couples may opt for a colored nontraditional wedding dress that combines in traditional hanbok style. You can get a simple elegant Korean wedding dress by turning your hanbok moderntly using lace fabric and choosing pastel coloring.
Elegant Off-Shoulder Mermaid Dress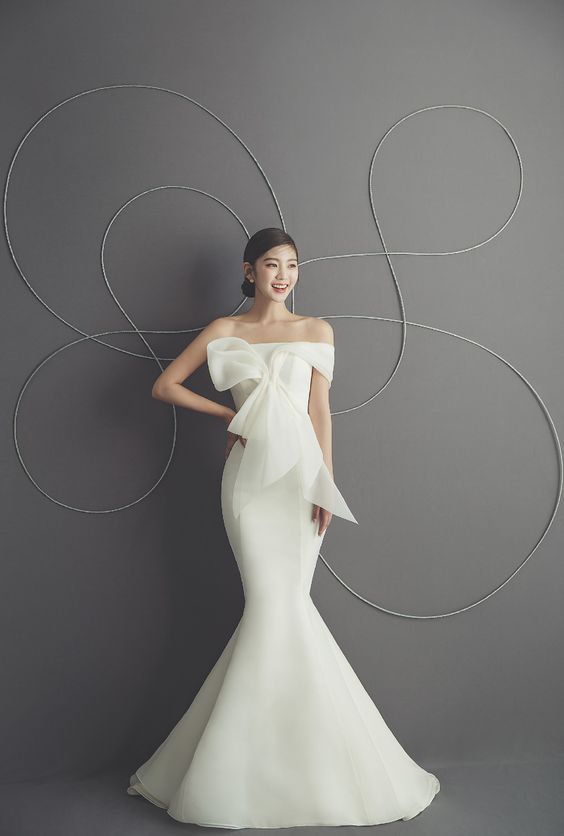 If you want a wedding dress that perfectly draws your body silhouette, this mermaid dress is what you need. Designed in an off-shoulder sleeve with a big ribbon in front as an adornment. This makes you get a simple elegant Korean wedding dress to help you look stunning on your big day. This dress is perfect to wear both for indoor and outdoor wedding ceremonies.
Rustic Blush Wedding Gown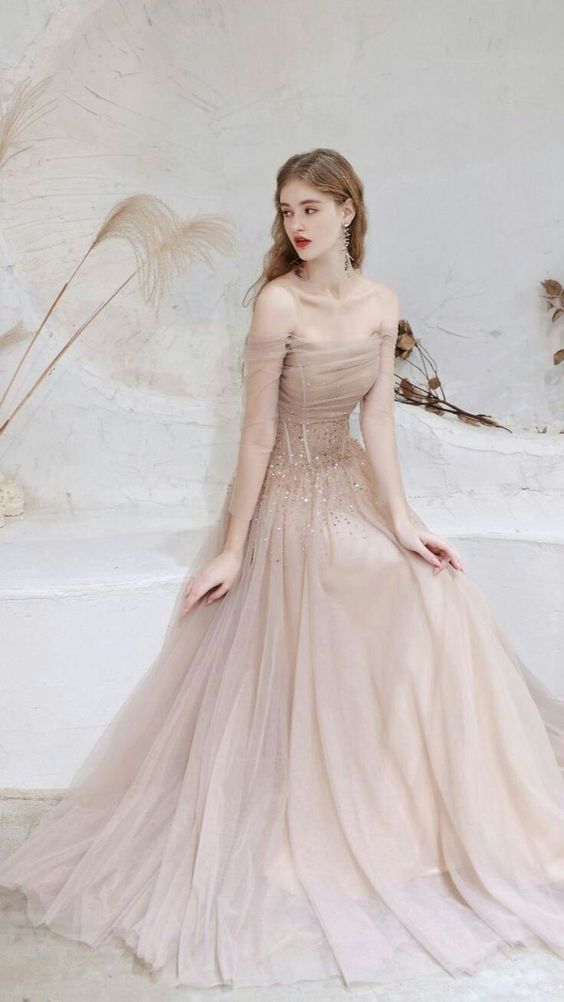 When you feel bored with a traditional white wedding dress, as a modern bride you can choose different colors. Like a blush wedding gown that would look elegant to wear at your spring and summer weddings. You can pick a cream blush chiffon dress with off-shoulder sleeves that seems breezy and comfy to wear during hot weather. This simple Korean wedding dress should you included in your list when you want to marry with a rustic bohemian wedding concept.
Simple Sheath Square Neck Satin Vintage Half Sleeve Dress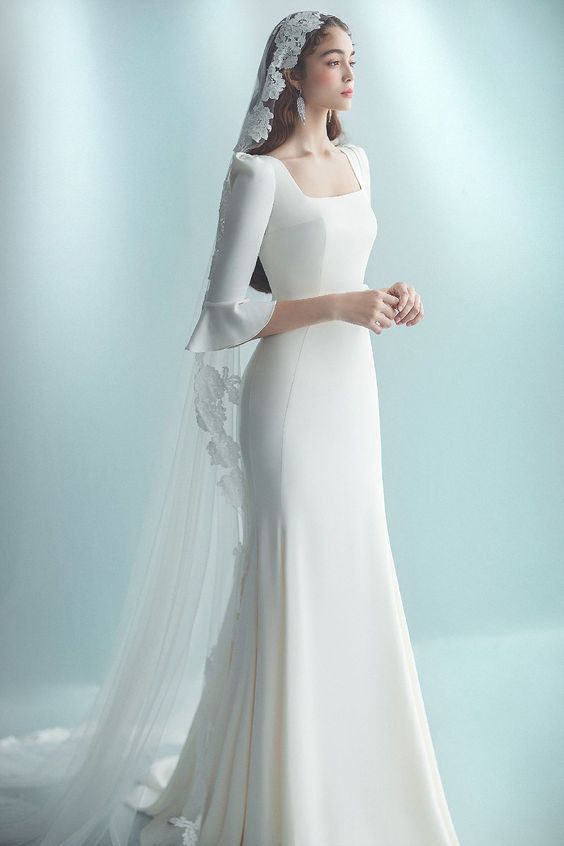 This wedding gown emphasizes the bride's chastity! Not only that, this simple sheath square neck satin dress would make you look elegant effortlessly. In addition, you can give a lace veil to your hairstyle to bring a vintage feel to this bridal gown. This simple elegant Korean wedding dress style is mostly used in formal and sacred wedding ceremonies. Like when you tie a knot in the chapel or church.
Off Shoulder A-Line Dress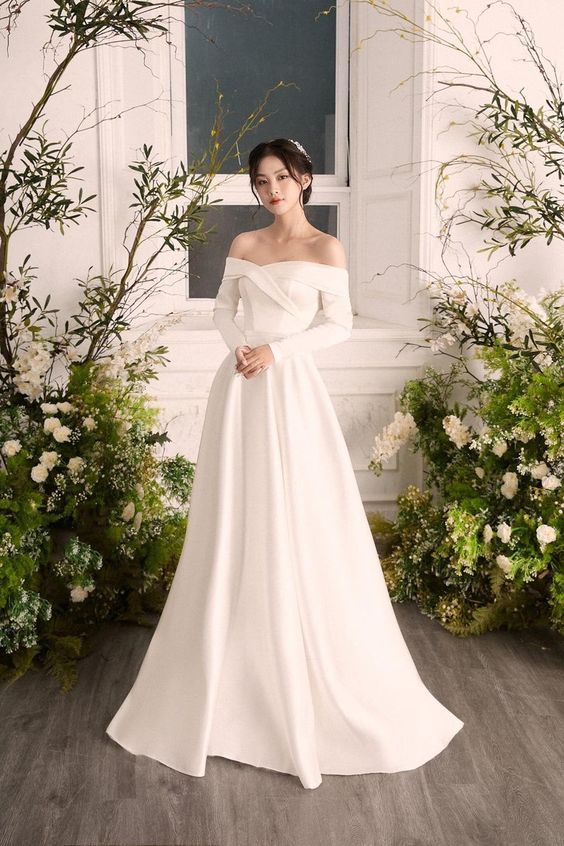 Another simple elegant Korean wedding dress style to include on your list is this a-line dress. I believe this dress would wow the guests from the first time you enter the wedding venue. You'll catch all people's attention as the center of attention in your big moment. This dress also would make you look a bit flirty with an off-shoulder style that reveals your up body beautifully ad elegantly.
Tea Length Wedding Gown with Puff Sleeve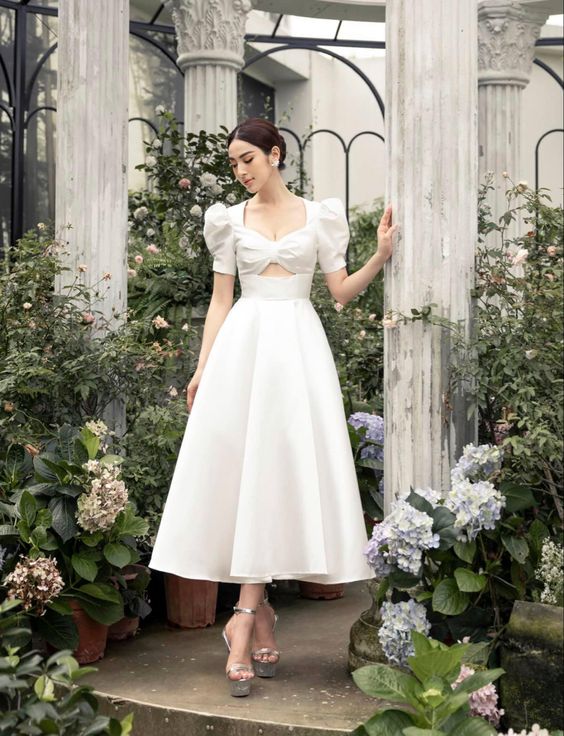 Planning for a gardening party or outdoor wedding? This tea-length gown would support your moment perfectly. Getting married not always wear long and large gowns but simple short or middle-length dresses can become an option too. Generally, traditional brides opt for very long dresses with fishtails on the back. Even though it looks beautiful, but can make it difficult for you to freely move in an outdoor wedding venue. That's why this simple elegant Korean wedding dress style should you consider.
Strapless Gown with Cape Lace Sleeve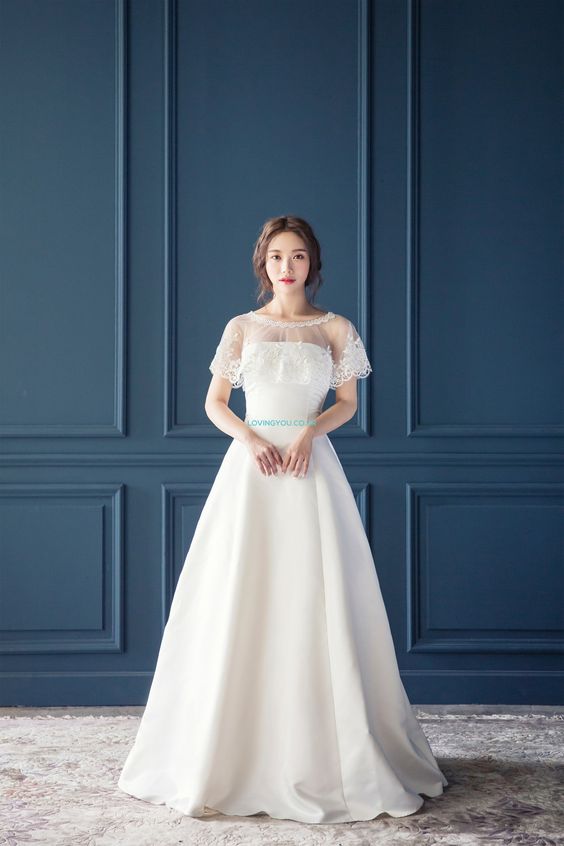 Want to look sexy without revealing too much? This strapless dress with lace cape sleeves is the answer. This allows you to have two styles in one gown. When you need a gown for the formal wedding ceremony, drape a lace cape over your shoulder. After you've tied the knot with your partner, you can remove the cape and just leave the strapless dress as a casual wedding after-party dress.
Halter Neck Dress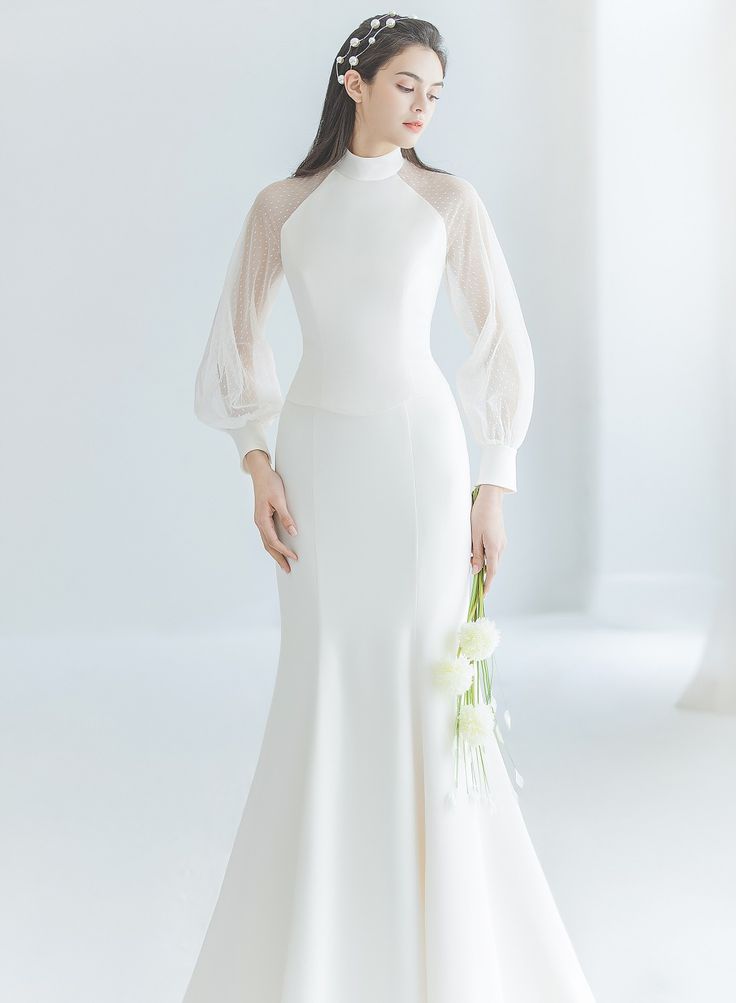 When exchanging vows with your soulmate, made a custom gown to elevate your appearance at a special moment in your life. You can find inspiration from this simple elegant Korean wedding dress that brings a classy look. A halter neck column gown with transparent long sleeves would steal the show. With a high neckline perfectly framing the bride's face and without any jewelry detail, it still makes you look gorgeous. Besides, this dress can be your bridal gown idea in an eco-friendly wedding concept because you can rewear it at any moment.
Simple See Through Puff Sleeve Ball Gown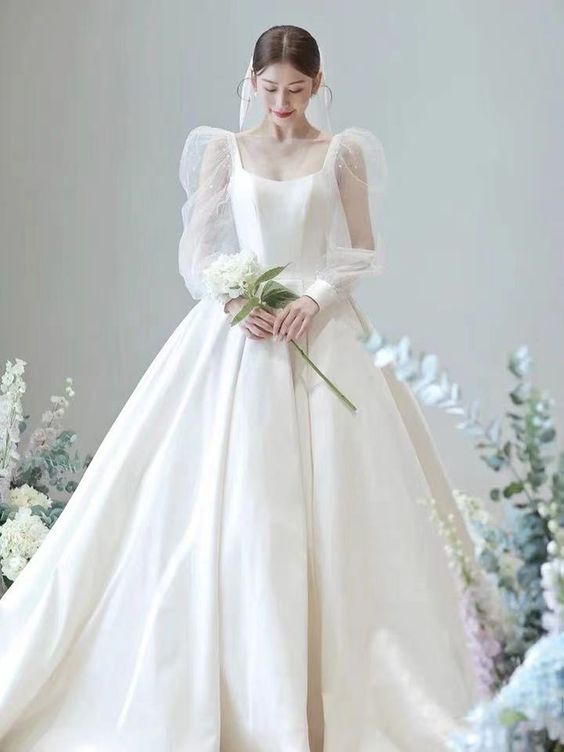 Marriage is one of the best moments in your life, where you'll become a princess in a day. When you marry your soulmate and begin a new life, you want everything to be perfect. Based on this idea, you should wear this puff sleeve ball gown to your wedding. This simple and elegant Korean-inspired wedding gown style will make you look like a princess from a fairy tale.
Floral Printed Bohemian Dress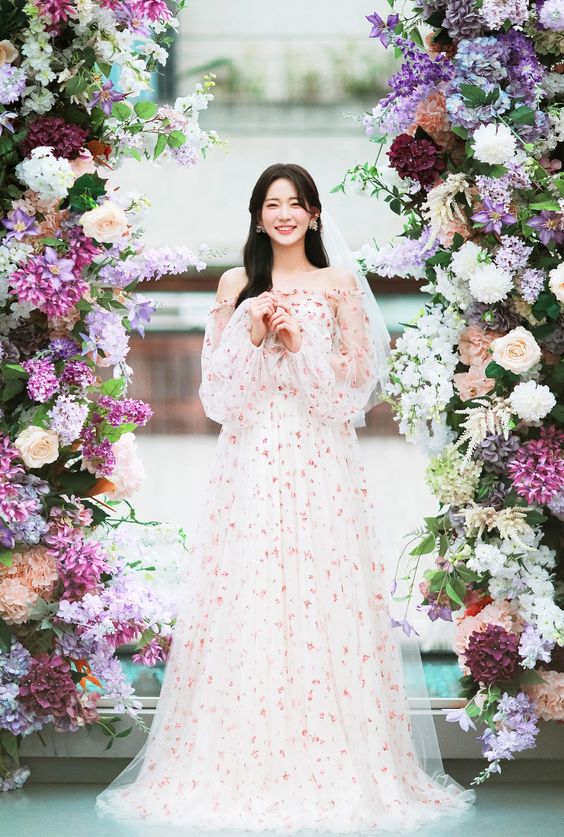 Deliver spring and summer to your wedding gown with this floral printed dress. As you can see, this gown is not only unique but also can elevate your appearance while you tie the knot with your partner. Because this dress is perfect for summer, make sure to design it comfortably with light fabric. You can prefer chiffon, lace, or tulle for the option. Also, don't too much use layers for the skirt. Furthermore, you can use an off-shoulder sleeve or strapless style to bring a breezy feel to your gown.
Vintage Satin Wedding Dress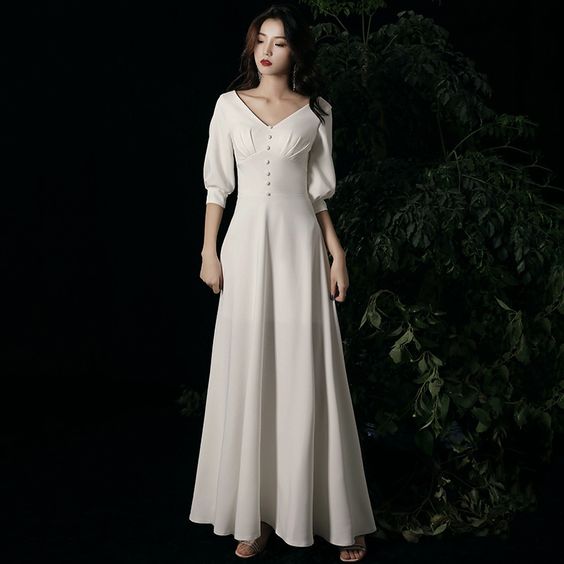 For those who love vintage style, this bridal gown would into you! A v-neckline satin dress that is adorned with false buttons in the front would make you feel like stepping out of the palace. This simple elegant Korean wedding dress idea is most favored among K-drama fans. To make it look dramatic and romantic, you can pair it with a long veil.
Spaghetti Strap Midi Dress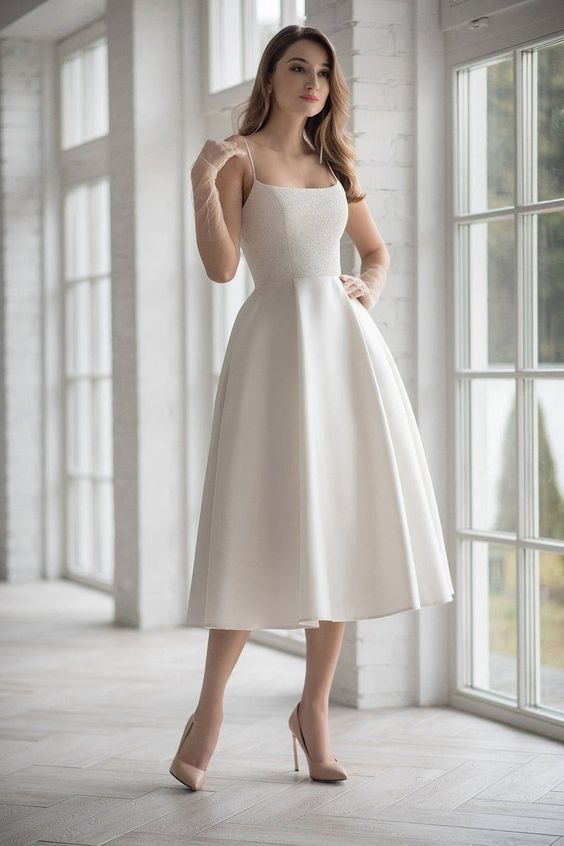 This flattering spaghetti strap midi dress is a charming choice for an outdoor wedding, an easy-to-dance-in choice in the reception, or if you're just not into floor-length gowns. The faux wrap cinches the waist, and the a-line skirt adds an elegant hint. This simple elegant Korean wedding dress would be perfect for you bride who has a petite body. Then, you can give the finishing touch by having transparent lace gloves in your hand.
Minimalist A-Line Boat Neck Gown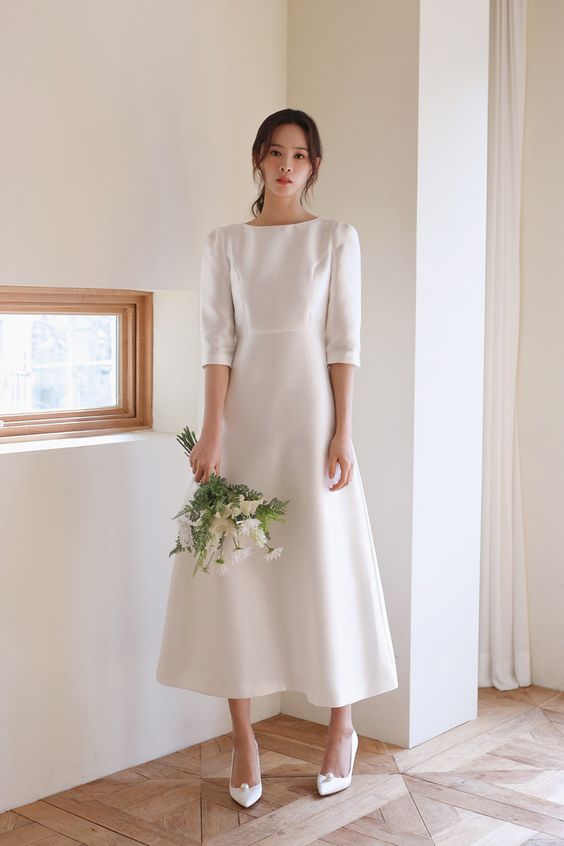 Looking for a minimalist dress for your wedding? Get inspiration from this simple elegant Korean wedding dress! When you are watching K-dramas or searching on Pinterest, this wrap dress is a versatile option. The half sleeve would make you feel chic yet elegant to stepping out on the wedding aisle. The typical midi ankle length from this gown would help you who have a short and petite body look outstanding on your big day.
Adorable Lace Bridal Dress with Floral Appliques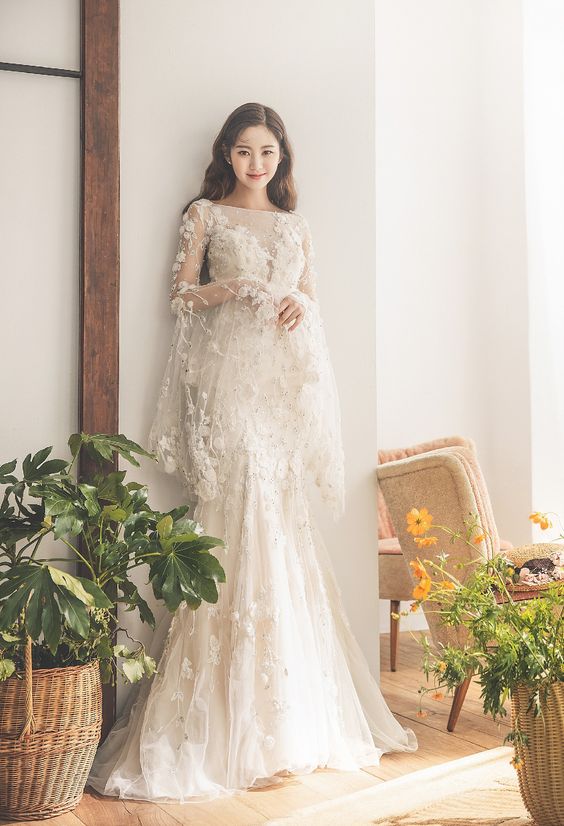 If you don't want fluff and frills, make a glamorous wedding gown out of lace and floral appliques. With sheer illusion in your gown and approach of the soft mesh would elevate it to have a more beautiful. You can have a chiffon dress that's embellished with 3D floral appliques or embroideries that would truly make you stunning when you walk down the aisle. It maintains a modest appearance with careful material placement. This keeps your wedding gown style chic yet romantic. Some dresses even have complicated floral lace detailing, which can add deepness to your simple dress. Even this simple elegant Korean wedding dress is suitable for your beach wedding, bohemian wedding, and industrial wedding concept.
Strapless Split Wedding Dress with Extra Bolero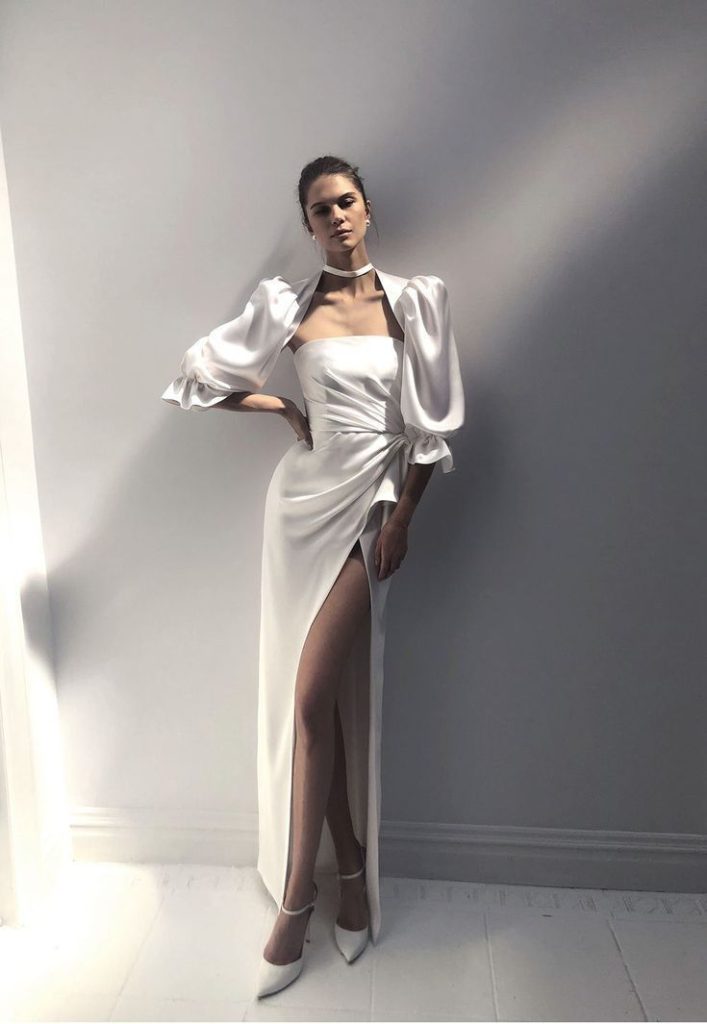 This dress is evidence of elegance, simplicity, and sensual drape on your body. Nothing can exude the sensuality of your silhouette beside a long slit silk/satin dress. Comes with a strapless dress that has an additional long sleeve mini bolero offering a flirty appearance yet elegant. I suggest you wear this dress to your casual wedding rather than a formal one or become your second after-party dress. As you see, its daring tight high slit demonstrates sexuality.
Modest Satin Short Sleeve V-neck Wedding Dress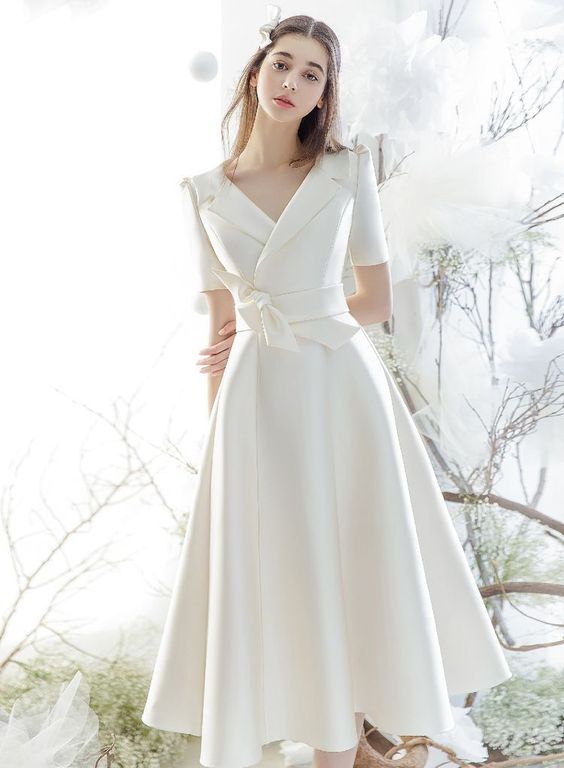 Deep plunge necklines will remain popular in simple elegant Korean wedding dress styles for brides who want to add a flirty touch. If you are not too brave, go for this stunning v-neckline midi dress. Even so, you'll look elegant with a slight reveal of your neckline. Choose satin or silk that is completely smooth on your body's silhouette. Make your gown stand out by making the top look like a blazer rather than a traditional gown. You can also use a ribbon to define your waistline perfectly.
So, which simple elegant Korean wedding dress that you want to wear? Every woman undoubtedly has a perfect wedding dream concept in mind, and it's not far from the wedding gown. From all the styles and designs above, they look fabulous with their charm. Don't be too confused about it, just choose what really into your style, makes you comfortable, increases your confidence, and also brings your personality. Because this is the big moment in your life, make it perfect and unforgettable!!