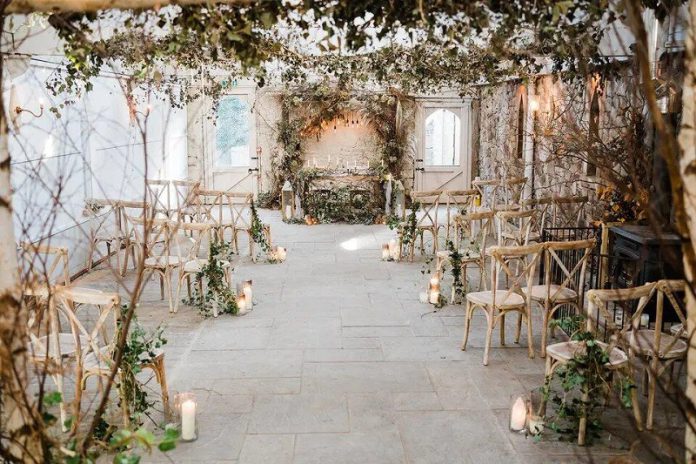 Rowedding.com – Do you plan on a rustic wedding? If you are planning with that theme, you need to draw it on your aisle decoration. As the main stage of your wedding ceremony, rustic wedding aisle decor generally adheres to a natural aesthetic with organic elements such as wood, both fresh and dried flowers, textured fabrics, and more. That is why it is important to research your favorite wedding aisle decor ideas ahead of time in order to create the ideal mood and wedding atmosphere in the indoor or outdoor wedding venue.
Your wedding ceremony and reception are the ideal places to show off your personal taste in a fascinating wedding theme. Not to mention, your walk down the aisle is one of the most important parts of your marriage. Therefore, as the focal point in your wedding venue, you should prepare your aisle properly. We suggest you try rustic wedding aisle decor that combines natural elements in your wedding decor. So, without further ado, here are a few ideas for incorporating rustic elements into your wedding aisle.
Classic Romantic with Lantern Decoration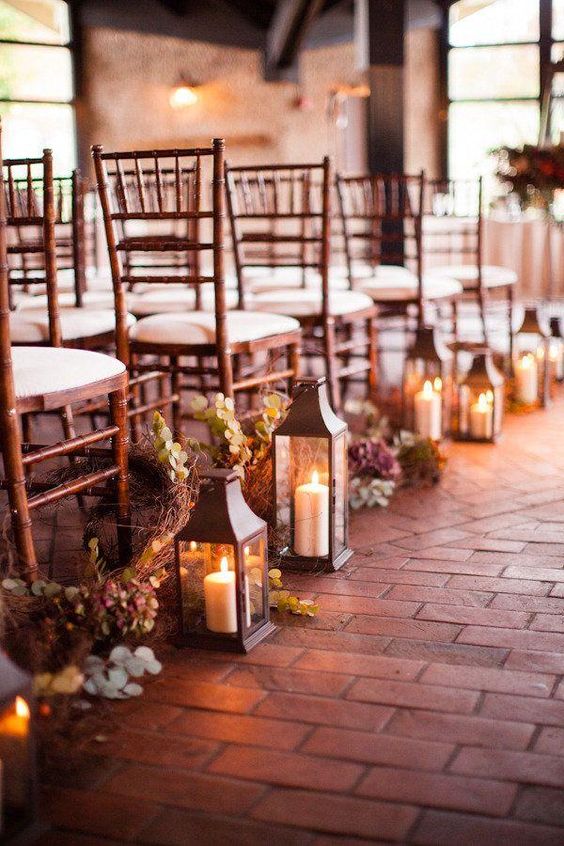 Get classic lanterns on top if you want vintage decor and whimsy for your rustic wedding aisle ideas. For this, you can place it on each side for aisle markers near the outside guest chairs. To have a full concept, you can also add some dry twigs, greenery, and beautiful flowers that would complete your best wedding aisle design. As personally, I love this decoration because it can give a romantic vibe to both indoor and outdoor wedding ceremonies.
Use Bloom Decorations for Spring and Summer Wedding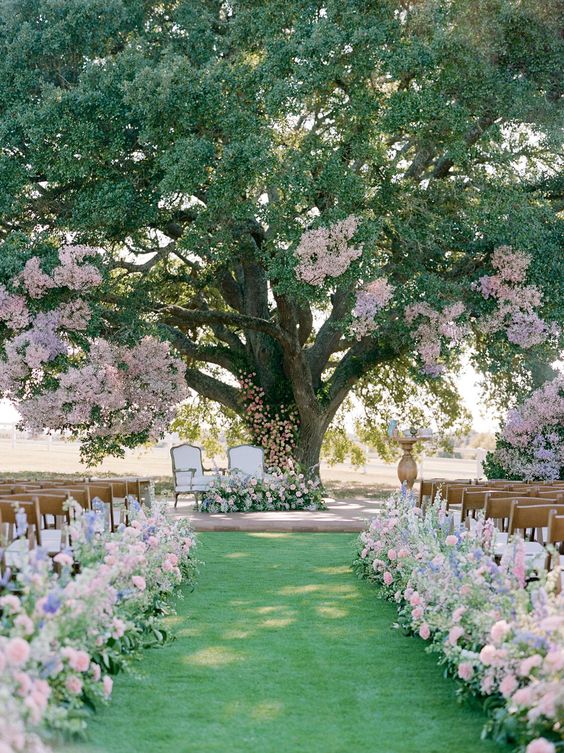 Have you come up with a beautiful way to decorate your spring and summer wedding? Consider using fresh flowers to decorate your wedding aisle. The bride had one goal in mind when designing the ceremony with this idea: flowers everywhere. You can use white, blush, and pastel flowers to beautify your aisle markers, backdrops, and wedding arch design. Not only that but the blooms are also attached to the backs of the chairs and hung from the tree. You can hold your wedding outside with this rustic wedding aisle idea to create an earthy and fresh ambiance for your wedding reception.
Dark and Bold Wedding Aisle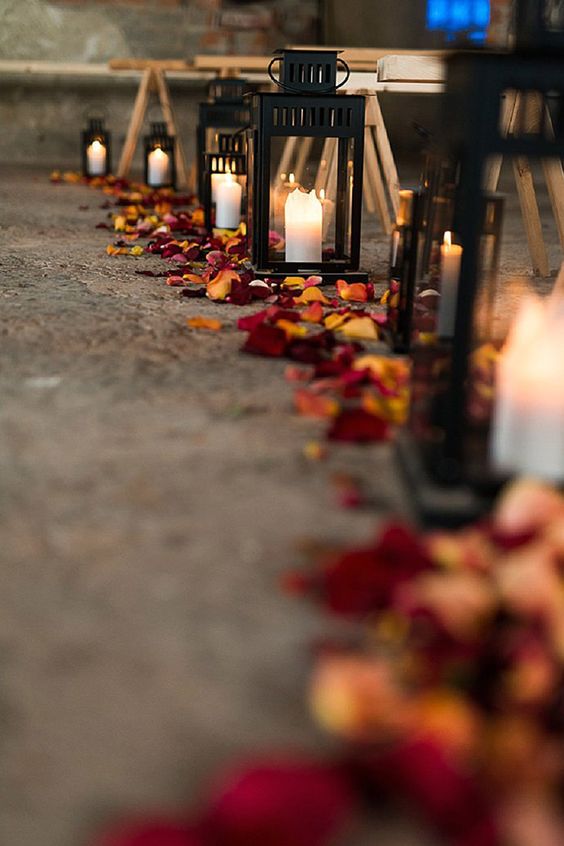 Visualize the atmosphere of your wedding ceremony with decorations. When you want to have a slightly darker but elegant look, you can start with the wedding aisle. For this thought, you can use a dark and bold color scheme to create a rustic wedding aisle idea. To decorate your aisle, for example, get a black lantern with burnt orange and red rose petals.
Rustic Bohemian with Dried Flowers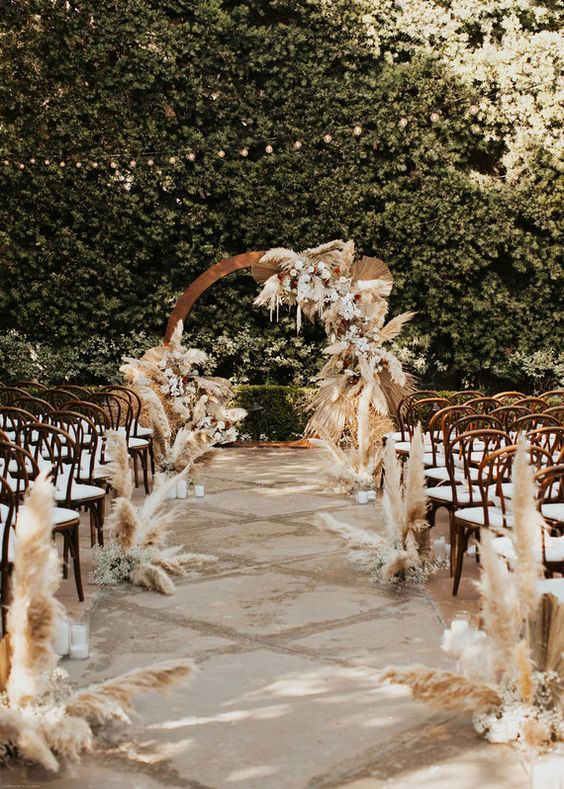 You should get these dried flowers to create a rustic wedding aisle decoration idea. It can be used as a backdrop, wedding arch, runner, or aisle marker. Aside from that, if you like a bohemian wedding theme, this decorative accent instantly gives your wedding a relaxed, free-spirited appearance. One of the most favored dried flowers for decorations is pampas grass. Choosing this adaptable element would give your wedding aisle a contemporary look. Furthermore, with this bohemian decorative accent, you can also draw fall weddings chicer and beautifully.
Hanging Decorations with Greenery Garlands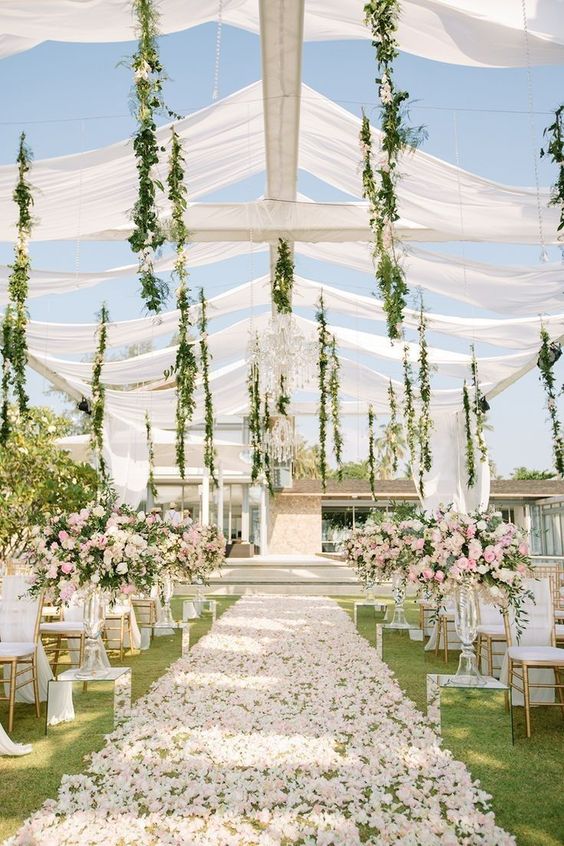 If you want to have a luxe with a rustic wedding aisle decoration idea, get these hanging greenery garlands. You can apply them to enhance your wedding aisle to have a more fascinating look while giving a natural touch. Add more additional decorations such as white rose petals, blush flower arrangements, and light linen to make a romantic statement.
String Lighting for Decorating Aisle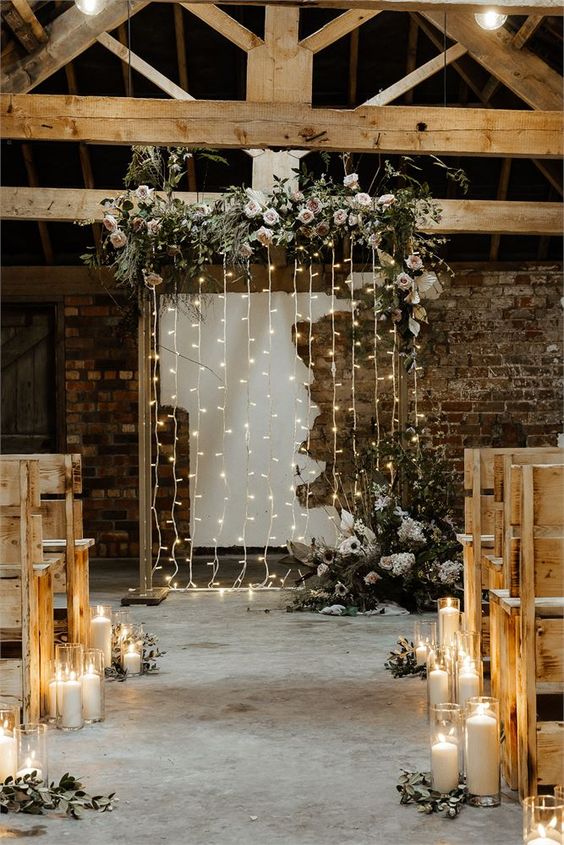 A string lamp is the most favored lighting to create a whimsy wedding. Not only that, it can be used to adorn your rustic wedding aisle decor. What you should do for this is by hanging it in your wedding arch. To have a complete concept, you need candles, greenery, and flowers, then choose wooden benches for guests to sit on. Not only look beautiful in photos, but this kind of lighting can also add a romantic ambiance.
Blush and White Decorations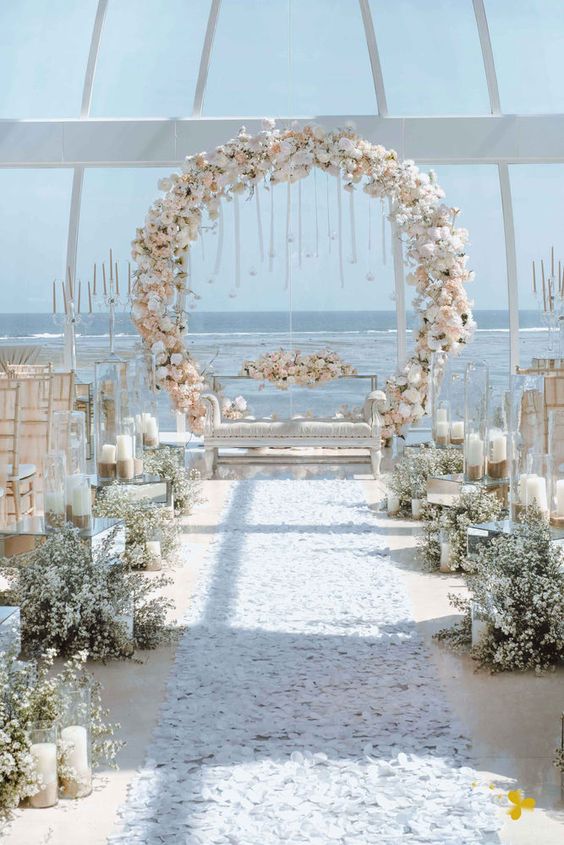 One of the most adaptable wedding aisle decor ideas is to incorporate flowers. You can change the flowers to fit your theme. If you are looking for an idea for minimalist rustic wedding aisle decor idea, opt for white and blush decorations. Choose white and blush flowers to add texture and charm to your aisle. Then give another rustic accent like candles, wooden chairs, and rattan crafts to emphasize your simple wedding.
Simple Elegant Indoor Wedding Aisle
Don't want to settle for just a simple aisle runner or petal lining? Get experimenting with both! For this, softened the look and added a romantic vibe by using high-gloss white flooring linen as an aisle runner then using white and blush flower petals along the sides. To top it all off, arranged statement candles in glass vases and then get a mini white flowers bouquet for aisle markers which also become chair decorations. This elegant rustic wedding aisle decoration idea would give you a romantic indoor wedding.
Ethnic Bohemian Rugs for Aisle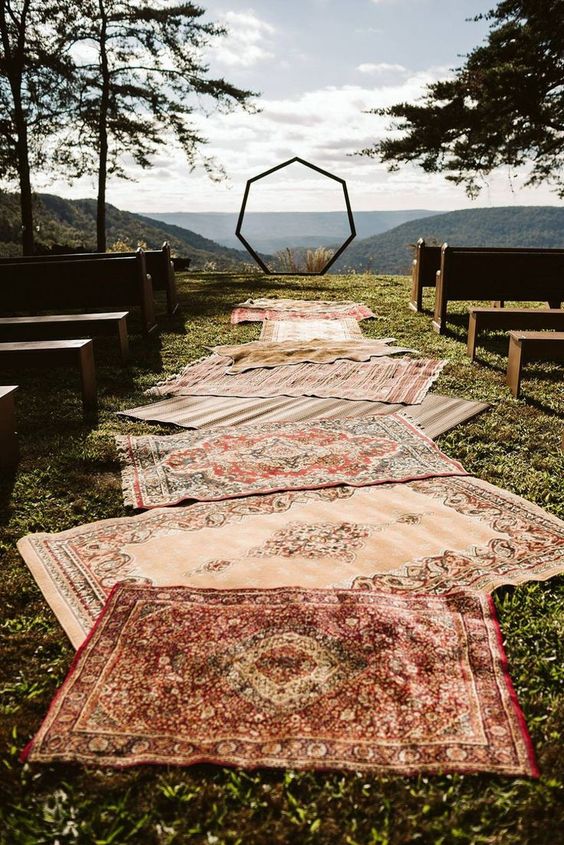 Use different rugs along your aisle for a chic bohemian wedding. Mismatched vintage and ethnic rugs would help to give your closest families and guests a boho and homey feel. For this, you can visit local thrift stores to find unique rugs, and add a geometric wedding arch to your aisle for a rustic-chic look. Besides, you can give a pampas grass to elevate a rustic wedding aisle decoration idea.
Pumpkin Decoration for Fall Wedding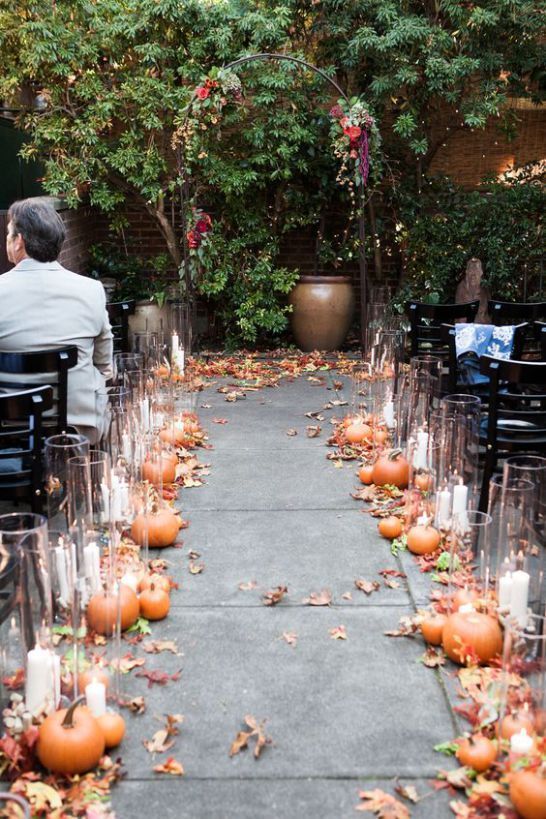 When used as aisle markers for a fall wedding or Halloween wedding theme, bright orange pumpkins could make a statement. If you don't like the orange color, you can still get the vibe with white pumpkin decorations. To add a more romantic and intimate atmosphere, hold your wedding in your family's backyards. Then, let fallen maple leaves help to complete the rustic wedding aisle decoration idea. You can also add a warm feel by using candles in the glass jar as aisle marker designs. Furthermore, for the wedding arch, get a simple one with a bit of bold-colored blooms and greenery.
Farm House Inspiration for Wedding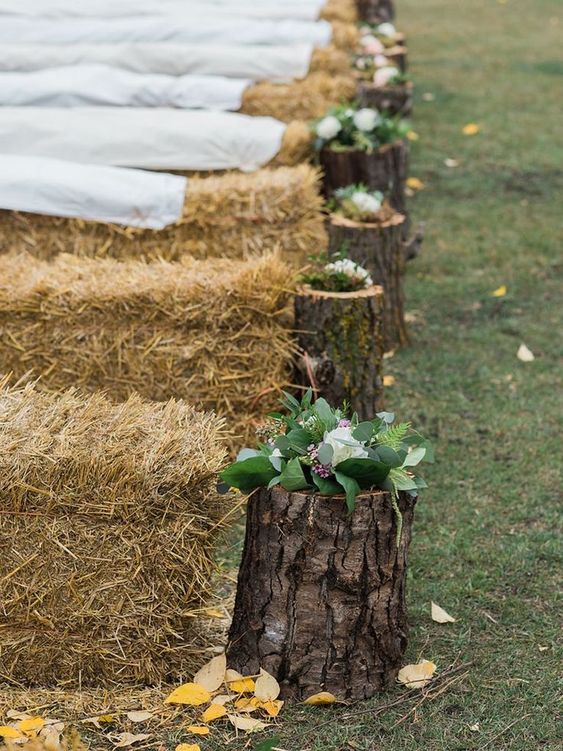 Elevate your wedding venue with timeless, rustic-chic wedding aisle decor, like this farmhouse-inspired decor. Mark your ceremony spot with tree trunks on the ground and wildflowers on top of it. For a more accent, you can use ricks to make chairs for a rustic wedding aisle decor idea.
Industrial Wedding Aisle Design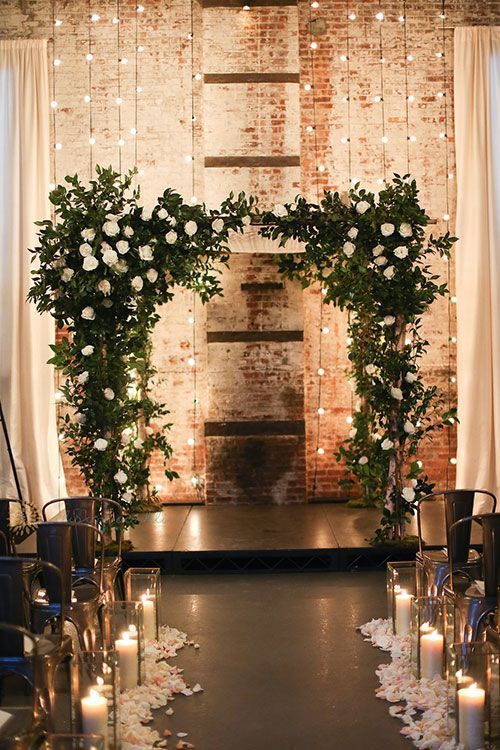 If you prefer to hold an industrial wedding theme, you can adorn your aisle with a rustic accent. For decoration inspiration, take advantage of unfinished bricks to become contemporary backdrops, then stand a white and greenery wedding arch in the middle of it. To have a complete guide about rustic wedding aisle decor, bring candles in the glass to give a warm vibe and a slight whimsy. Moreover, when you add string lighting in the back, it would perfect your contemporary and rustic aisle design.
Natural Forest Look with Greenery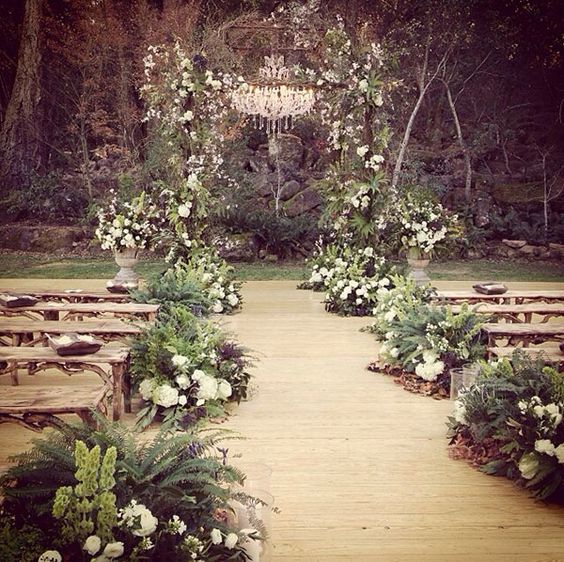 If you're having a backyard or woodland wedding, take inspiration from nature to decorate your aisle. You can customize your rustic wedding aisle for the ceremony that holds among trees, creating an intimate secret garden vibe. For an enchanted-forest theme, decorate trees with a beautiful mix of wildflowers and ferns. Use wooden benches to elevate a more natural look. Also, have white and greenery decorations to look more natural forest.
Aesthetic Recycled Bottle for Decoration Idea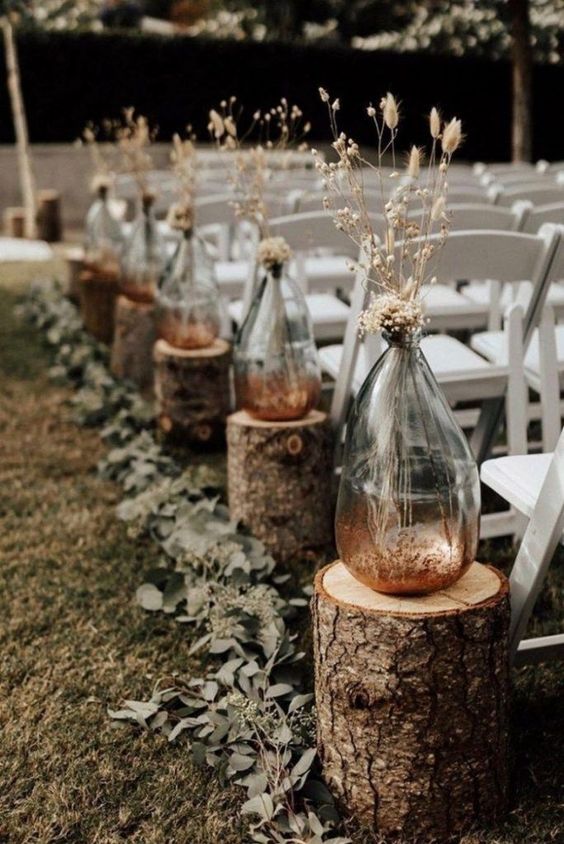 Using recycled jars or bottles as a wedding aisle decor idea is the most iconic item eco-friendly wedding theme. If you want to go with rustic decorations, you can fill them with baby's breath or dried flowers. Then, place it on the chunk of wood to give more natural elements. You can also add a hint of greenery like eucalyptus to the ground to become a wedding aisle runner.
Combine White Flowers and Greenery for Aisle Runner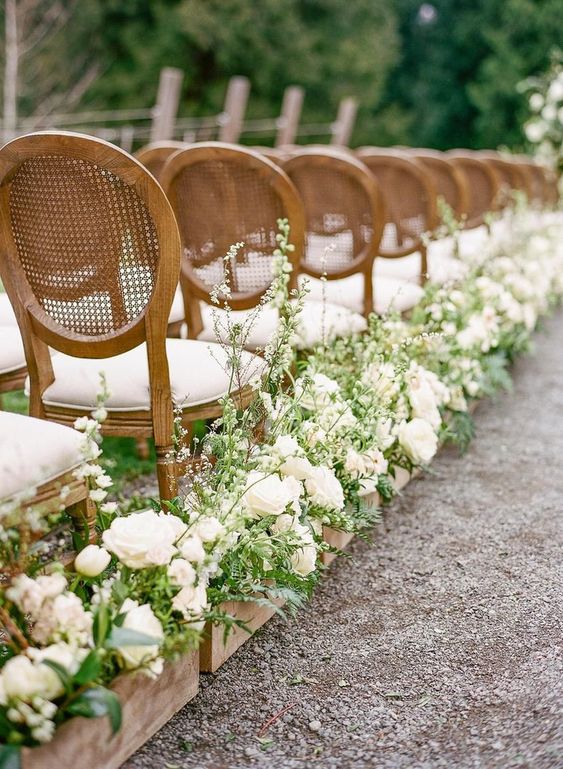 Plan to install some white flowers and greenery on the ground along the aisle as a runner to create a natural look. We love how it blends well in brown wooden chairs in your wedding ceremony decor. You can get to arrange the flowers and greenery on the wooden box that seems neater and easy to get moved. This rustic wedding aisle decor idea was designed with lush greenery, white roses, and wildflowers. Aside from that, you can also add baby's breath to have a more rustic accent.
Winery Wedding Aisle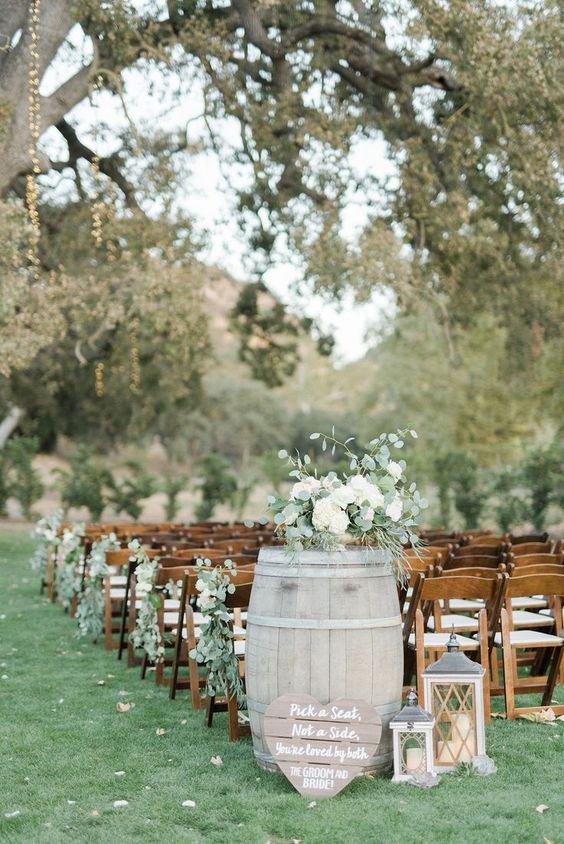 Wine barrels are just one of the many ways to express beautiful floral arrangements at the aisle entry. We'd recommend this wine barrel as an option to become a rustic wedding aisle decoration idea. if you're having a winery and vineyard wedding or getting married in the fall season, this aisle decoration is what you have to prefer. Then, when you want to create more of a rustic vibe, you can bring a classic wooden lantern for it or eucalyptus garlands that are hanging on the chair.
Now that you've decided how to decorate your venue, take a look at these rustic wedding aisle decoration ideas to surprise your guests. One of the most memorable parts of your wedding ceremony is your grand entrance down the aisle. That's why you should consider wedding aisle décor perfectly. Because of it's a symbol of your new life to becoming a newlywed that would make the new trip with your partner. If you need more inspiration, read our article before about the best aisle wedding design with the outstanding decor!