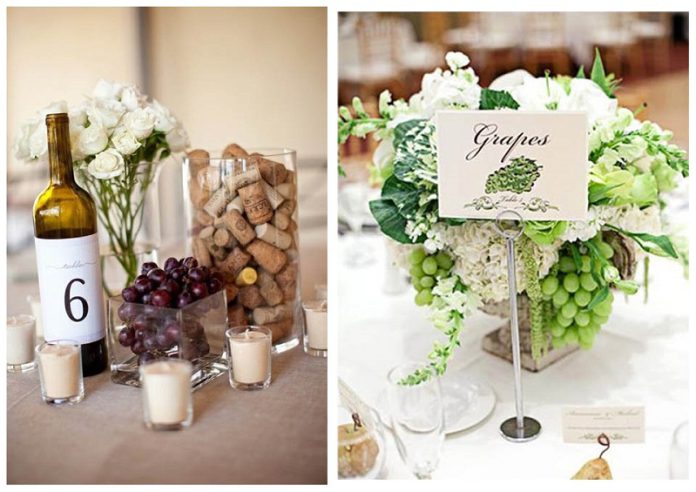 Roowedding.com – Every wedding receptions and ceremonies need decorations! Even if it's just simple and minimalistic decor, it's really needed to create a wedding atmosphere. Since you want to hold a winery and vineyard wedding theme, I thought you need some inspiration to adorn the wedding venue. There are so many cute and chic winery and vineyard wedding decoration ideas out there, from greenery aisle, winery backdrop, and bold beautiful flower arrangements, to wine bottle centerpieces. So, at this moment we will give you some ideas on how to make a winery look for your big day.
For those who want breathtaking background for tying a knot, vineyards would be a perfect place. Long Meadow Ranch Winery & Farmstead is an option for a vineyard wedding if you want to get out of town. There, you'll find both indoor and outdoor gathering areas to hold your reception and ceremony. Furthermore, you can start to plan winery and vineyard wedding decorations. Decide on your wedding concept with some aesthetic decorations.
Haven't decided on your winery and vineyard wedding decorations? If you have a plan to tie the knot with a vineyard landscape, make sure to decorate the space beautifully. So, check out these ideas below you should have for the winery wedding concept.
Greenery Arch Design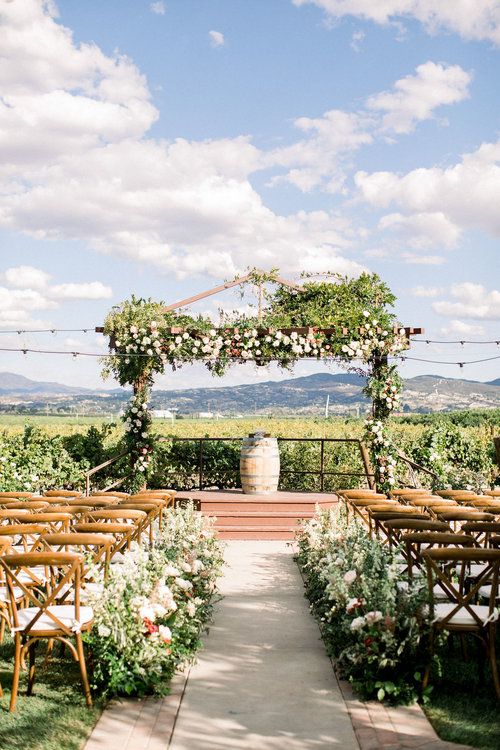 For a flawless wedding, make this greenery arch design your winery and vineyard wedding decoration idea. You can use green vines and white flowers to create a standing decor where you will take a vow with your partner. This greenery wedding arch also looks great with vineyard scenery behind.
Winery Backdrop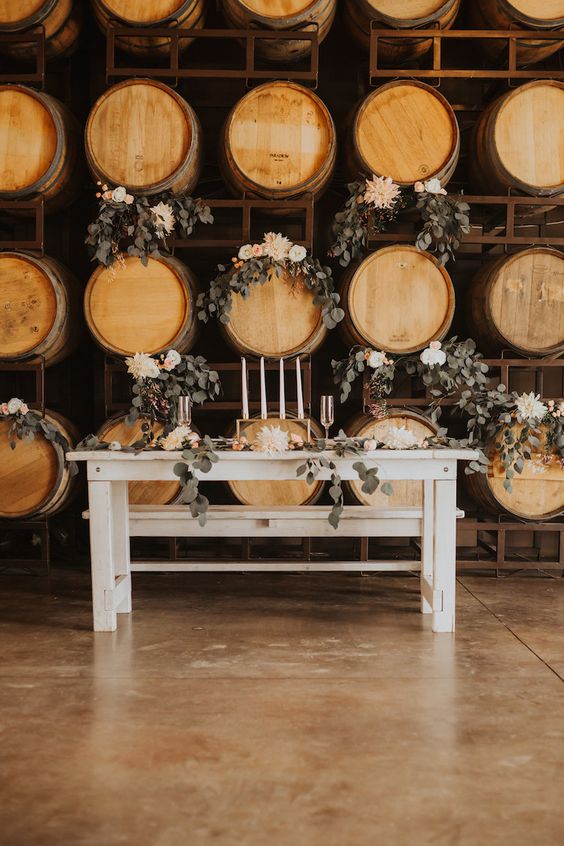 A wedding in a winery is a great option for those looking for a rustic accent. Use a stack of barrels in a winery that has been aesthetically decorated with eucalyptus and white flowers as your wedding backdrop. In front of it, place a simple wooden table and chair, along with romantic candles and wine glasses. This is where you and your soulmate would sit throughout the reception.
Rustic Welcome Sign
The welcome sign will be your first point of contact with all of your guests, so choosing the right sign design is essential. If you choose this location in the vineyard, a natural theme is ideal. You can use a wooden board with simple stationery to give a rustic concept to your winery and vineyard wedding decoration idea.
Wine Bottle Escort Cards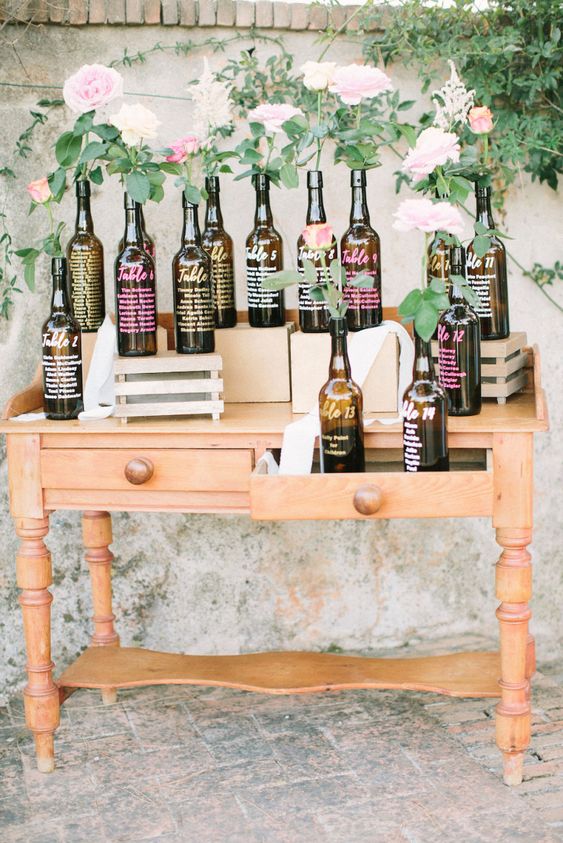 An escort card is something to inform where your guests will choose to seat. You can use a unique sign with recycled wine bottles where you write table numbers and the list name of guests. Reusable wine bottles are the right choice to become winery and vineyard decoration ideas. Besides that, you can make it dual use for vas by putting flowers on it. This would also give you the idea of an eco-friendly wedding theme.
Whimsical Lantern Decoration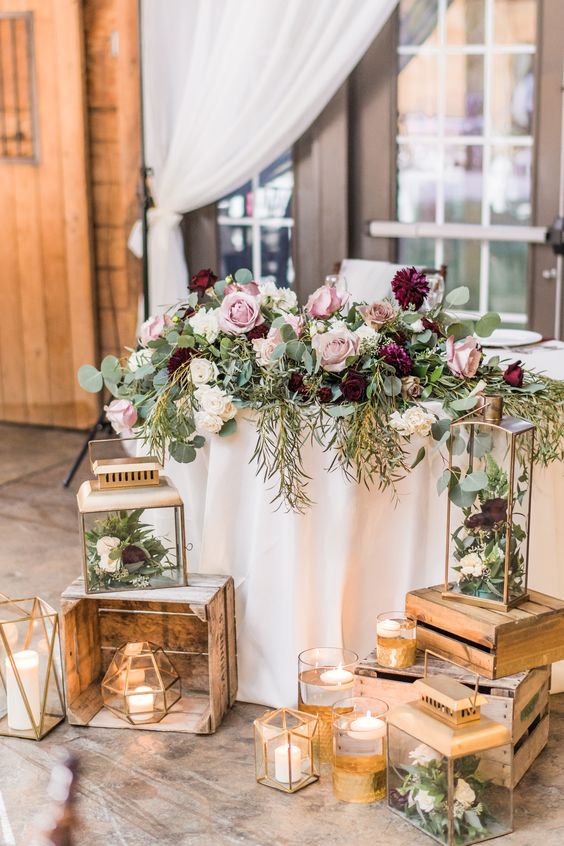 Create a whimsy winery and vineyard wedding decoration idea using terrarium lanterns. You can make it your table centerpiece that would give a romantic vibe to your table dinner. There are also various geometric decorations that look aesthetic to become your lantern or lighting design if you put a candle in it. This truly elevates your wedding venue both indoors and outdoors.
Wine Cork Hanging Decoration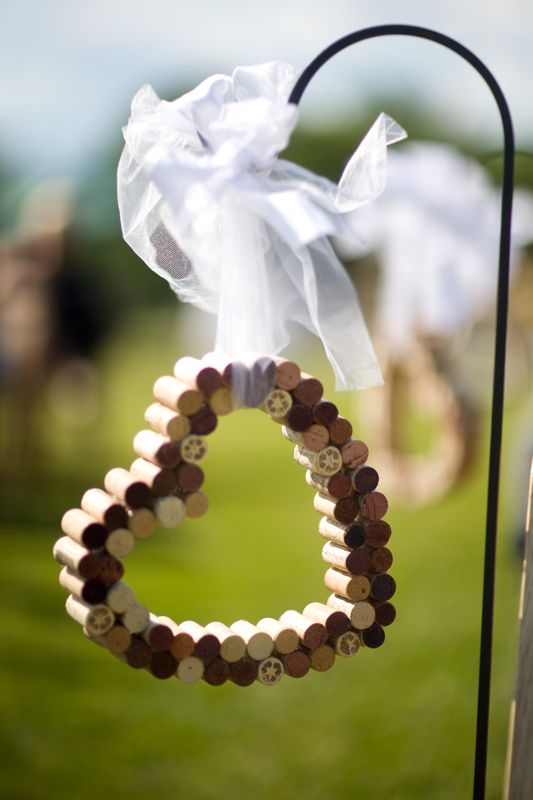 If I had to pick one decoration to go with the winery and vineyard wedding theme, I would go with this decorative cork. With a natural ombre pattern in a heart shape made of wine corks, it would beautify your wedding venue. Actually, corks are the most popular winery and vineyard wedding decoration to include. This is because it can be used to create table number designs, hanging decorations, and letter decorations. For inspiration, you can put a heart shape cork to hang in with ribbon all along the aisle.
Romantic in Red Candles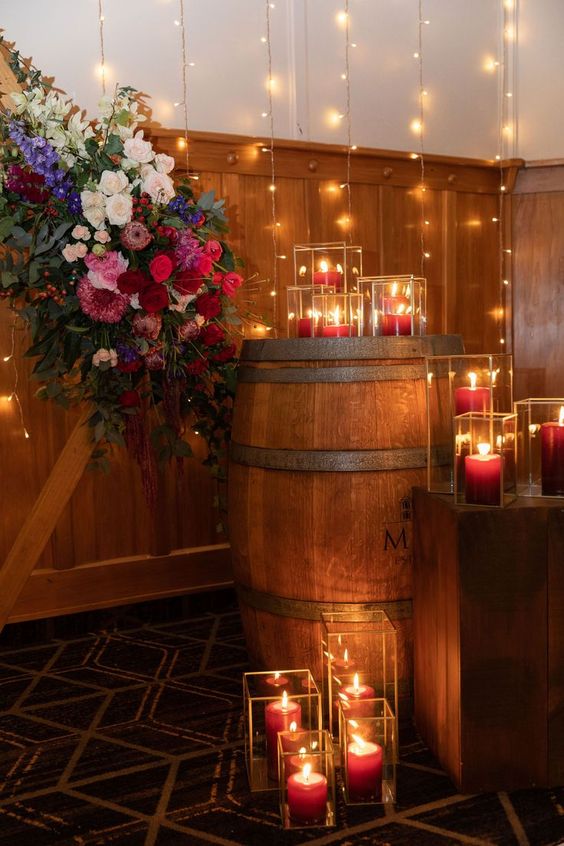 Bring a romantic ambiance into your wedding venue with these red candles as decoration ideas. The bold red color from the candles would fit your winery and vineyard wedding concept. You can put those candles in terrariums or use vintage candle holders that bring a more romantic accent.
Cork for Guest List Board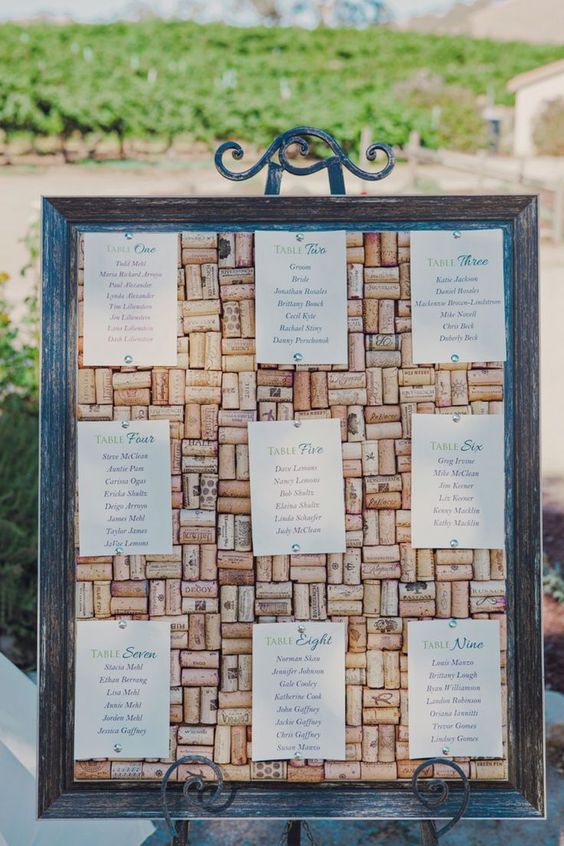 In addition to using recycled wine bottles as escort cards, cork can be used as a guest list board. Yes, you can make a winery and vineyard wedding decoration idea using corks which are arranged on a wooden board to put guest list and table numbers. This decoration also looks good to give a bit of vintage style in a rustic accent.
Bring Terrariums for Table Centerpiece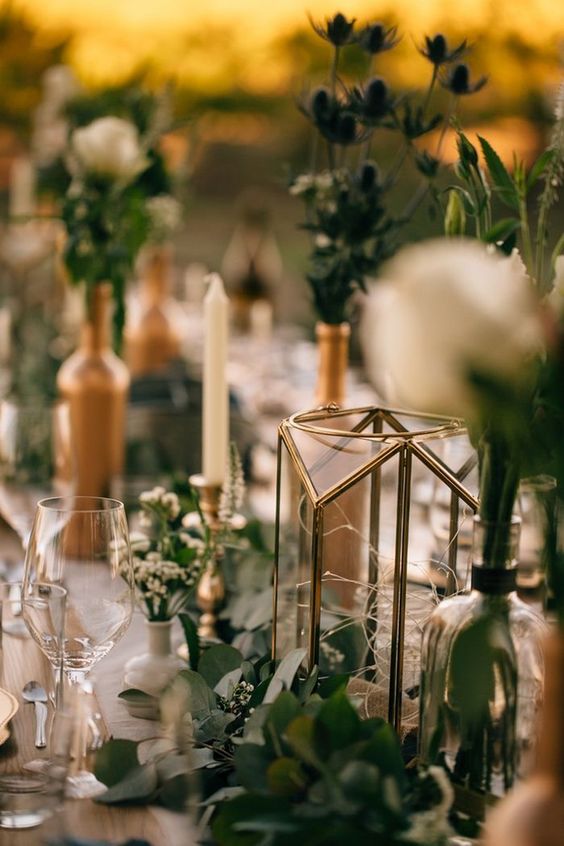 Next, choose terrariums to decorate your table centerpiece. Terrariums have a variety of shapes, but the majority are geometric designs. You can easily find some terrariums that are formed of rectangles, cubes, pentagons, hexagons, or diamonds. For winery and vineyard wedding decoration ideas, you can put a glass terrarium and then put a string light in it to become romantic lighting. Additionally, you can also fill terrariums with flowers and green leaves that create a fresh ambiance in your table setting.
Greenery Table Runner with Eucalyptus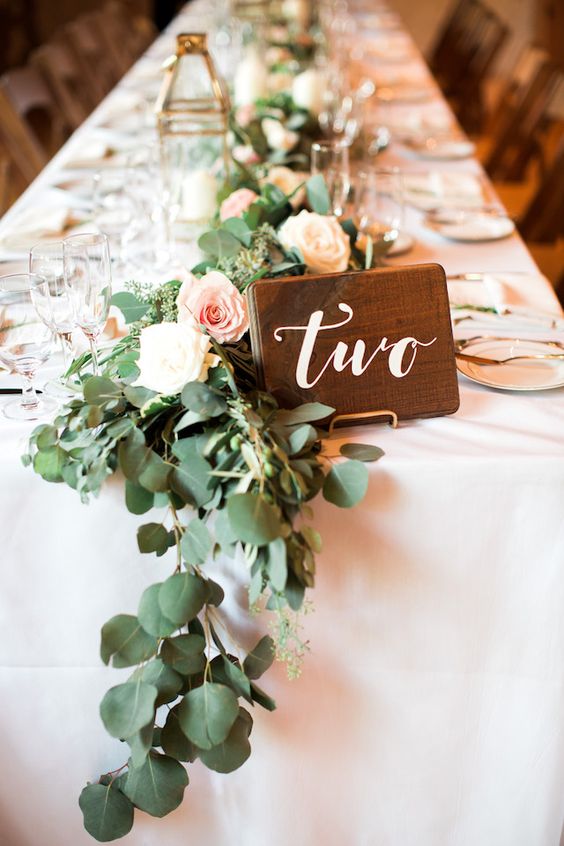 A table runner is a decorative item that is placed on a table. This is also how beautiful winery and vineyard wedding decorations are made. You can use a table runner in neutral colors, or for a more unique look, place greenery, such as eucalyptus and roses, all along the center of the table. This greenery table runner would freshen your wedding venue both indoors and outdoors. This can also be an option for you that need inspiration for a summer wedding plan.
Barel Card Holder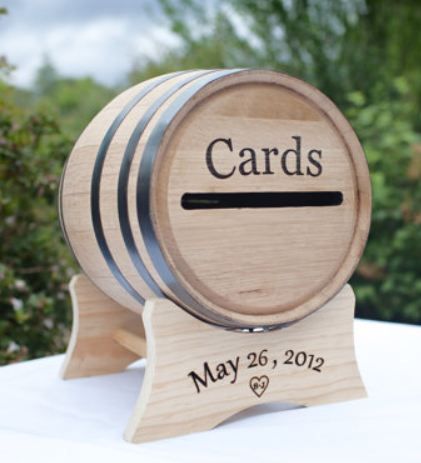 Incorporating wine barrels into your wedding ceremony or reception is a subtle way to include the meaning of a winery into your décoration idea. You can use a personalized barrel as a cardholder design. This miniature barrel is handcrafted and features a small hole on top, making it a unique, shabby-chic storage container for interesting greeting cards. It would be a perfect accessory for your winery wedding
Standing Table with Barrel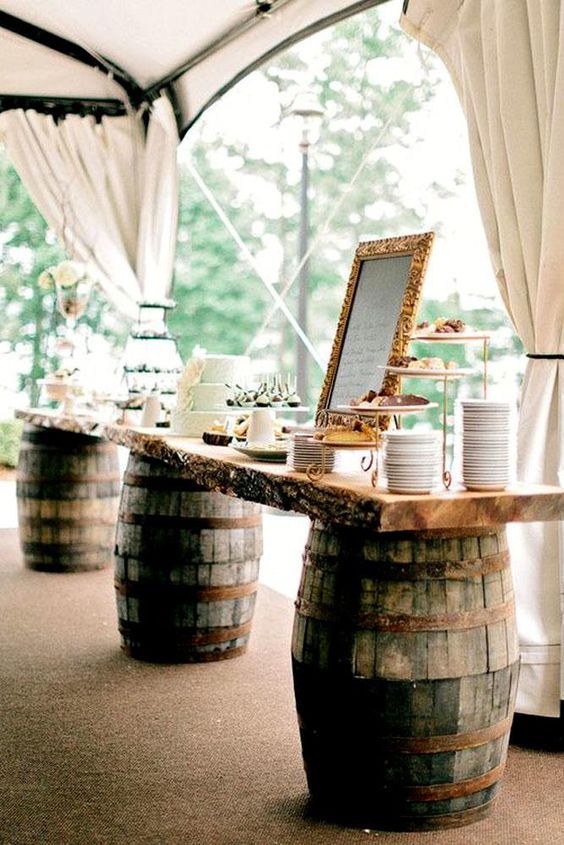 Another way to bring a barrel into your winery and vineyard wedding decoration is to use it as a standing table. Just line up two barrels and then place a wooden board on top. With this, you will get a rustic table at your wedding. You can use this kind of table to become a buffet where you place some snacks, cookies, and drinks for your guests.
Cork for Table Number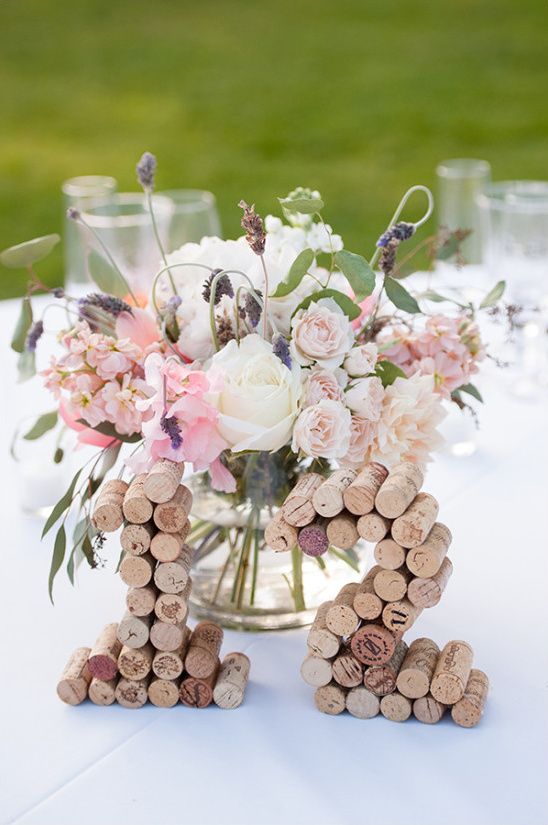 Like I said before, wine corks are the favorite item to incorporate into winery and vineyard wedding decoration ideas. You can create a table number from the wine cork letter. This would bring a unique and aesthetic design to your table dinner.
Deep Colored Floral Arrangements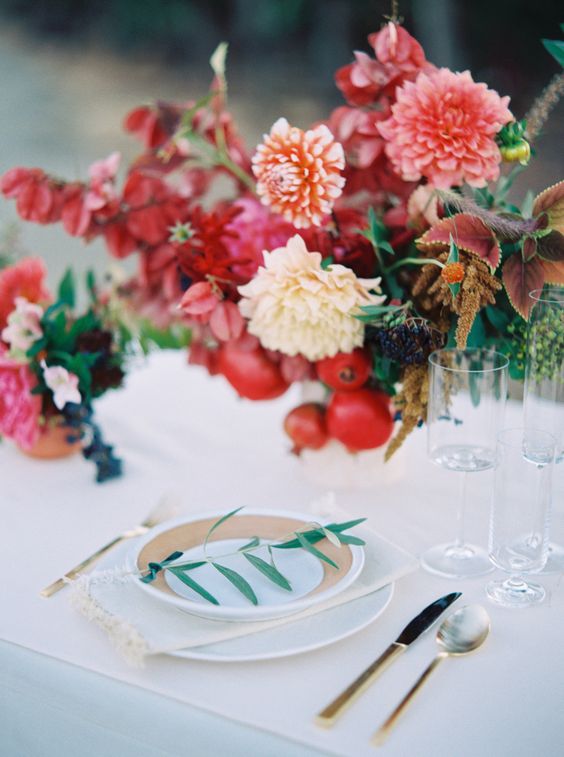 Try to incorporate a lot of deep colors into floral arrangements that would stand for winery and vineyard wedding decoration ideas. For this, you can draw inspiration from wine color schemes like burgundy bouquets, mauves, and deep red flowers used to complement your vine's wedding venue. You can arrange some red dahlias with white roses, peonies, and plenty of greeneries to become a beautiful table centerpiece. Just make a bundle of blooms that can blend well in the vineyard background.
Fabulous Intimate Table Setting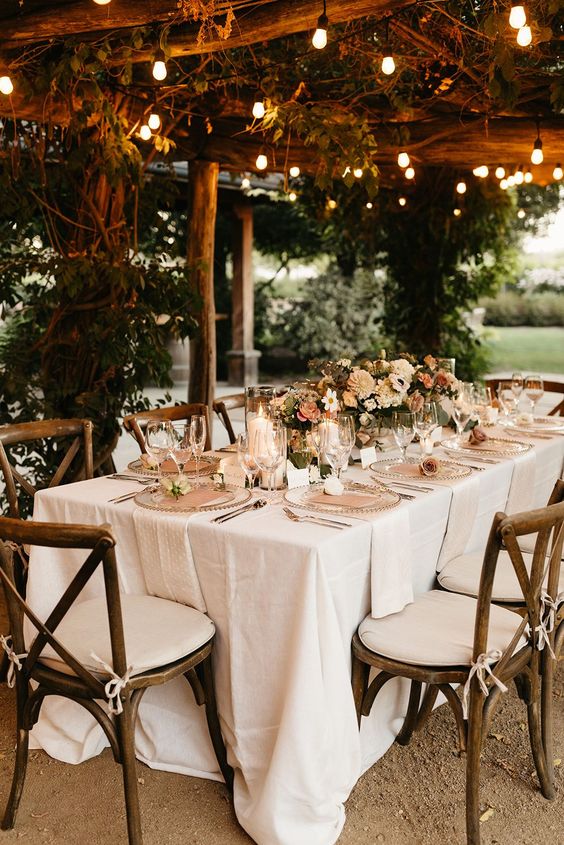 Your wedding decoration is will not far from the table setting. That's why we give you an idea about table settings that would be great for your winery and vineyard wedding theme. You can create a fabulous intimate table setting that includes a family dinner table that you decorate beautifully. For inspiration, I give you this rustic table dinner decoration above. For this, you can also work with a local vendor that would turn your outdoor wedding venue have a local feel.
Fairy String Lighting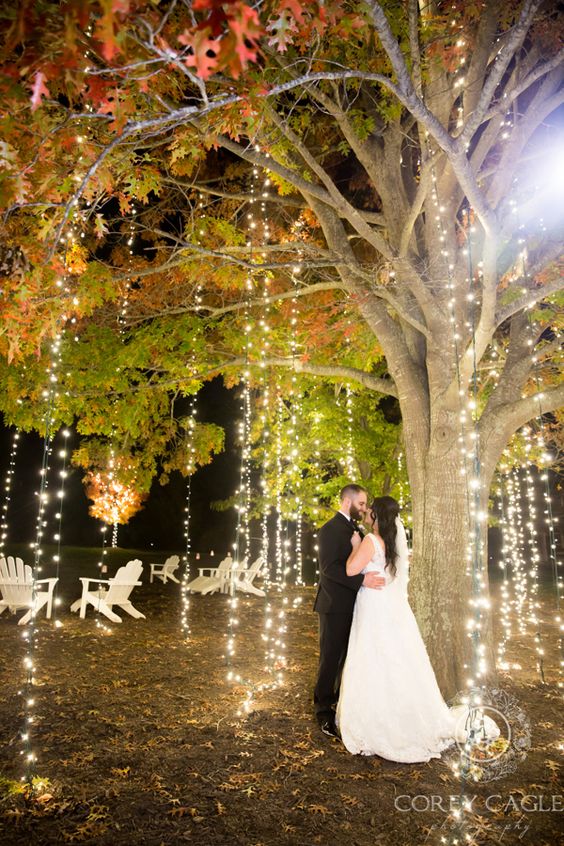 Fairy string lighting is one decoration that should not be overlooked. If you are planning a night wedding reception outside, I recommend that you use this lighting. Believe us when we say you'll get a whimsy venue with string lighting hanging around you while dancing. This lighting would flare up your night at the romantic vineyard wedding.
Greenery Hanging Decoration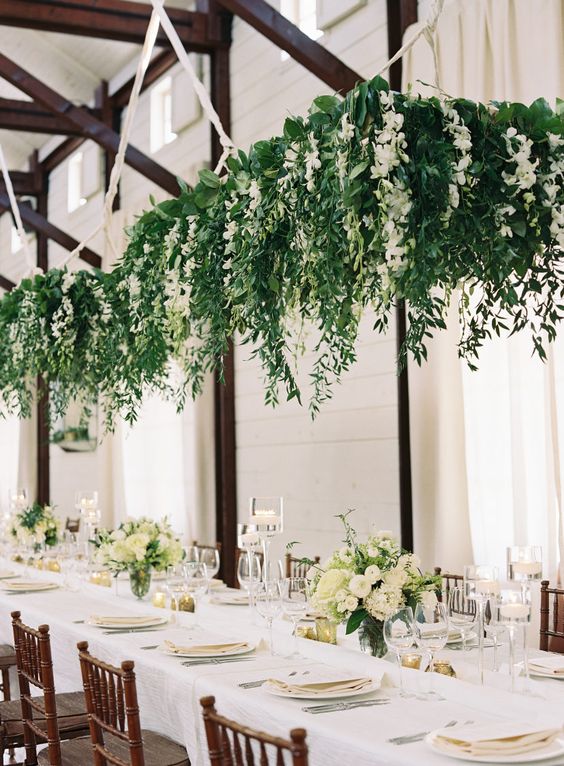 Greenery is easy to incorporate into wedding decor! Hang this greenery decoration, for example, in your venue to add a natural accent. I think you'll enjoy it. Aside from that, the greenery look adds a touch of freshness to your winery and vineyard wedding venue. For table centerpieces, you can use olive branches, eucalyptus, or vines arranged in a hoop and hung on.
Succulents for Alternative Table Decor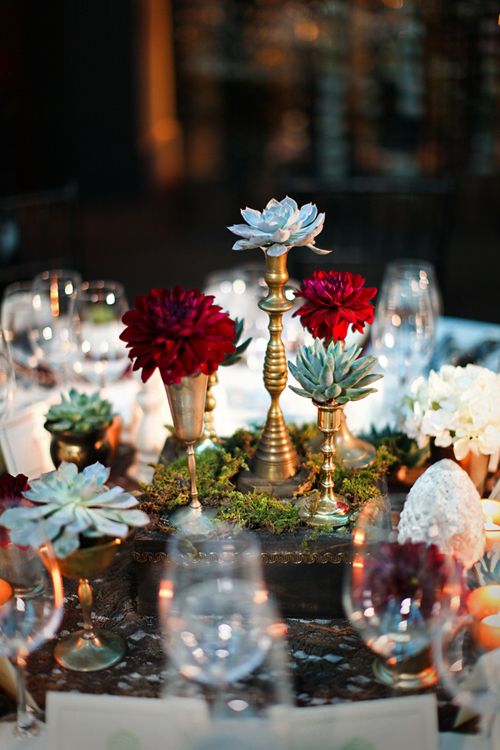 Succulents are another popular table centerpiece that people choose. This desert plant is popular because have durability even in heat weather. So, succulents can be used as an alternative flower for decoration for a summer wedding theme. This also becomes a great option for winery and vineyard wedding decorations, especially for those who held marriages in the vineyard landscape. You just have to arrange it like real blooms for wedding bouquets, table centerpieces, and eco-friendly wedding favors ideas.
Elegant Tableware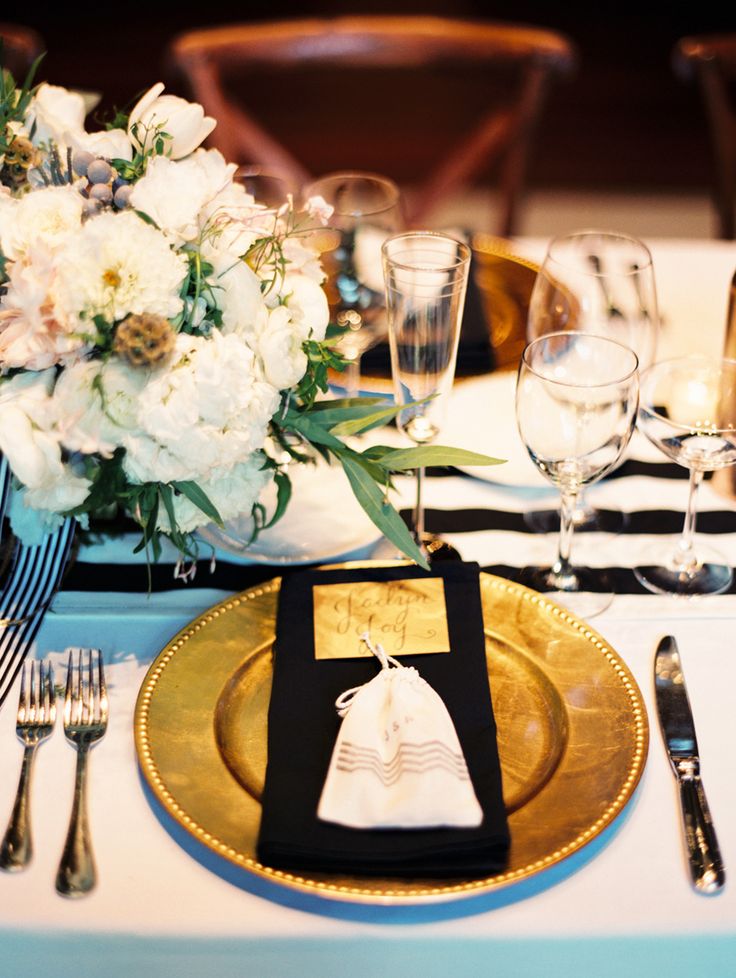 Do you want to impress your guests with table decorations? Consider this sophisticated gold placemat and tableware. Bring a golden spoon, fork, and plate for the industrial wedding theme, then add a tiny black napkin over it for a chic elegant table setting. Details that call attention to your guests will leave a lasting impression.
Natural Chair Decor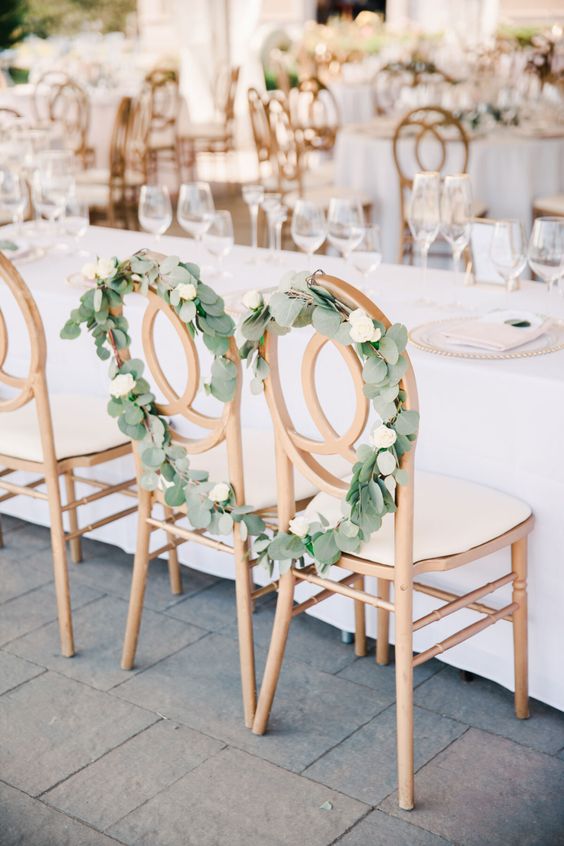 Let's move on to chair decor after you've completed the table setting and centerpiece design. For this, it's quite simple! You can decorate your wedding chair with light linen, ribbon, or flowers. Vines and greenery such as eucalyptus can be used to adorn chairs in winery and vineyard wedding decorations. Make a heart shape out of the eucalyptus and white flower arrangement on the back of your chair for a romantic touch.
Wine Bottles for Wedding Favors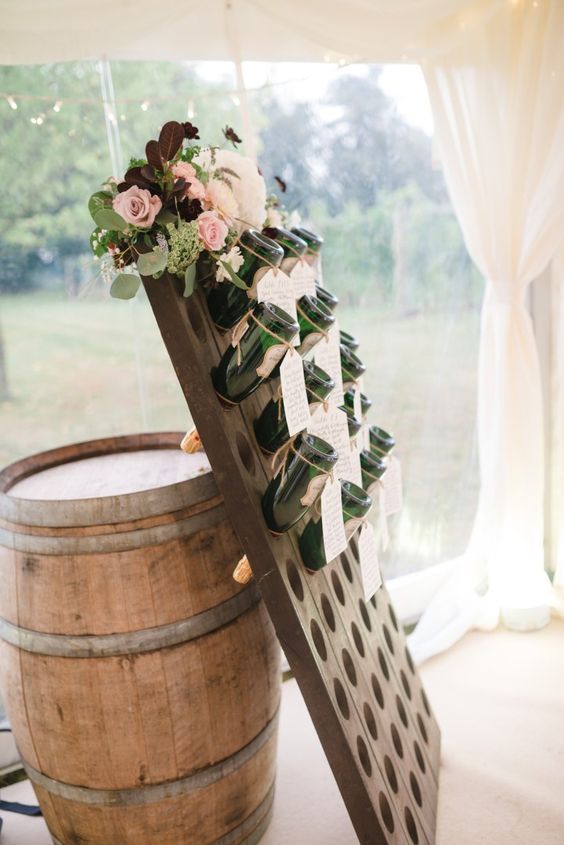 Aside from serving wines as drinks, you can also use wine bottles as wedding favors. One of the ways to thank your guest's attendance and celebrate your marriage together. For you who want to emphasize winery and vineyard wedding decoration, you can give wine bottles that give thanks cards and personalized templates for wedding favors.
Rose Petals Aisle Runner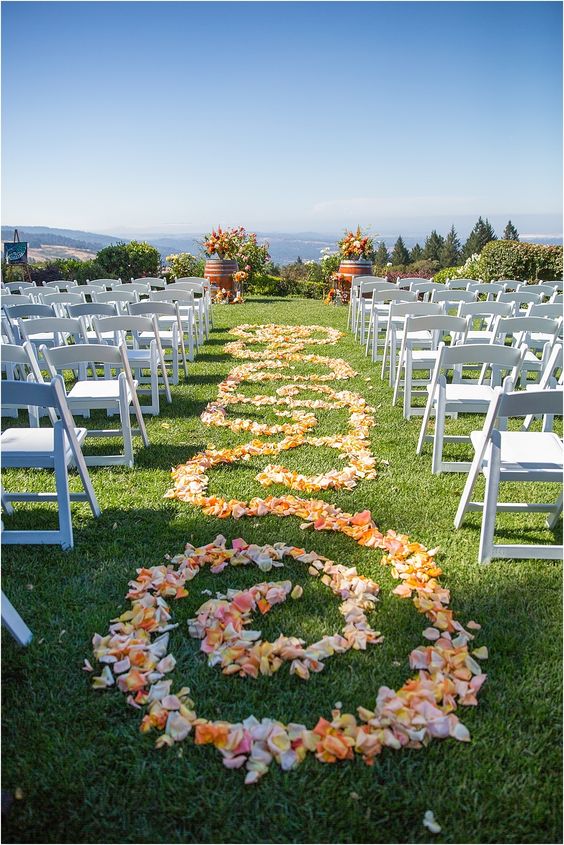 The aisle altar is one decoration that should be prioritized. After you know how to decorate your wedding arch, now we move to aisle runner. You can adorn your aisle runner with fresh petals for winery and vineyard wedding decoration ideas. Arranging them beautifully and aesthetically from lush carpets to whirls and all kinds of shapes.
Burgundy and White Floral Chair Aisle Markers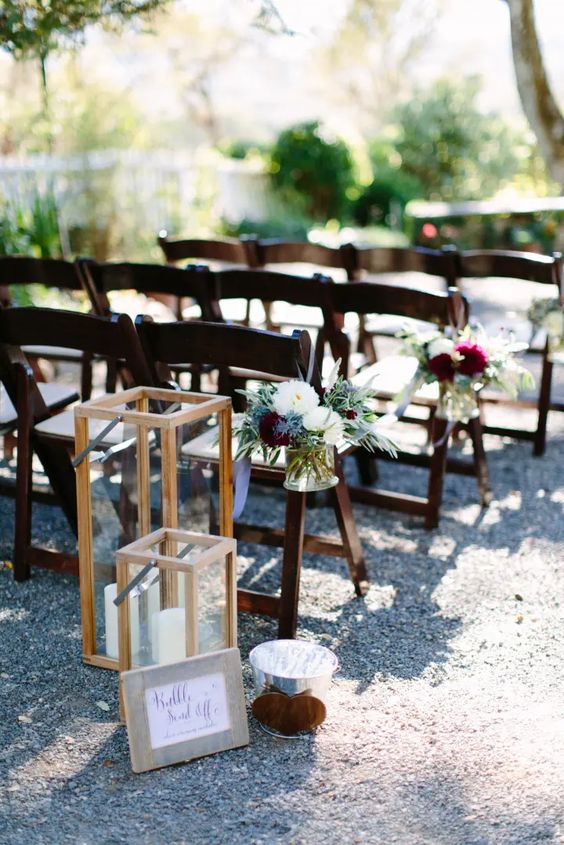 This burgundy and white floral jar arrangement would add an elegant and rustic touch to your aisle marker. The color and design are appropriate for winery and vineyard wedding decoration ideas. Add terrariums or lanterns at the end of the aisle to make it more spectacular. So, with all of this decor, you'll walk down the aisle with a smile on your face, ready to greet a new day with your partner.
Wedding Champagne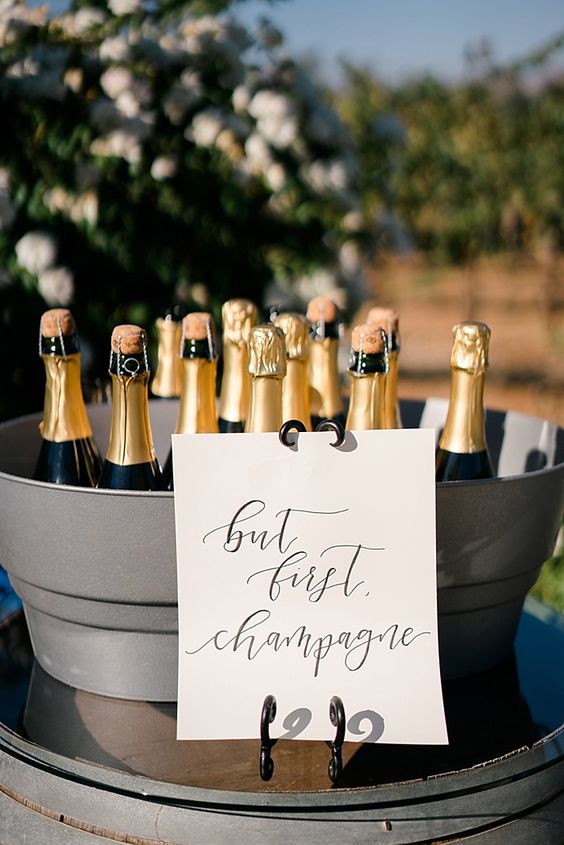 Remember that winery is familiar with champagne and wines. So, if you're bringing decorations, don't forget about a wine bar. Some champagnes and other alcoholic beverages can be served in it. Put champagne in a bucket for a rustic ambiance for an attractive winery and vineyard decoration idea. Another option is to serve the wines and champagne in glasses set on wooden barrel tables.
With all of the encouragement and recommendations to tie the knot outside, it is no surprise that weddings at vineyards and wineries have increased in popularity. With their gorgeous vines and natural settings, you can get a beautiful backdrop to marry your partner. What's not to like about this? So, don't hesitate to look over and try some winery and vineyard wedding decoration ideas above to perfect your big day. And if you have a full concept read our old article about winery and vineyard weddings.