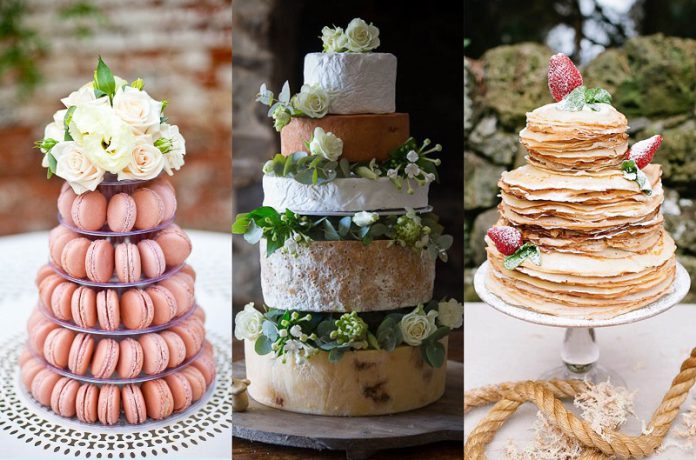 Rowedding.com – In any wedding reception, you'll find iconic parts like the wedding cake. The common and usual wedding cake is made from a classic buttercream three-tier. But lately, couples start to break traditions by serving dessert as an alternative wedding cake idea. There are a couple of ways to serve wedding cake uniquely and aesthetically. In recent years, many dessert trends such as cupcakes, doughnuts, macarons, and others have emerged in the wedding industry, resulting in unique non-traditional wedding cakes.
For those who don't like sweet cakes, feel free to serve your favorite treat instead on your wedding day. If you prefer salty over sweet bites, a display of cheese wheels would become your alternative wedding cake idea. Regardless of the personalized classic cake design, a colorful macaron, cupcake, and doughnut tower would bring you a fun and unique non-traditional wedding cake design. Simply use your imagination and think outside the box when it comes to your wedding cake design.
Classic wedding cake used to be an absolutely essential component of the wedding plan. However, nowadays desserts would become a great opportunity to share your taste with the guests. Just consider dressing up your wedding cake in a unique and unusual way using a variety of delicious sweet treat options. So, we're rounding up 12 alternative wedding cake ideas that would give you a unique non-traditional wedding cake for your big moment.
Bundt Wedding Cake
The first alternative wedding cake idea is a bundt wedding cake. You can use a two or three-tiered frosted bundt that you garnish with an edible and personalized topper. This unique non-traditional cake is ideal for those looking for a simple and sweet wedding cake design. You can add a personal touch by garnishing it with seasonal flowers, Pondan, or fruit.
Cake Pop for Unique Wedding Cake
Bring cake pops if you want something different and unusual for wedding cake inspiration. It's a great alternative wedding cake idea when you want something portable, easy to hold, and nibble on. Cake pops provide guests with a traditional wedding cake while also becoming a wedding tradition without committing to a full slice. Besides, you also need to consider how to display your cake pops. They can be displayed on a stand or for decorating your white classic wedding cake. Cake pops really look fantastic to become unique non-traditional wedding cakes. This not only gives guests tasty desserts but also a cute lovely wedding cake.
Cheese Wedding Cake
When you have a problem with sweets but want still to get tradition at your wedding, you can opt for stacked wheels of cheese. While the classic white cake becomes an iconic part of your wedding reception, there is also an alternative way to bring it differently. A tiered cake which is made from wheels of cheese would keep your wedding tradition while giving personal preference to your wedding. Serving tiered chees may be a bit tricky because you need to consider smellier cheeses and how their scents or flavors may affect others in the stack. As well as how you might finish the look by decorating each wheel perfectly. For inspiration, you can use rustic vibe use natural elements such as fruits, blooms, and greenery to garnish your tiered cheese wedding cake.
Cookies for Alternative Wedding Cakes
If you hold a destination wedding, better to serve local dessert to become your wedding cake design. For instance, when you get married in New York City, black-and-white cookies are a staple food to incorporate into your wedding buffet. Besides, the option for wedding cookies is limitless. You can adjust it to the style of your wedding theme and concept. For example, you can serve various types of cookies on a tiered stand, or create layered cookies with buttercream filled then you adorn them with edible greenery, blooms, or fruits to become unique alternative wedding cake ideas.
Crepes Wedding Cake Design
For heavy breakfast enthusiasts, a crepe or pancake is definitely your option for alternative wedding cake ideas. With this, you don't have to worry about your wedding cake would deviate too far from the traditional wedding dessert. You can still create a classic wedding cake by stacking the crepes highly with jams or frosting syrups spreads on each layer. After all, you can garnish the wedding cake with anything on the top like using powdered sugar that gives a winter accent, maple syrup, or fruits.
Croquembouche Wedding Cake
The point of a croquembouche is to provide a unique alternative wedding cake. When you get bored with the traditional white cake stand at your wedding reception, you can make a croquembouche tower. For inspiration on wedding cake design, you can decorate croquembouche with greenery, giving shine by covering it with caramel, mix with sugar flower decorations, and others. Fyi, croquembouche doesn't last long to display for a wedding cake. So in France, it would be brought at the time of dessert come and then get cut right away. But believe me, the taste absolutely delicious!
Cupcakes Wedding Cake
A cupcake wedding cake would be an excellent choice for couples looking for a simple wedding cake in a casual style. A traditional wedding cake may not be efficient, especially for a full cake cutting. I thought it really takes some work and waste times. But when you serve cupcakes at a wedding, it would help you much to avoid a mess while still providing a delicious wedding dessert to the guests. With this, you can also eliminate the need for tableware that would cut your budget and also be environmentally friendly because less your wedding waste. With so many flavors and colorful cupcakes, you can make a unique non-traditional wedding cake with it. You can set it on a tiered display stand and then you can give additional detail using a personalized topper or blooms.
Wedding Doughnut
Instead of cake, why not recreate the classic tiered look with doughnuts for an alternative wedding cake idea? For this, you can stack frosted doughnuts and fill the tower with a stunning personalized display. For another option, you can display them for decking out a cake for an additional touch. Besides, doughnut walls also have gained popularity today at weddings. Not only become a unique nontraditional wedding cake design, but it also uses to become a wedding decoration. Even doughnuts are a total classic dessert, but when you display these colorful desserts in a pyramid shape, makes it look stunning.
A pile of Macarons for Wedding Cake
When you prefer a sweet and cute aesthetically wedding cake, macarons could be an alternative wedding cake idea. It's a delicate sandwich cookie with a meringue base filled with buttercream frosting, fruit curd, or ganache that makes a stunning statement by creating a tower of macarons. You can display a single color or combine multiple colors of macarons for a fun wedding cake design. A maccaron pyramid or tower can stand on its own, but to make it more visually appealing, add special touches such as fresh blooms for garnish. If you still want a classic tiered cake, colorful macarons can take your wedding cake to the next level.
Pie for Fall Wedding Cakes
Do you plan for a fall wedding? Want a more homemade vibe in your wedding reception? Pies would give you a statement for a warm fall wedding. This would be a great alternative wedding cake idea to replace your standard white cake to become fun and stunning. You can get mini pies that are displayed on a tiered stand. The popular wedding pie option that most couples serve at their wedding is classic apple pie, sweet pecan pie, and berry pies. You can adorn it beautifully using edible blooms, sugar powder, and fruits for the topper.
Sweet Meringue Kisses Wedding Cake
Meringue kisses are another delicate wedding cake that looks sweet and pretty. Their flavorful and colorful appearance makes them ideal as an alternative wedding cake idea. Wedding meringue kisses come in a variety of shapes and sizes. When you display it on a single stand or make it as a garnish in a classic wedding cake, it would give maximum impact to your wedding buffet. You can pile them high and make a meringue kisses tower and then give a personalized topper and fresh blooms for a unique non-traditional wedding cake design.
Waffle for Wedding Cake
For the last alternative wedding cake idea, we use waffles. If pancakes or crepes aren't quite your taste, look to another breakfast staple like waffles. You can stack them on a cake stand and give whipped cream to each layer that would present like a traditional wedding cake design. And then, to make it look more fun and lovely, you can set it up with fruits, colorful blooms, and sugar powder for the topper.