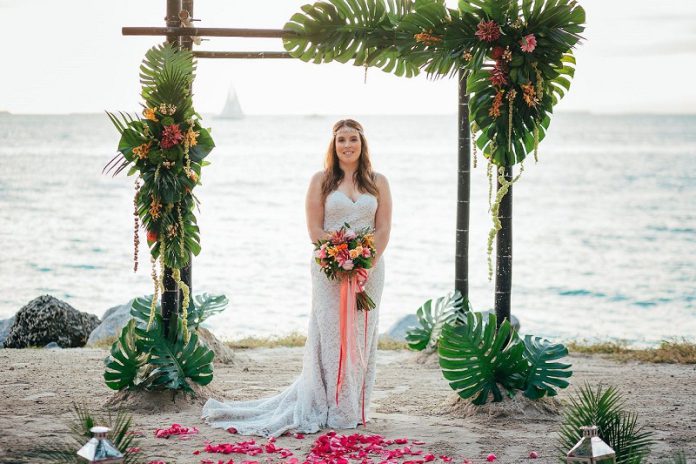 Roowedding.com – Hello there, lovelies couples! Have you decided on a beautiful destination for your wedding vows? If you are planning a wedding, you will require something to decorate your ceremony areas, such as wedding arches and backdrops. A wedding arch and backdrop may appear to be nothing more than a decorative item, but it actually has a deeper meaning. Even as a decorative item, it represents the couples' love and the vibe of your wedding. Like when you plan a tropical wedding, you suppose to get aesthetic tropical wedding arch and backdrop ideas out of tropical leaves and blooms.
Arches and backdrops are always the focal points of wedding ceremonies and receptions. Their popularity, whether realized or not, is nothing new. When looking for a beautiful place to take a vow, you should always think about how to create aesthetic arch and backdrop decors. It could come in a variety of shapes like a rustic wooden arch, a chuppah, a two-part altar, or a round arch, depending on your wedding's style and preferences. Besides, you can also creatively build your ceremony spot with unusual materials and incorporate a theme into it. For tropical wedding arch and backdrop ideas, you can prefer materials like bamboo, driftwood, and breezy fabric. Add decorations items like colorful blooms, tropical leaves, or even pampas grass, to embrace the tropical vibe into your altar.
We have searched a few of our favorite wedding arch and backdrop design to help you sort through the limitless possibilities. From a wedding arch covered with colorful blooms to a simple backdrop decor with light linen fabric and tropical leaves, this would make certain you get inspiration to represent the tropical wedding theme of your venue perfectly. So, without further ado, let's get started with 31 aesthetic tropical wedding arch and backdrop ideas below!
Rustic Circle Wedding Arch with Dried Flowers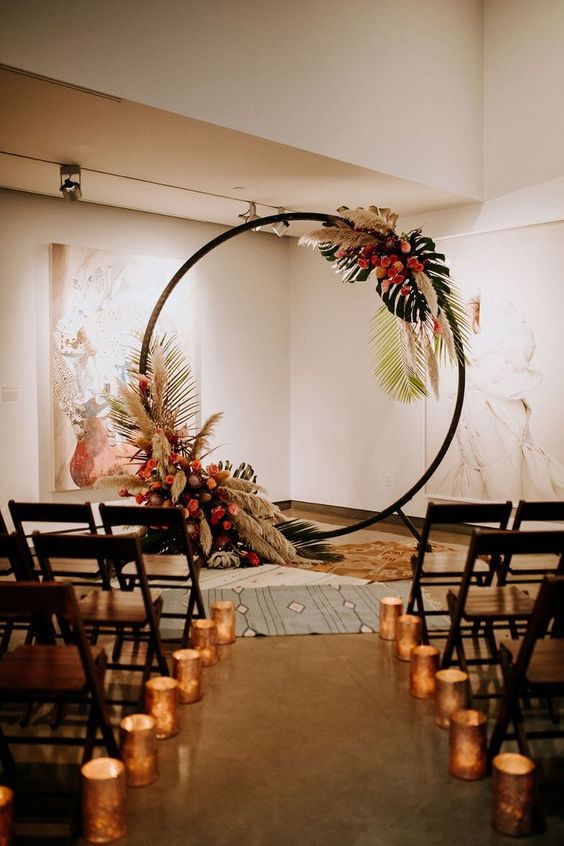 The first option is to use a rustic circle wedding arch with dried flowers in an industrial wedding theme. You can make it simple by acquiring a circle metal arch and decorating it with pampas grass, and tropical dried flowers such as big protea, then get dried Monstera and palm leaves for a more tropical vibe. If you prefer a more sophisticated look, simply place the decoration on two opposing sides. Furthermore, you can also add ethnic rugs to give a bit of boho style to your aesthetic tropical wedding arch and backdrop idea.
Banana Leaves for Tropical Backdrop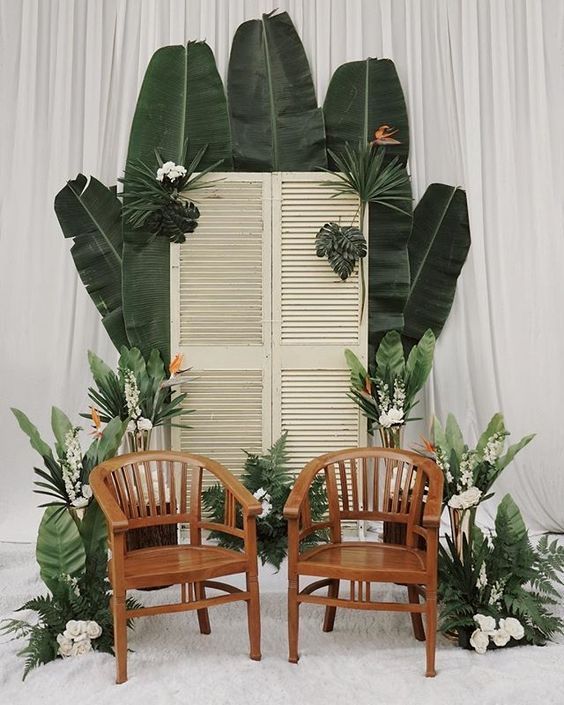 Another tropical greenery that you can use to make a statement is banana leaves. With this, you can make aesthetic wedding arch and backdrop ideas by arranging them vertically at different heights. You can place a vintage door in front of it and place two wooden chairs to create a rustic vibe for photo booths. To have a fully tropical nuance, add other tropic botanicals such as ferns, philodendron leaves, Palmeira, monstera, bird of paradise, and white orchids into the decoration.
Wedding Arch Decorated with Lush Tropical Leaves and Blooms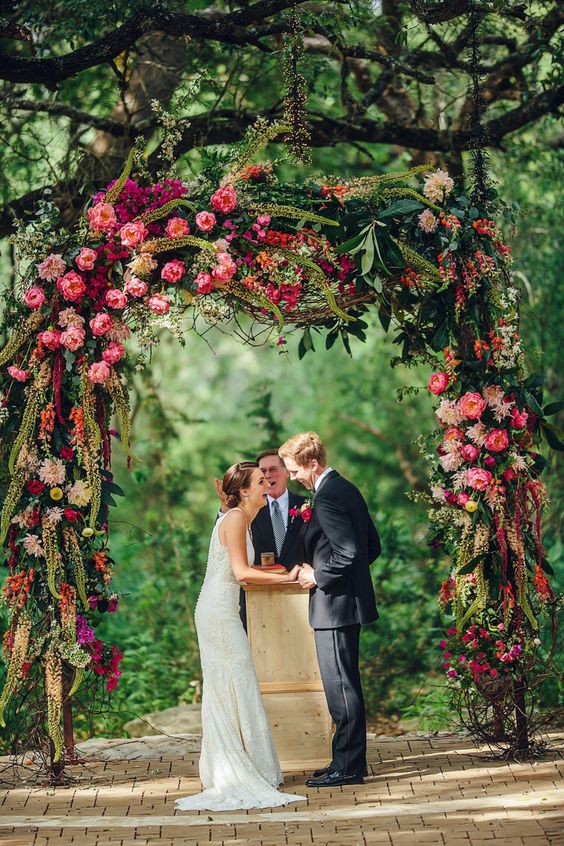 Your tropical wedding arch and backdrop idea can be decorated with lush blooms and greenery. For this inspiration, you can arrange various types of tropical blooms with different colors and shapes like garden roses, protea yellow, Eremurus flowers, Amaranthus, and others. Cover the wooden arch completely and make a natural arch out of flowers and green leaves.
Circle Altar Backdrop with Neon Sign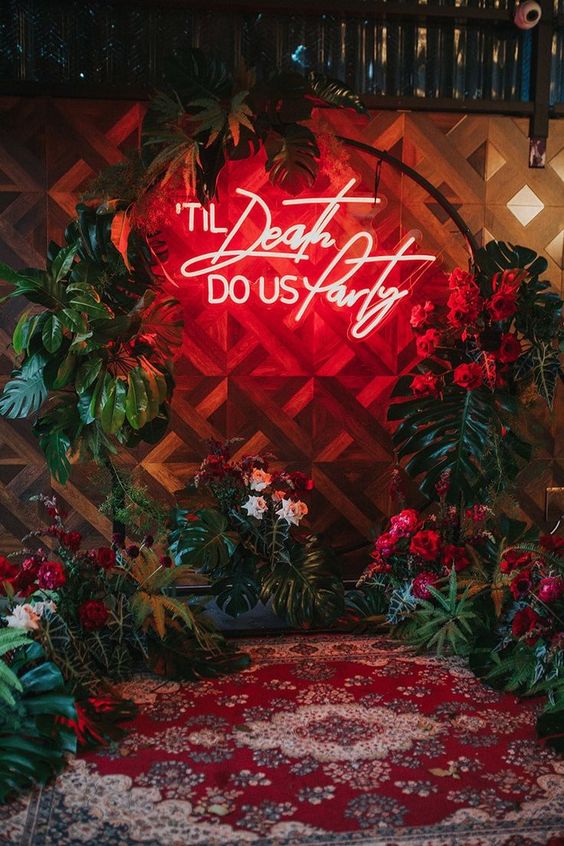 Following this idea, you'll get another tropical wedding arch for an industrial wedding vibe. But this one is more fun with a personalized neon sign in the center of the circle altar backdrop. You can frame the circle arch with tropical leaves like monstera, philodendron, dieffenbachia, palm leaves, and ferns to give you natural tropic scenes. Don't forget to add blooms, not too many but enough to make a statement.
Aesthetic Bamboo Wedding Arch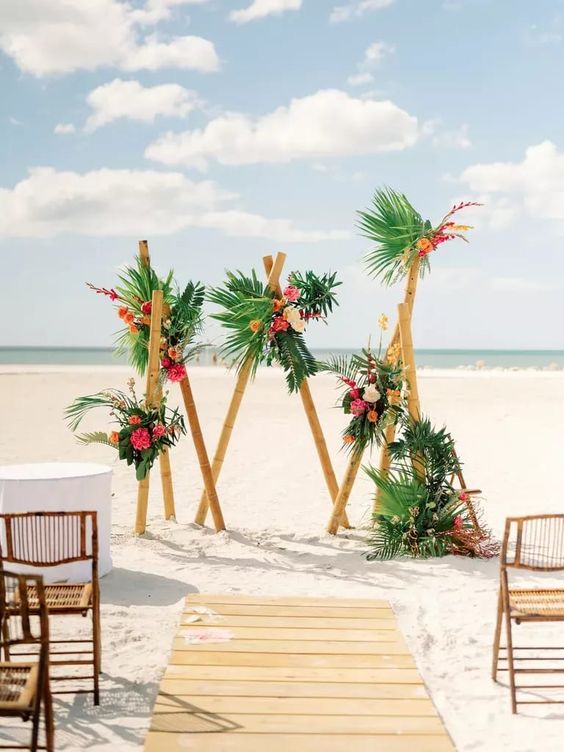 Besides driftwood and logs, you can create aesthetic tropical wedding arch and backdrop ideas using bamboo poles. A natural element that represents a tropical theme in your wedding ceremony. For couples who prefer a laidback outdoor beach ceremony, you can build a triangle wedding arch altar using bamboo for a bit whimsical yet aesthetic design. Palm leaves, monstera, bird of paradise, anthurium, heliconia, and other tropical flowers are what you have to incorporate into your bamboo triangle ceremony backdrop.
Elegant Tropical Wedding Arch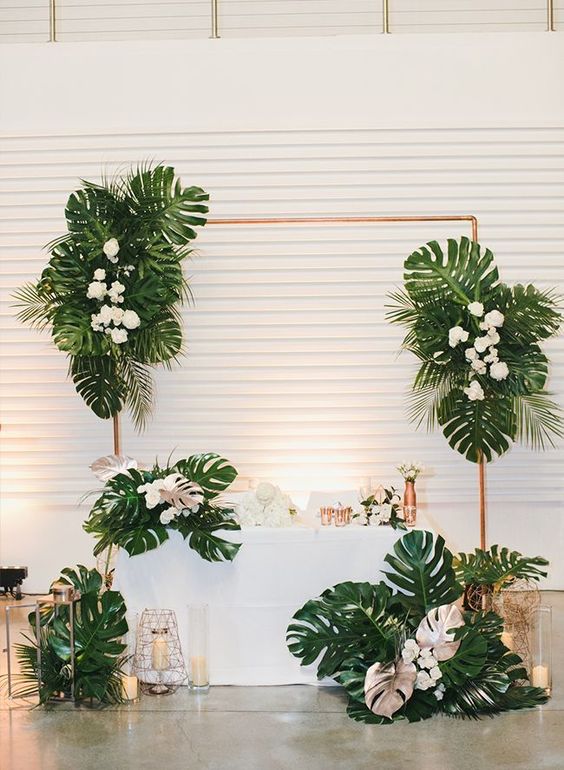 If you're completely obsessed with tropical wedding arch designs, simply set palm leaves, monstera, and white orchids for decoration. Bring a golden metallic arch and adorn it with tropical greeneries if your ceremony is held indoors and has a tropical theme. Don't go into too much detail! Make sure to only use the statement in the pop-up. Then place the arch in front of a white wooden backdrop and place a table in the middle of it, it's quite enough to give you an elegant tropical wedding altar. If you want more decorations, add terrariums and candles for a sophisticated yet romantic ambiance.
Palm Leaves for Beach Wedding Arch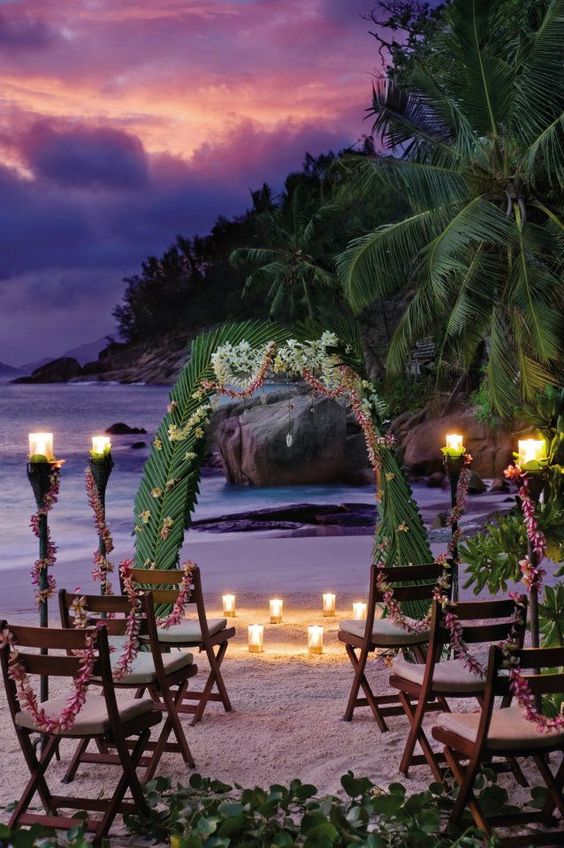 Have a romantic wedding ceremony on the beach with a sunset backdrop. Every couple's wedding dream! Even you also want it right? After we've decided on a location, let's figure out how to make it look beautiful. If you plan on a tropical concept for your wedding ceremony, start to decor your wedding arch and backdrops. This is a spot where you would take a vow with your partner. So, you can use this aesthetic tropical wedding arch and backdrop idea as inspiration. This chic, minimal, romantic arch can be made of bent palm leaves. Then, place tropical flower garlands on it. Furthermore, to add more whimsy and a romantic vibe, you can feature lighting from candles. Adding torches would be ideal with the sunset beach scenery.
Boho Geometric Arch with Dried Flowers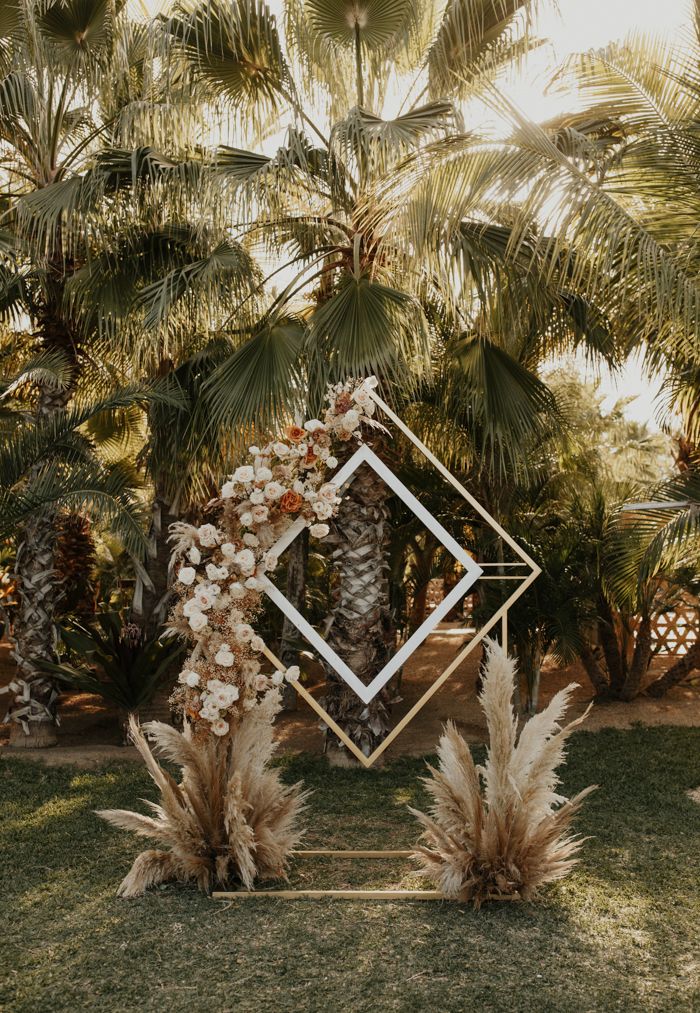 Geometric arches are popular and suitable for a wide range of wedding décor and concepts, including chic bohemian, sophisticated industrial, and rustic wedding ideas. Modern shapes for wedding arches range from hexagons to triangles. You can also style them to become aesthetic tropical wedding arch and backdrop ideas by incorporating lush blooms and greenery. However, when you want to contain a rustic boho vibe you can use dried tropical flowers and pampas grass for decoration.
Tropical Wedding Chuppah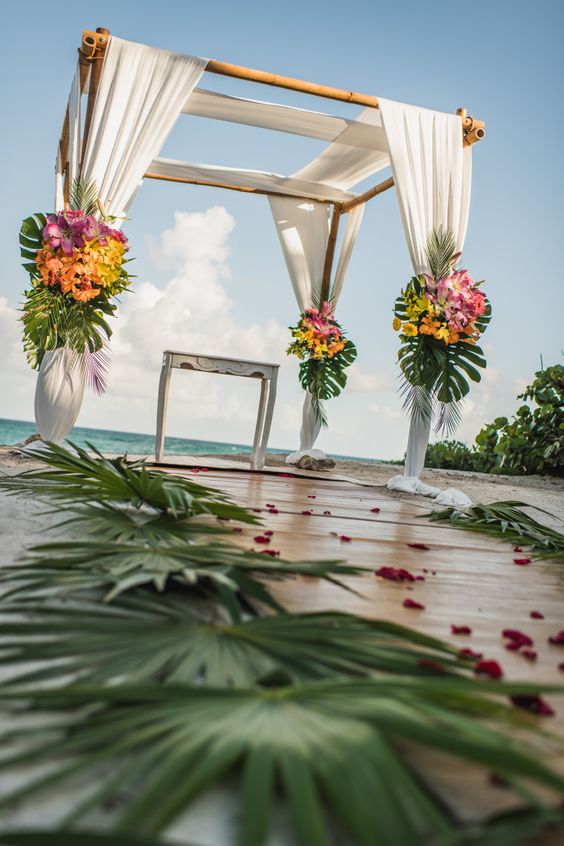 What a lovely display for a beach wedding! This tropical wedding arch and backdrop idea make quite a statement with a curtained chuppah and is decked out with tropic botanical. This lovely chuppah is for a tropical-themed wedding, but it can also be used for a beach wedding. For inspiration about a tropical beach wedding, you can make a deck on the beach and then build a tent using driftwood or bamboo. Cover it in a breezy fabric and add a floral accent for a pop of color. Place a vintage table in the center of the chuppah for a unity ceremony.
Simple Altar Two Parts with Tropical Blooms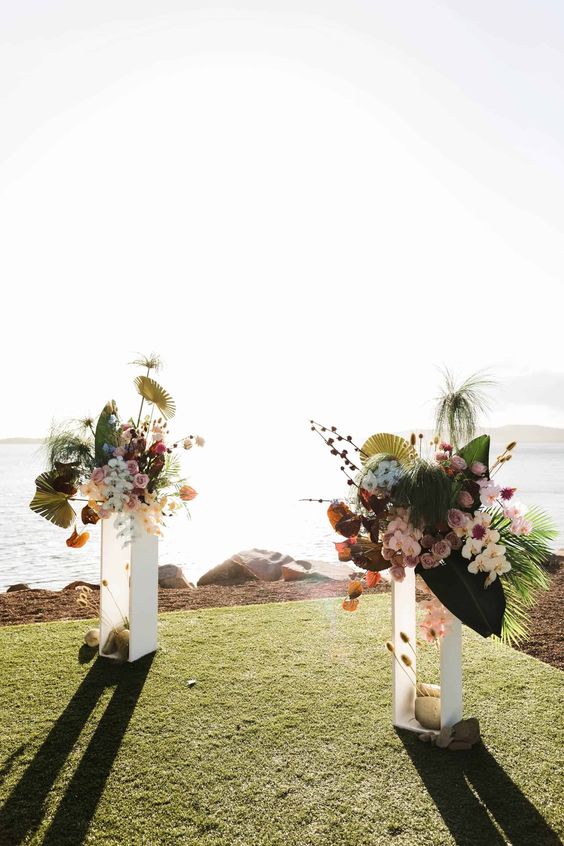 What an elegant wedding arch! Another tropical wedding arch and backdrop idea that you should copy on. This arch design is ideal for couples who want an intimate and minimalist wedding ceremony. If you lean towards the tropical wedding theme, will look best with palm leaves, pampas, vines, and tropical blossoms like white orchids on your arch decor. Rather than bring a common wooden or metal arch, you can opt for a simple altar with two parts with two aesthetic stands. The combination of lush tropical flowers that are loosely arranged would blend in and brings out the natural beauty of your beach wedding backdrop.
Natural Driftwood Tropical Wedding Arch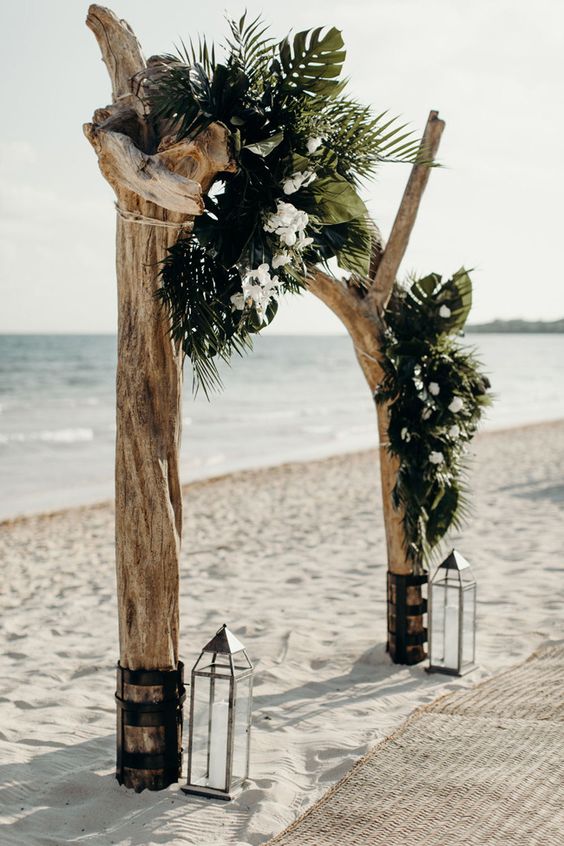 When you looking for unique and unusual wedding arch decoration, best to prefer wood. This material is both strong and versatile, and it can also give a natural rustic accent to your wedding decoration idea. When you want an aesthetic tropical wedding arch and backdrop design, you can use logs as a focal point. Besides, the wonderful ocean views can be preserved by keeping the wood arch simple with minimal decorations using tropical leaves and flowers such as Monstera, palm, and white orchids. In addition, you can put vintage lanterns on your wedding arch to make it more visually appealing.
Luxury Tropical Wedding Altar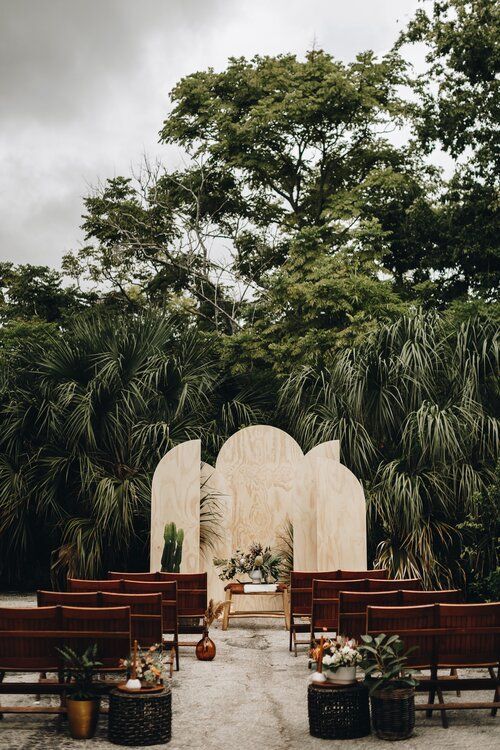 You can transform the pandanus garden into an outstanding tropical wedding venue by designing and building a luxurious backdrop for the altar. For this, you can place an unfinished wood backdrop and give the tropical touch with monstera palms for adornments. This aesthetic tropical wedding backdrop is a great way to add a modern twist to your wedding concept. Furthermore, if you want something more natural, the tropical greeneries could easily be replaced with another floral display, even with living plants in the pot.
Tropical Wedding Arch with Rustic Chandeliers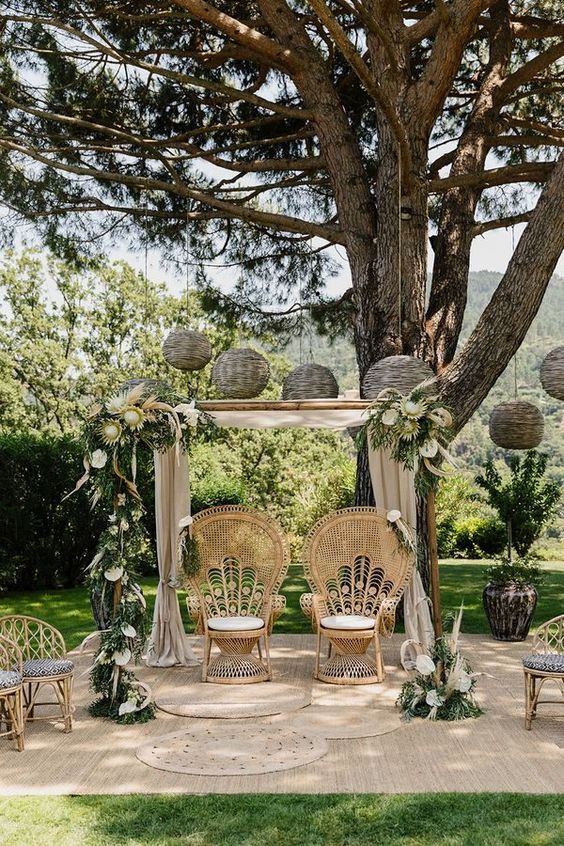 Think out of the box when you want something limitless about your wedding arch design. Despite adding tropical leaves and blossoms being enough to create the theme but combining it with another concept like rustic or bohemian style would bring another level of wedding arch design. We love this tropical wedding arch that's designed with rustic chandeliers as additional decoration. This is a stunning way to ensure that your altar shines. Utilize this setup for your winery and vineyard wedding theme, rustic, or bohemian outdoor weddings.
Coastal Tropical Beach Wedding Arch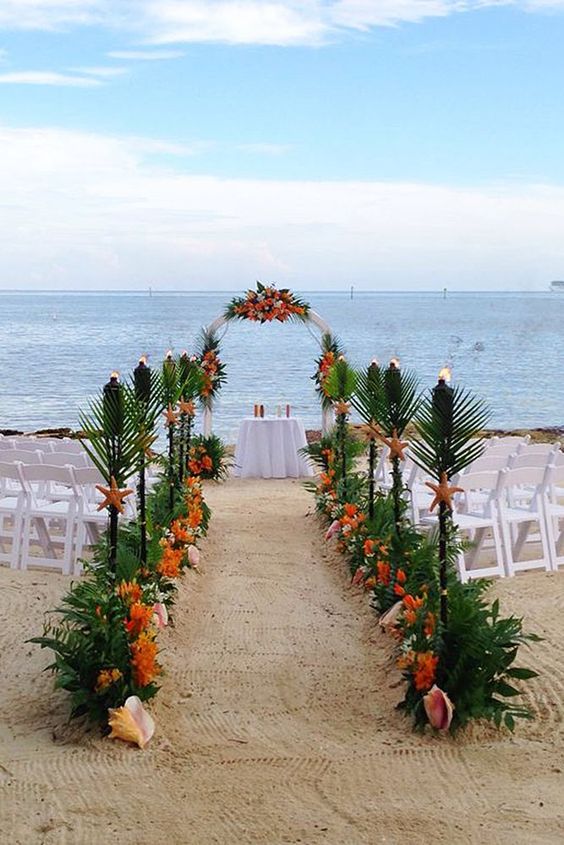 Beach weddings can sometimes have limited decor, not as much as indoor wedding ceremonies. Furthermore, it can be challenging because you must make your wedding venue look stunning while using fewer elements included. Therefore, the wedding arch and backdrop can assist you with this issue. Furthermore, you can also incorporate both coastal and tropical themes together. Like this aesthetic tropical wedding arch and backdrop idea. The palm leaves, tropical flowers, seashells, and starfish decorations blend well and give you a unique wedding altar to take vows with your loved one.
Simple Monstera Wedding Arch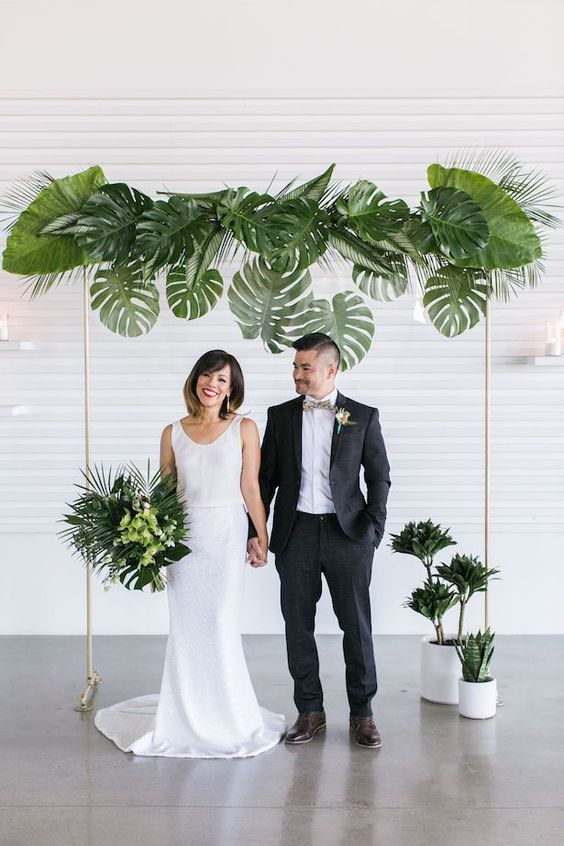 This one is truly a simple tropical arch design! The chic modern style is straight to the point. Set up your aesthetic tropical wedding arch and backdrop using a metal arch and tropical Monstera displayed together to create an industrial style. If you want, you can add not only monstera leaves but also white flowers like orchids and anthurium to the arch for a more visually appealing. Besides, this minimalistic design is perfect for an intimate indoor wedding.
Rainbow Floral Arch with Tropical Blooms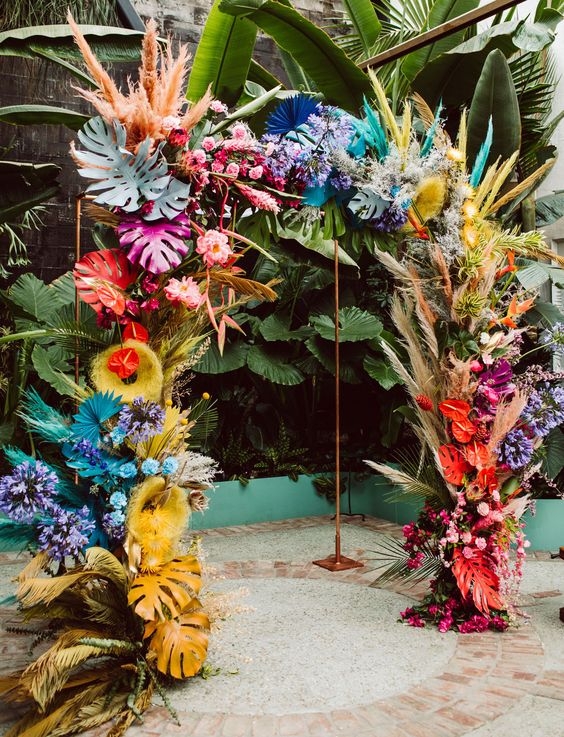 This vibrant standing chuppah with a tropical flair is one of our favorites. Brightly colored blossoms are popular right now, and you can incorporate them into your tropical wedding theme. In addition to real blooms, you can frame your aesthetic tropical wedding arch and backdrop with painted tropical botanicals and dried flowers. This will result in a bold and more eye-catching rainbow wedding arch.
Wood Log Ceremony Arch with Neon Sign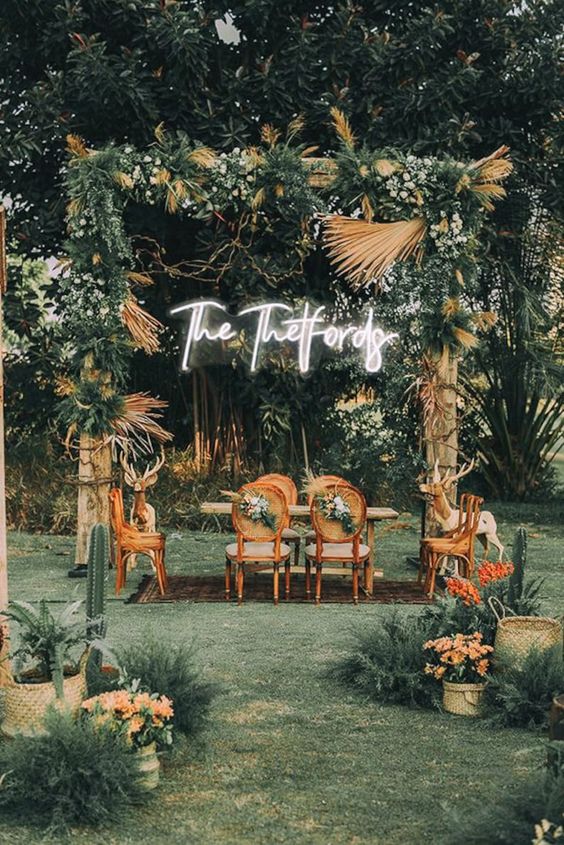 Tropical and rustic is the best combo to put on your wedding day. When you want to embrace a natural yet tropical look, make a statement with this wood log ceremony arch. You can wap it to become the country style by covering the arch with lush greeneries, giving a tropic accent with pampas grass and dried palms. Then for stunning decoration, adorn it with a personalized neon sign. Choose a favorite quote to use as a neon sign in the center of your wedding arch or backdrop idea. This would serve as a focal point in your wedding venue, drawing guests' attention.
Tropical Plant Backdrop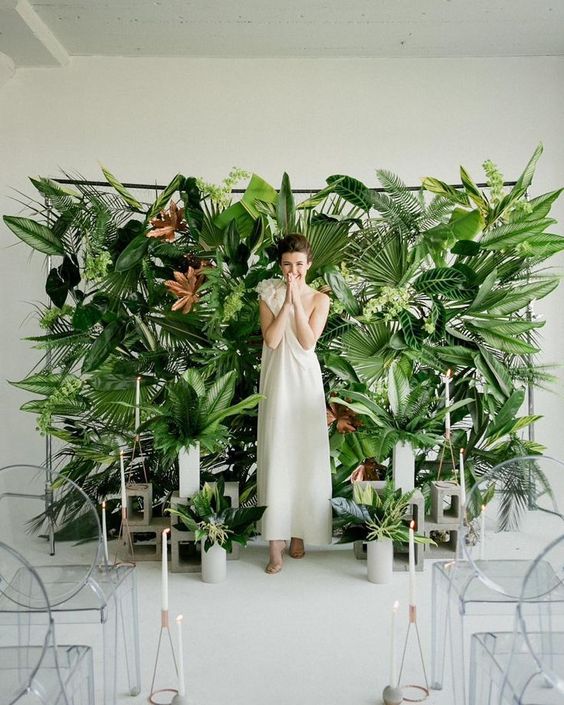 If you are working with a tropical theme, you'll love this alternative backdrop. You can use a metal grid backdrop that's covered with fully tropical leaves such as palms, monstera, anthurium, ferns, and dieffenbachia. This is a lovely way to incorporate fresh greeneries into a tropic-inspired wedding or industrial wedding concept. This simple tropical plant backdrop can be used as a lovely backdrop for newlywed and family photos after you've exchanged vows.
Monstera and Palm Arch Backdrop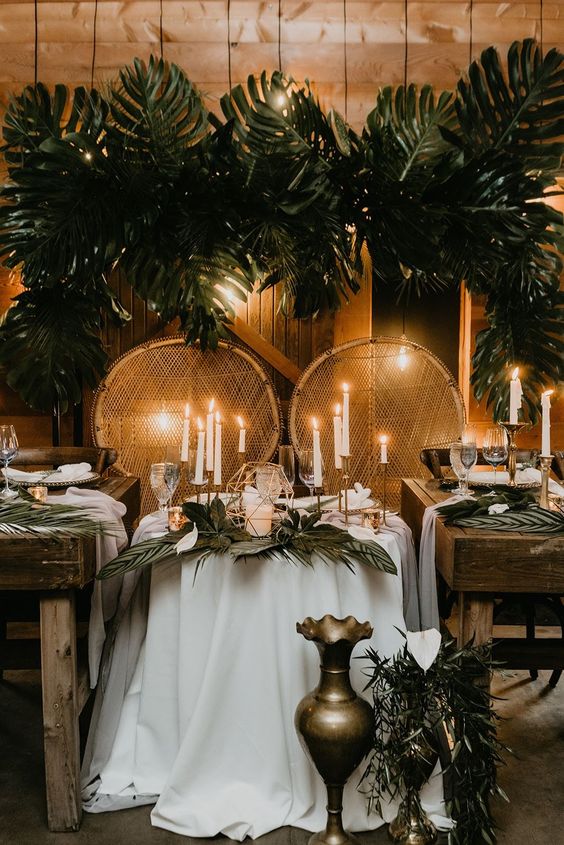 With this inspirational arch and backdrop, you can create an elegant wedding altar in a rustic setting. This type of backdrop would be appropriate for barn or winery wedding venues. It creates a homey feel in the countryside by including natural elements like greeneries and wood. You can arrange some monstera and palm leaves on a wooden wall for an aesthetic tropical wedding arch and backdrop idea. You can get creative by placing a vintage table and rattan chairs to become your altar. Then, added fullness of a romantic rustic feel with candles for lighting.
Boho Tropical Backdrop with Hanging Macrame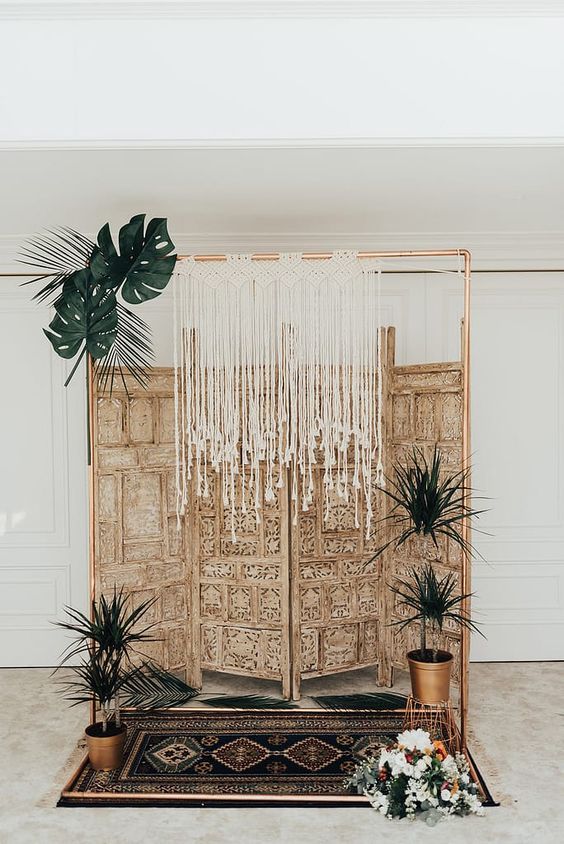 Can you imagine your wedding arch and backdrop having a slight boho style with a vintage vibe? Look further to this antique folding screen dressed with macrame and tropical leaves. This offers you an aesthetic tropical wedding arch and backdrop idea for the wedding reception later. With this, you will also have the best location for taking photos and capturing memories with your loved ones.
Lush Round Wedding Arch with Pampas Grass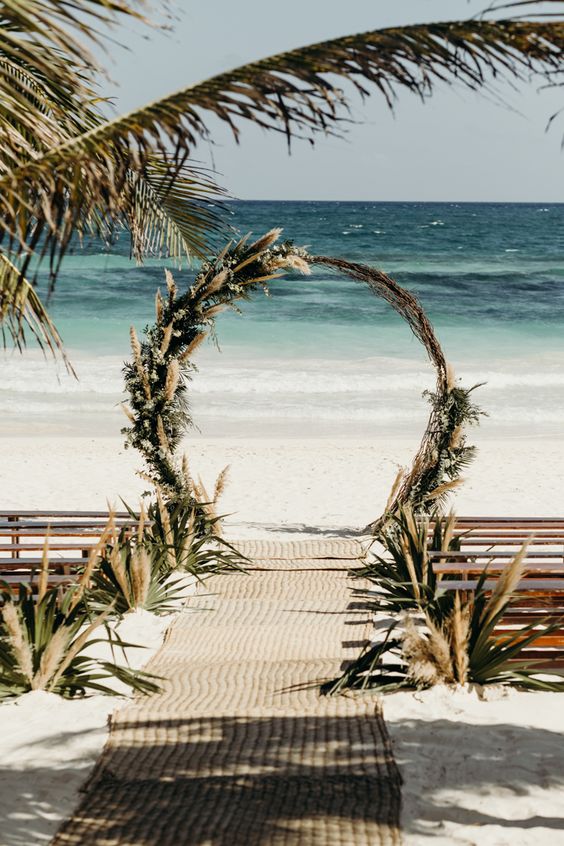 Have a fully aesthetic tropical wedding arch and backdrop idea using this lush round arch with pampas grass. The minimalist design allowed for spectacular beach and ocean views. I believe you'll get a wonderful altar to tie the knot and become newlywed. Then, if you want to add a more chic boho style to the wedding arch, simply place some rugs as aisle runners. This is a must-have for brides who plan on wearing heels to a beach wedding and ensure you wouldn't trip in the sand.
Whimsy Wedding Chuppah with Light Linen Decoration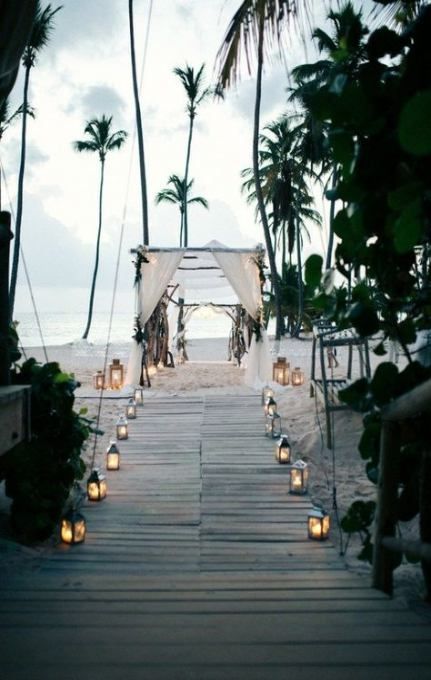 For an outdoor beach wedding, use light fabric decoration to create a whimsical look with a tropical wedding chuppah. You can build a tent out of bamboo or driftwood and hang white light fabric and greeneries at the end. Then create another whimsy touch using a wooden deck along the aisle with vintage lanterns for the side marker. This looks simple yet aesthetic as your tropical wedding arch and backdrop ideas at beach weddings.
Minimal Open Top Arch with Statement Tree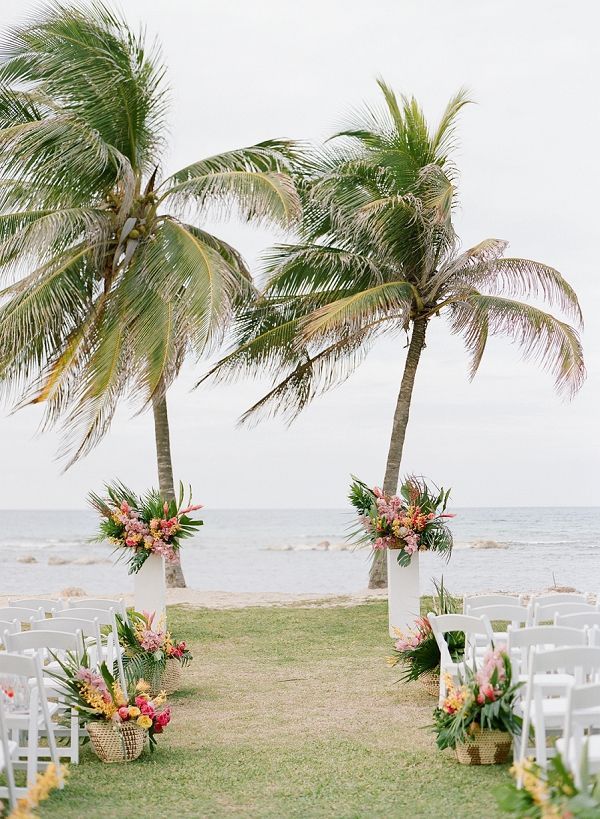 We adore how this couple incorporated coconut trees as a statement into their wedding decor. This would lend a natural feel to your tropical wedding concept. The most stunning altar decoration is sometimes that which is already present in the landscape, such as when looking out over the pacific ocean from this simple and natural open-top arch. Of course, this would become a minimalist yet aesthetic tropical wedding arch and backdrop idea for outdoor wedding ceremonies. You can put two simple stands in front of the seaside and decorate them with colorful tropical blooms and greeneries. For the rest, set up white benches to sit the guests. Rustic flower arrangements also can be included to beautify your wedding venue.
White and Wood Wedding Arch Design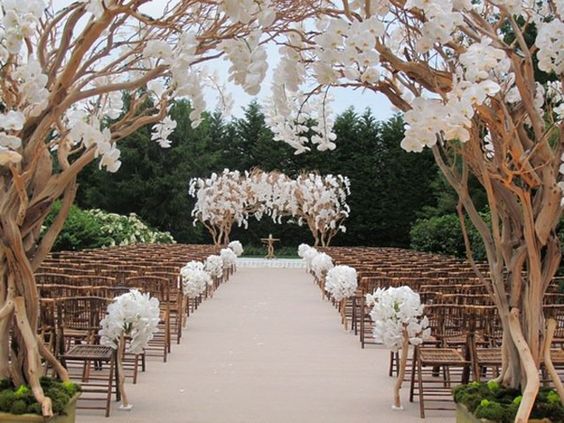 Most wedding arch designs contain flowers for decorating accents. This is because flowers give you not only natural beauty but also it can simply swap out according to your wedding concept idea. This is also one of the simplest ways to create your wedding color scheme. Like when you do a tropical wedding, you might choose a tropical green palette for the decoration. However, you don't need bold colors to make a strong visual. Choosing classic white and wood pop-up colors proves that it can be stunning for weddings. For this inspiration, you can bring white orchids and make a natural canopy with trees. We really like how this aesthetic natural tropical wedding arch appeared around the happy couple.
Minimalist Wedding Arch with Palm Leaves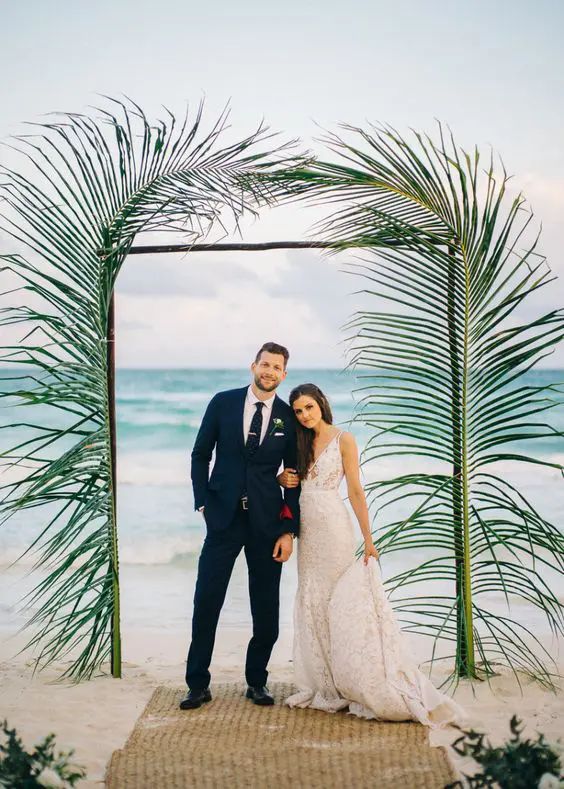 This wedding arch structure is simply perfect for a beach wedding! Do you agree? This look is enhanced by two palm leaves that stand in your simple driftwood arch. Furthermore, when you position it as a frame for the stunning ocean as a natural setting, an aesthetic tropical wedding arch and backdrop was in your hands now! If you want to make a bohemian statement, just add a rug and a white and greenery flower arrangement to your altar.
Creative Driftwood Natural Wedding Arch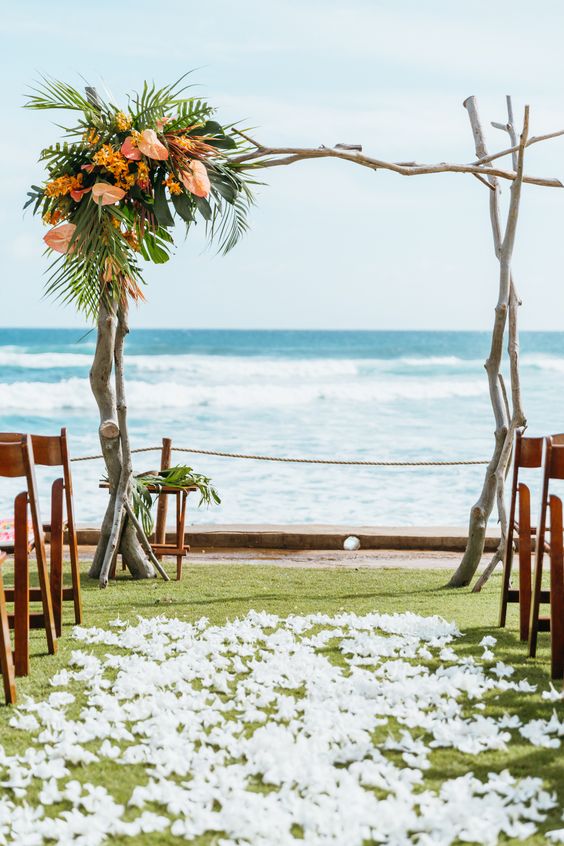 Make your tropical island wedding venue look stunning by constructing a creative driftwood wedding arch. Take a vow in an aesthetic tropical wedding arch and backdrop made of your favorite blooms. If you're stuck for ideas, consider using green tropical leaves as an arch decoration and combining them with vibrant orange tropical blooms. When you want to emphasize the ocean view, keep your arch decoration simple. Just opt for adding flowers and greeneries on one side of the arch to make a statement.
Modern Tropical Wedding Backdrop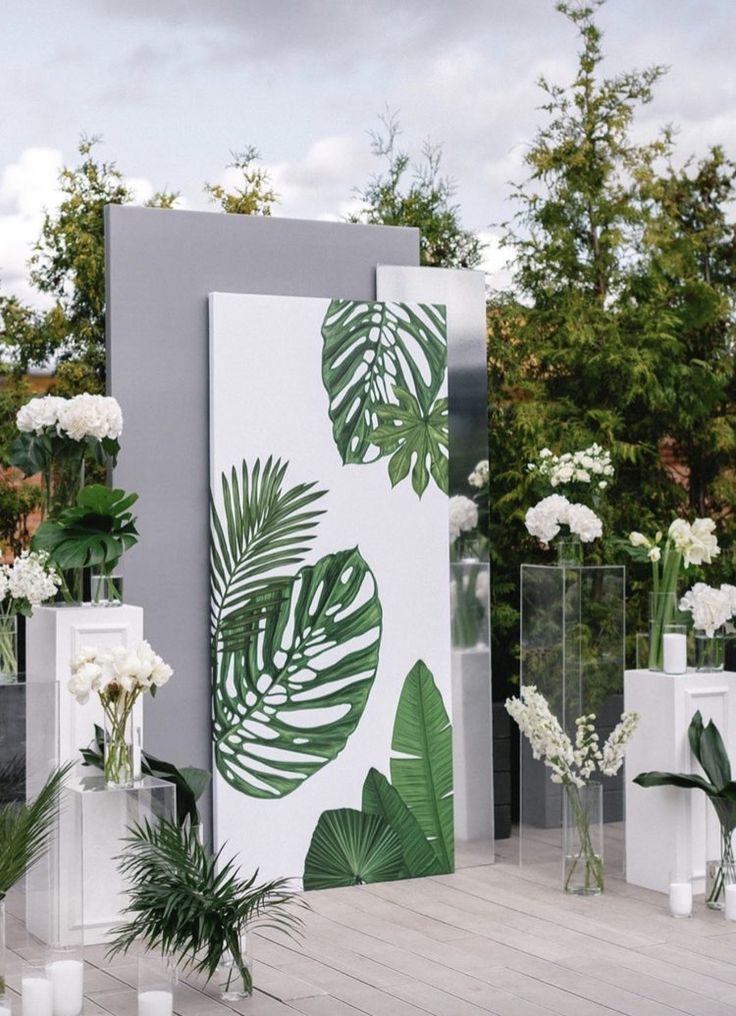 Looking for a way to bring a modern focal point on your wedding day? Just opt for a white-grey shade wall that's personalized with tropical painting. You can also use acrylic material for this. Actually, they can embrace any architectural design even the natural concept. Create your aesthetic tropical wedding arch and backdrop using a floral design, mirror, and some white candles for decorations. You can set this kind of wedding arch for rooftop or indoor weddings.
Bright Tropical Wedding Arch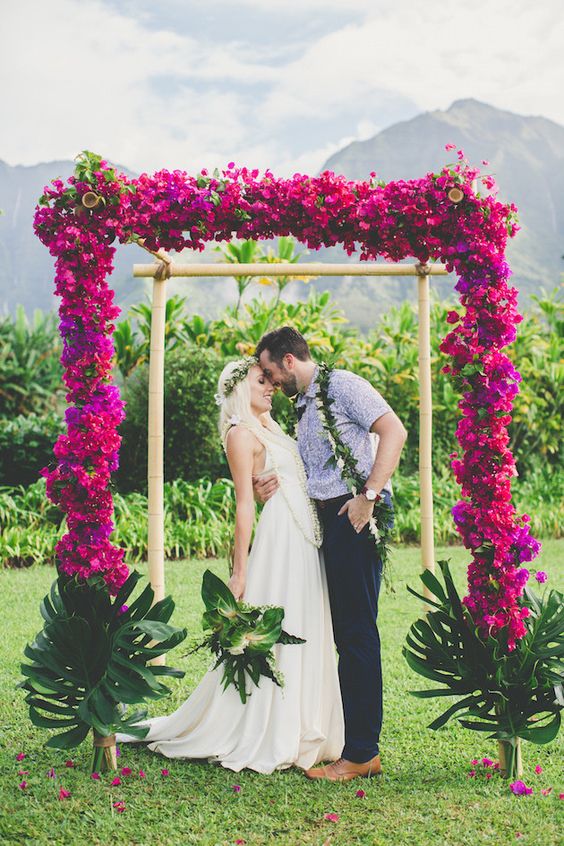 Instead of just using greeneries for a tropical accent, this bright floral arch uses hot pink blossoms dramatically drag a local feel into your big day. Besides, you can also give a summer vibe to your wedding venue. For this, you can make a chuppah out of bamboo poles, then cover it with arrangements of bright pink flowers and dark green tropical leaves. This is such a fun and simple display for your tropical wedding.
Chic Wood Wedding Arch Covered with Tropical Leaves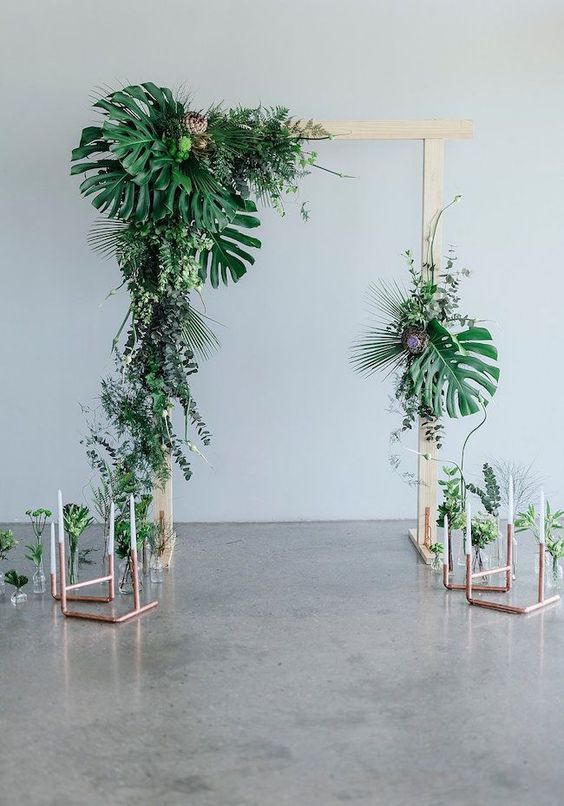 This chic wedding arch is more than enough to convey a tropical vibe. Just wooden arches decorated with tropical leaves such as Monstera and palm leaves will suffice to provide you with aesthetic tropical wedding arch and backdrop ideas. Add some vines, tropical blooms, and wildflowers that would dramatically complete your wedding venue beautifully.
Bamboo Trees for the Wedding Backdrop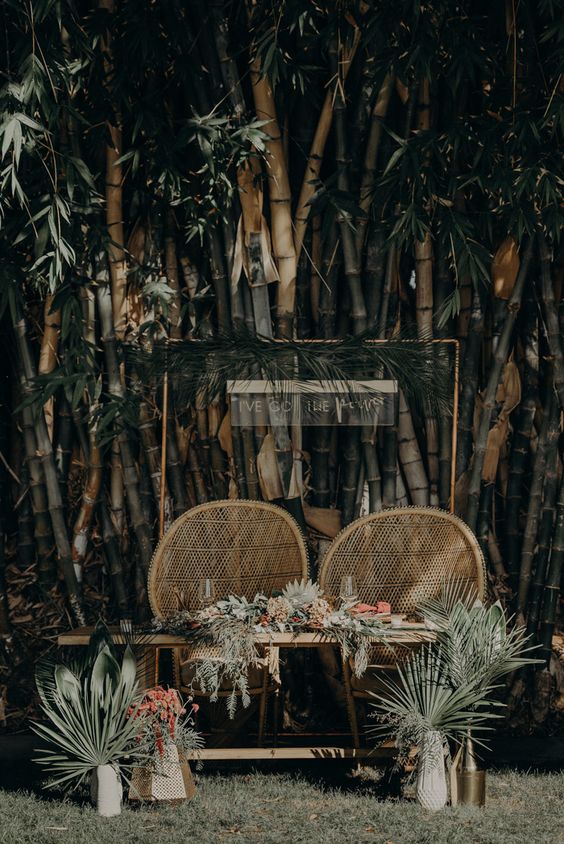 Bamboo trees are another way to depict the tropical forest atmosphere in your wedding venue. Following this wedding ceremony backdrop, you can repurpose the ceremony arch to frame the reception sweetheart table. You can place rustic seat couples under a metal wedding arch that cover with palm leaves. Put a wooden table on, then decorate it with greenery for centerpieces. A few more live plants in the pot can be added to elevate your tropical wedding backdrop.
Lush Greenery Wedding Arch with Tropical Blooms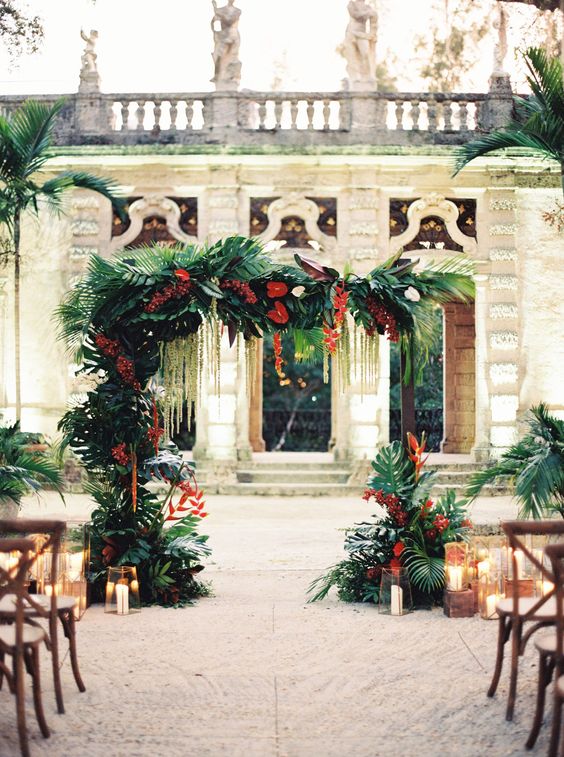 For the last tropical wedding arch and backdrop ideas, we present you lush greeneries that's fully covered the wooden arch. Monstera, palm leaves, philodendrons, ferns, bird of paradise, anthuriums, and king protea are common plants that use for tropical decoration. When you want something that looks lush, put some hanging florals in your summer wedding arch design.
It must be exhausting to be preparing for your wedding day! However, if you put in more effort, everything will pay off with romantic moments with your partner. Your wedding dream will come true. Having a perfectly decorated romantic venue to tie the knot with your partner is one of your dreams, right? And wedding arch is one of the best places to hold a unity ceremony. So, these 31 aesthetic tropical wedding arch and backdrop ideas would help to inspire you to get your dream wedding venue.