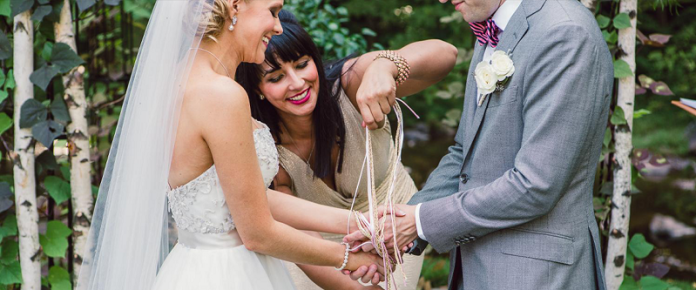 Rowedding.com – There are some ideas for creating an unforgettable wedding reception. One of the ways is using unity ceremony ideas. Personalize your marriage by having romantic and memorable wedding unity ceremonies to symbolize two lives becoming one. You may be familiar with wine-pouring ceremonies or candle-lighting rituals, but your unity ceremony isn't limited to those two options. In fact, there are plenty of creative and sentimental wedding unity ceremonies to bring on your big day. If you want to learn more, just keep reading!
A unity ceremony is a lovely ritual of your overall wedding ceremony. Over the years, couples use this ceremony to symbolize their love for each other and honor their marriage. After all, some unity ceremonies, such as those used in Indian weddings, have become traditions. For years (even centuries), people there have been following a set of predetermined steps laid down by their ancestors. However, couples have recently begun to personalize their wedding unity ceremony in a unique and modern way. It is more personalized based on their personality.
So, if you are looking for sentimental and memorable ceremony ideas to stamp out in your wedding, we're here to help you. Since every wedding has a meaning for couples, we made certain to consider faiths, culture, and beliefs in a unity ceremony. A ceremonial ritual is supposed to reflect promises you've made to each other. That's why you need to make it meaningful. From traditional to modern alternatives, we've compiled a list of 19 romantic and memorable unity ceremony ideas to make your wedding unforgettable.
Beer/Wine Blending Unity Ceremony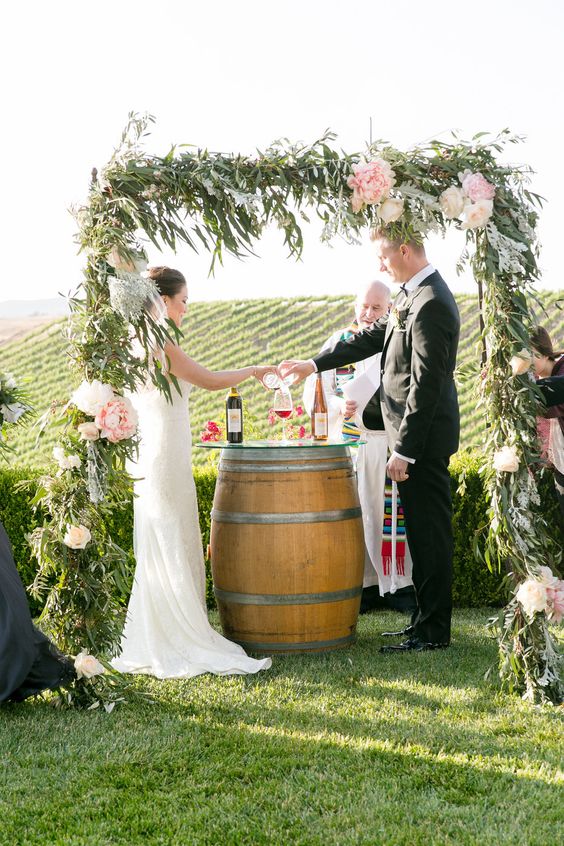 Are you planning a winery and vineyard wedding theme? So don't miss out on this one. Get your romantic and memorable unity ceremony idea using a beer/wine blending ritual. The beer or wine blending ceremony is when couples pour two different wines (beers, your choice) into one empty glass to represent their unity. After that, both of you can take a sip of your unity blending wine/beer. Blending two different wines symbolize the effort and nurturing that newlyweds will necessitate. Just like good wine, it takes years of hard work to produce a finished bottle. Furthermore, you can also select your favorite wine/beer for this ceremony. However, if you want to make a non-alcoholic version, simply use juice, ginger beer, or any other drink you like!
Unity Blanket/Quilt Ceremony
Following to the next romantic and memorable unity ceremony idea, we have a unity blanket/quilt ceremony. This tradition originally come from Native American culture by wrapping a quilt/blanket to couples' shoulders. It can represent of warmth and togetherness as they face the future together as newlyweds. In American culture, you have to wrap in a blue and white blanket. But in the modern alternative, you can use a scrap of fabric that you love or have meaning for you. Furthermore, you can also add a personal touch by making a blanket out of your and your partner's baby clothes.
Braiding of the Cross Ceremony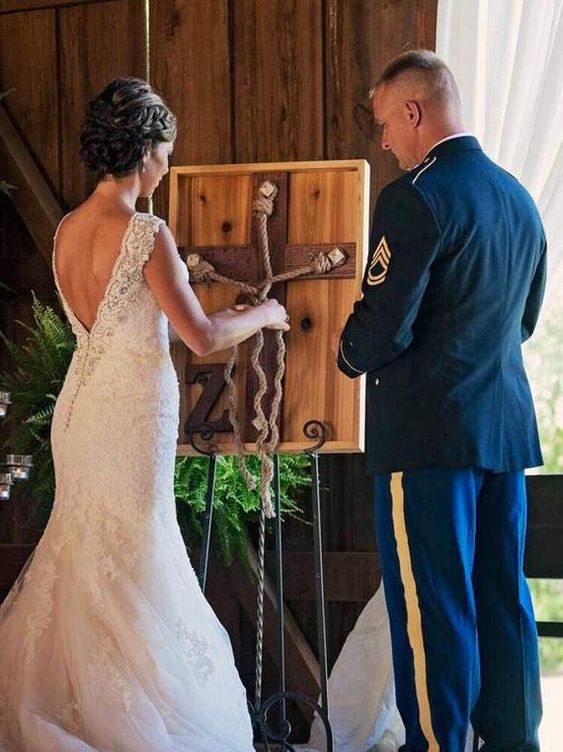 If you are Christian obedient, you can do this braiding cross for unity ceremony idea. This is a type of unity ceremony with a religious message from Ecclesiastes 4:12, "Though one may be overpowered, two can defend themselves. A cord of three strands is not quickly broken." You can find three strands of the braids that each represent the brides, grooms, and God. Despite of that, you can think of the third cord as your family and friends who are rooting for both of you to find your soulmate. In essence, this wedding ceremony not only represents the union of two people in front of God, but also the union of two families. Throughout the ceremony, take turns braiding and knotting the rope with your partner. After the wedding, you can frame it and keep it as a reminder of this special occasion.
Branding Unity Ceremony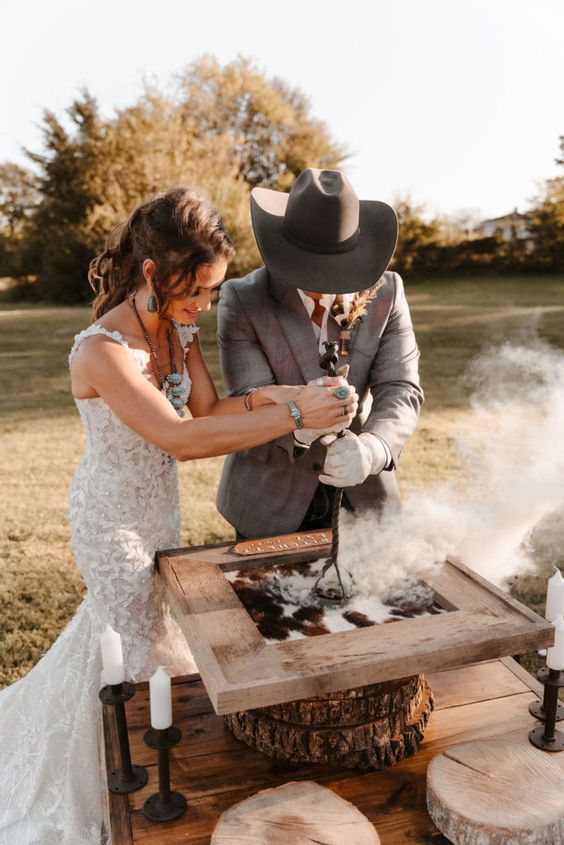 The branding unity ceremony appears unique and stunning. If you're planning a bohemian-themed wedding in a farmhouse, consider this ritual as a romantic and memorable unity ceremony idea. This is something that many ranching families do for weddings. While each wedding ceremony is unique and lovely in its own way, how you show your love through this branding ceremony is meaningful. You can personalize a branding iron with your initials, wedding date, or last name and stamp it to the keepsake bench or cow-hide. Besides, this ceremony works well with rustic and country-western weddings, but it can also be adapted to any style of wedding theme.
Releasing Doves Ritual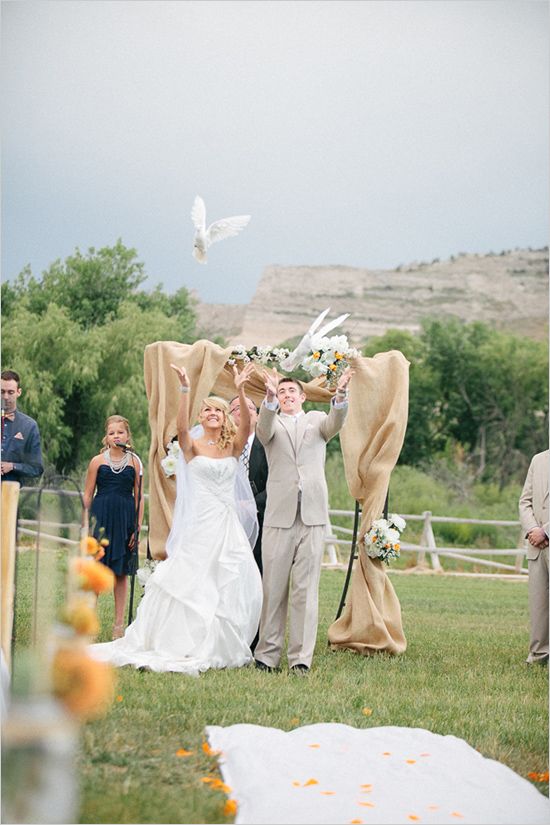 Releasing doves offer a stunning addition to your wedding. As we all know that white doves symbolize new beginnings, deep dear true love, peace, hope, and the freedom of the soul. That's why it's great to release a swarm of doves in your wedding ceremony to make your celebration more meaningful and memorable. Furthermore, in some countries, white doves represent loyalty, honesty, and devotion. Like in Filipino, newlyweds must release two doves into the air together for a romantic and memorable unity ceremony idea. Because in there, this ceremony symbolizes a long and peaceful life together.
Washing Each Other's Feet Ritual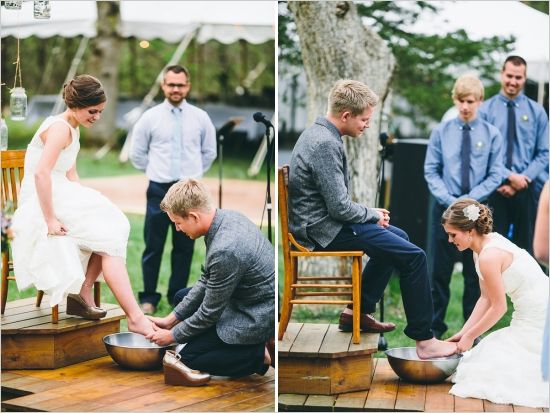 Another religious and sentimental ceremony at your wedding is this foot-washing ritual. The act of washing each other feet represents the release of any past emotional barriers. Allowing both of you to marry with open hearts. It also shows caring and devotion to each other. Furthermore, this unity ceremony idea will provide you with an intimate moment after you become husband and wife. If you prefer this ceremony, you should hold it at an outdoor wedding venue.
Handfasting Unity Ceremony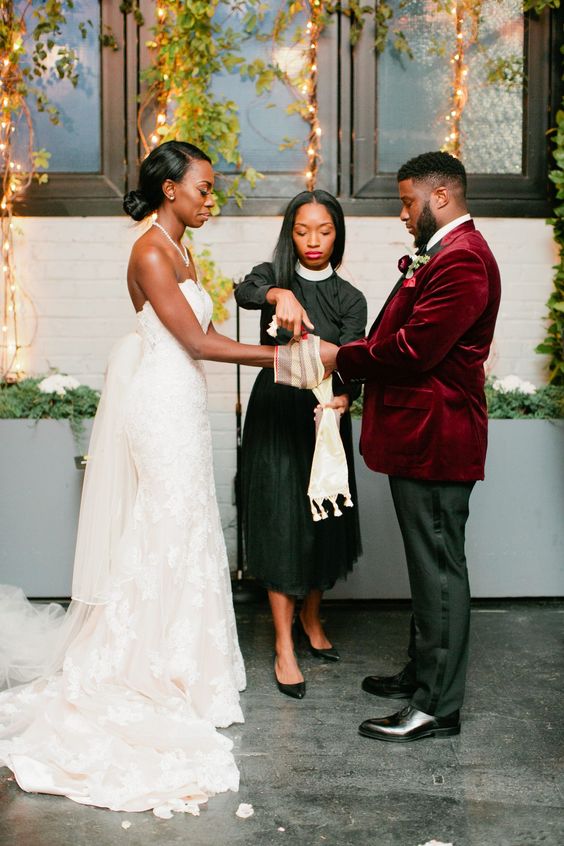 Before weddings were officiated by a church, the Handfasting ritual was a traditional wedding ceremony in the British Isles. Couples would stand in front of an officiant and one or two witnesses then take a vow while tying hands together with a ribbon. In detail, couples are expected to join their hands, with the right hand to the right and vice versa, before the officiant ties a ceremonial ribbon around their hands to join them in marriage. For a modern and memorable unity ceremony idea, instead of tying your hands with a rope, you can use a colorful ribbon.
Hand-Washing Unity Ritual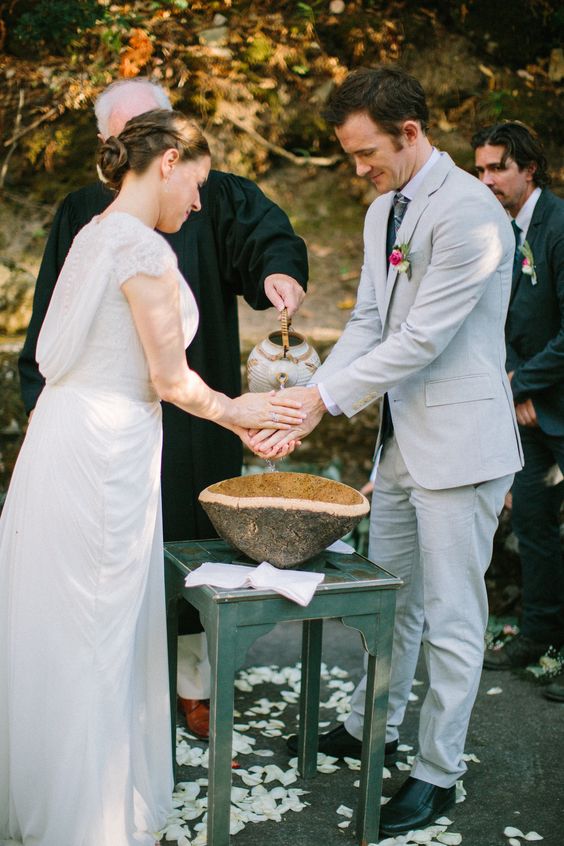 The feet-washing unity ceremony is most effective at outdoor weddings where messiness is not an issue. Meanwhile, a hand-washing ritual is an effective cleansing ceremony for an indoor wedding. A hand-washing ceremony represents a clean beginning for newlyweds. Indoors, couples hold their hands over a bowl or basin and then pour water from a pitcher over their hands to symbolize the purity of love. For the romantic and memorable unity ceremony, you can ask the officiant to pour water over both of your and your partner's hands at the same time while you two are holding hands.
Tequila Love Shot Ritual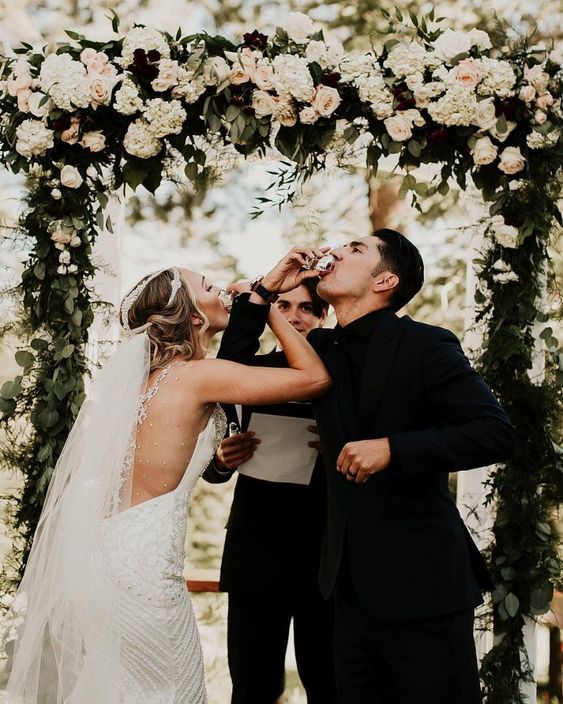 This unity ceremony idea can be combined with a beer/wine blending ritual. After you mix your wine, then you can do a love shot with your partner to sip the unity wine. For this, drink your wine while your hands cross each other which looks more intimate. While sipping beer or wine is not like a unity ceremony, however, it is becoming a trend over years to celebrate your marriage. Besides, there is no best time to celebrate your wedding together with your close friend and family with alcohol.
Bonfire Unity Ceremony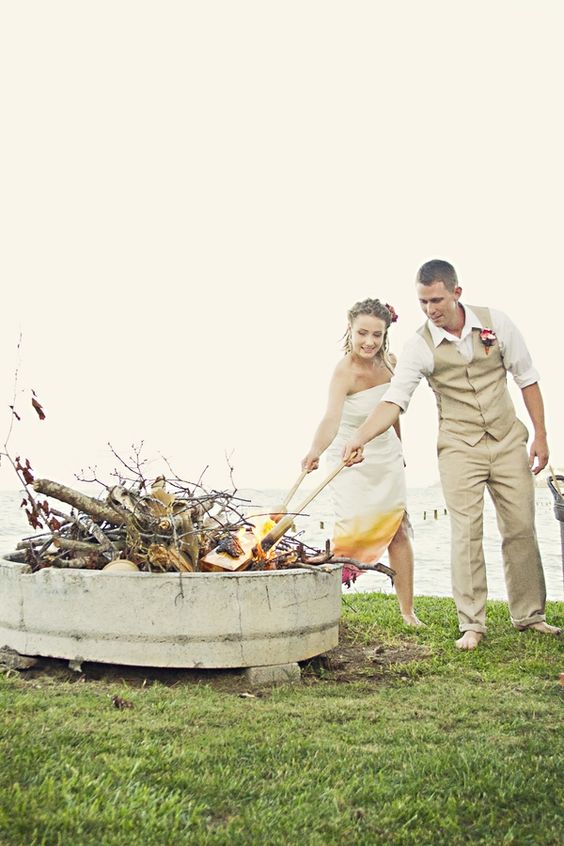 If you are not enough with lighting candles for the unity ceremony, just set a bonfire. This memorable unity wedding ceremony would wow your guests. Keep in mind to hold your wedding at an outdoor venue with a wide area. You also need to make sure about safety. Make a designated fire pit before the ceremony by using drums or arranging stones. Then, to represent your ardent love, light a bonfire. Besides, if you want to serve S'mores on your wedding day, this is an excellent idea.
Releasing Wish Lantern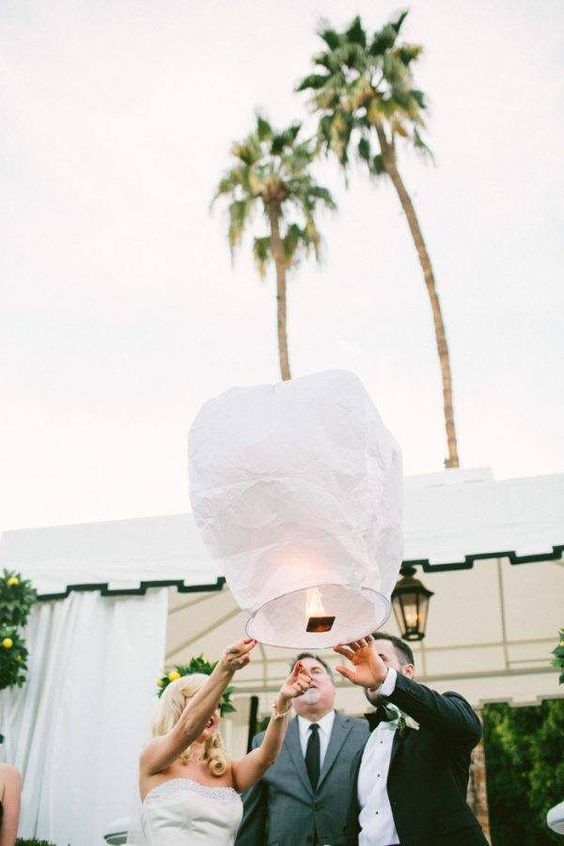 If you're looking for something romantic, releasing lanterns at your wedding is a romantic and memorable unity ceremony idea. Couples here should release a paper lantern into the air while making a wish for a long and happy marriage. It can also represent to letting their love spread throughout the universe and become one. Depending on your preference, you can hold this unity ceremony at noon. If you want a more romantic and sentimental atmosphere, hold it in the evening and invite all of your guests to participate in the lantern release as well.
Butterfly Release Ritual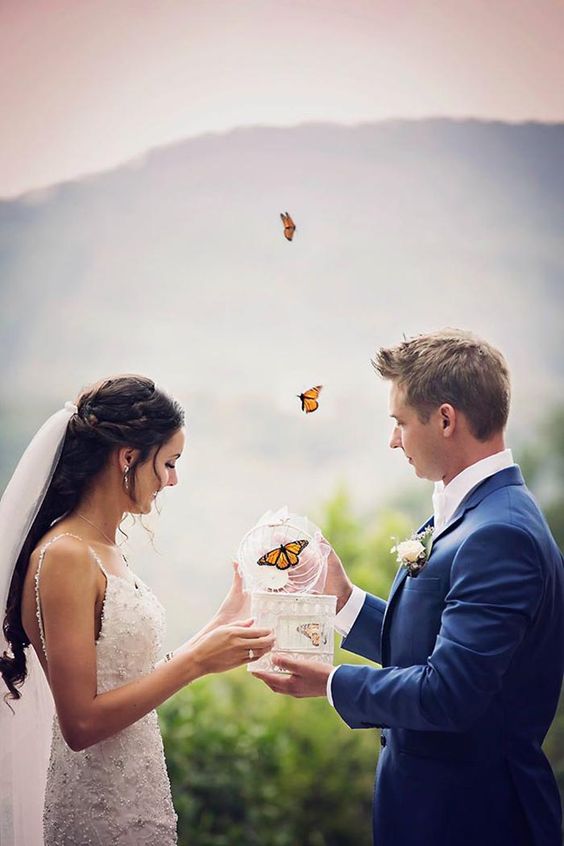 Butterflies are undoubtfully beautiful, graceful, and delicate creatures, that can provide you with a romantic and memorable unity ceremony idea. Using this, you will have a fluttering and spectacular wedding ceremony that will leave a lasting impression not only on you but also on your guests. Despite its popularity, the idea for this ceremony came from Native American tribes who admired and respected butterflies as beautiful and mysterious nature creatures. If you want to release butterflies as part of a unity ceremony, our advice is to only work with companies that promise an ethical approach and certified butterflies. With this, you'll be assured that your choice wouldn't suffer the butterflies or the environment.
Sand Unity Ceremony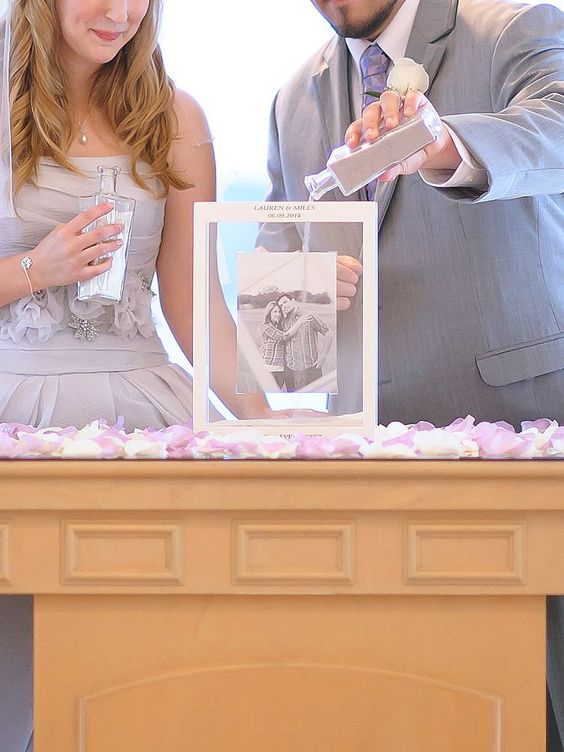 There are a ton of unity ceremonies out there, and this one should not be missed! Yups, unity sand ceremony. Fyi, this is a variation of the candle ceremony that came from the Christian and Catholic faith. People started having outdoor weddings at the time. Because the weather can be breezy and airy at times, they look for a different ritual to bring outside. As a result, they started using sand instead of candles. During this romantic and memorable unity ceremony, couples need to pour sand from two separate vessels into a central one. This would represent the marriage of two people. Furthermore, you can make art out of this by using two different colors, hourglass vessels, or a clear frame with a photo of yourself and then making a background out of the unity sand. You can put it on display at home as a reminder of this moment.
Unity Garland Exchange Ceremony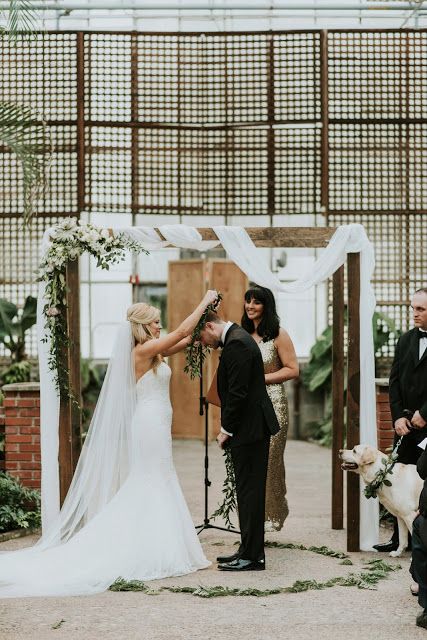 If you want something simple and traditional for your unity wedding ceremony, consider a garland exchange. Actually, this ritual is coming from the Indian wedding tradition. Exchanging garland means acceptance and respect for each other as newlyweds. In the original ceremony, you have to use bright and colorful garlands. However, you can get greenery garlands as an alternative to your romantic and memorable unity ceremony idea.
Tree Planting for Unity Ceremony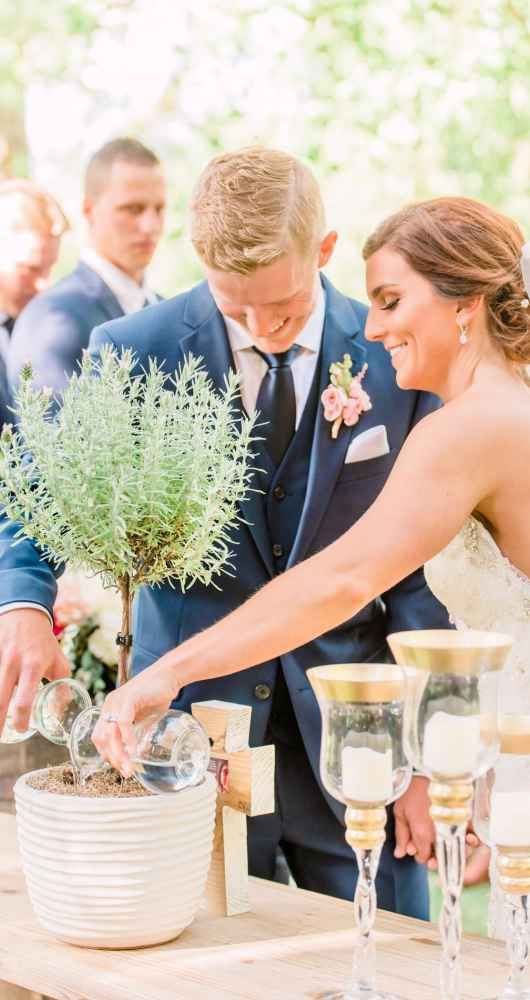 If you are getting married with an eco-friendly wedding idea outside, consider about tree planting for a romantic and memorable unity ceremony. This would symbolize a lot of things that grow in your married life. It may also represent your love that grows with time. During this unity ceremony, place a tree in a pot, then you and your couple take turns adding soil and water. Or, both of you can do it together. If you hold a backyard wedding ceremony, you can plant a tree directly in the ground near your house. It is truly moving to see the tree grow every year as a reminder of the commitment you make with your soulmate.
Light Unity Candle Ceremony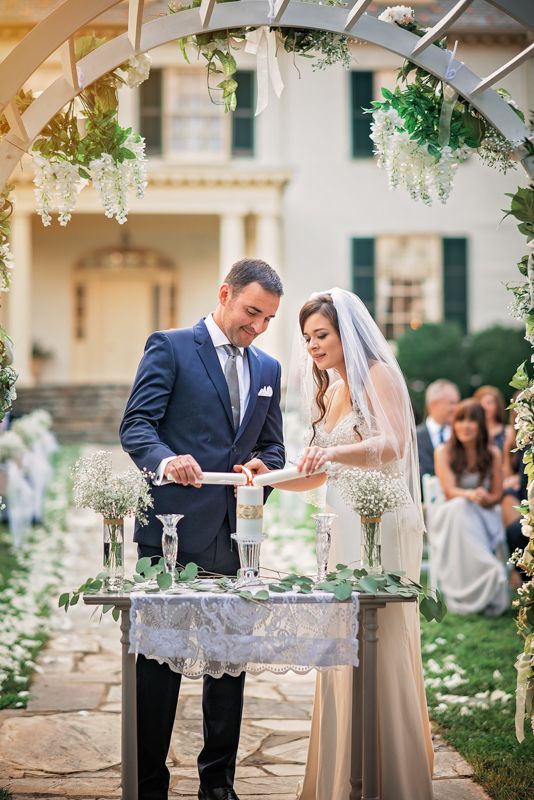 Lighting candles for the unity ceremony is a bit old and common, but we admit it feels romantic and memorable. For this performance, couples need to light one candle large with two smaller candles. Traditionally, those couple of smaller candles would be lit by each mother from the groom and bride's side. This all meant about merging of two different people from two families. Even if you have seen this ceremony in some religious weddings, you can still use it in any wedding. Just make sure to do it at indoor wedding ceremonies.
Knot-Tying Ceremony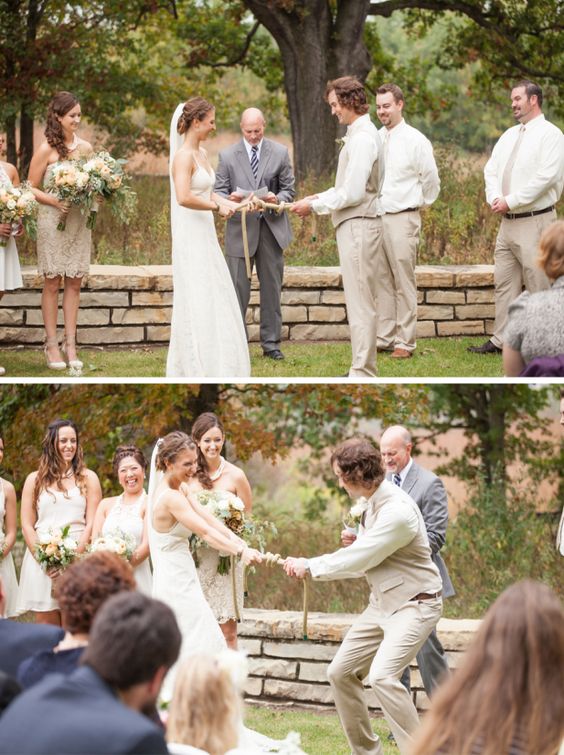 Tying a knot ( tying a fisherman's knot) is another great option if you want a religious and spiritual ceremony for your wedding day. Besides, tying a knot is a special symbol of your love for each other. The bride and groom are given the rope strands, then they are making a fisherman's knot ( one of the strongest knots) from that. As you know, this knot represents your bond, which strengthens even under pressure.
Painting Unity Ritual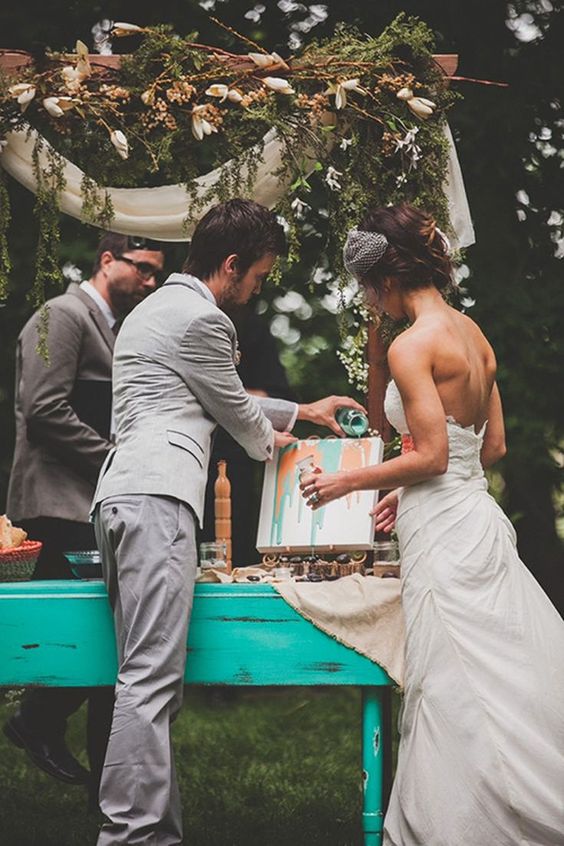 Want a fun personalize unity ceremony at your wedding? You'll absolutely love this one! The painting ritual is such a romantic and memorable unity ceremony idea where couples would draw or paint on a white canvas. You can create an art piece by expressing your emotions during your marriage on a canvas. If neither of you is particularly artistic, simply perform a paint-pouring ritual on a canvas. Get two different paint colors, such as your favorite ones, and pour them on a blank canvas to represent your lives merging in marriage.
Balloon Release in Wedding Ceremony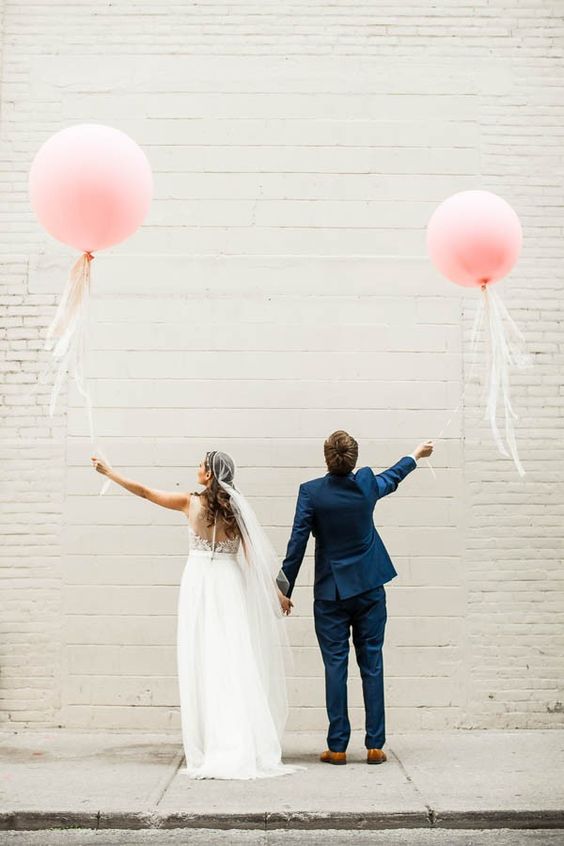 Balloons are the most perfect celebration tool. Releasing balloons, like wish lanterns, are an event staple that can declare you are now newlyweds in a joyful and festive way. If you want to create a happy unity ceremony moment on your wedding day, consider using balloons. Before you release the balloons, you can even attach a note that's written your wish, poems, or just a message for a more sentimental touch. However, you should be careful with your surrounding wedding area. Make sure it can't harmful to farm animals or wildlife. For this, you can limit the number of balloons, like just two helium balloons that will be released.
Wine Bottle Time Capsule Ceremony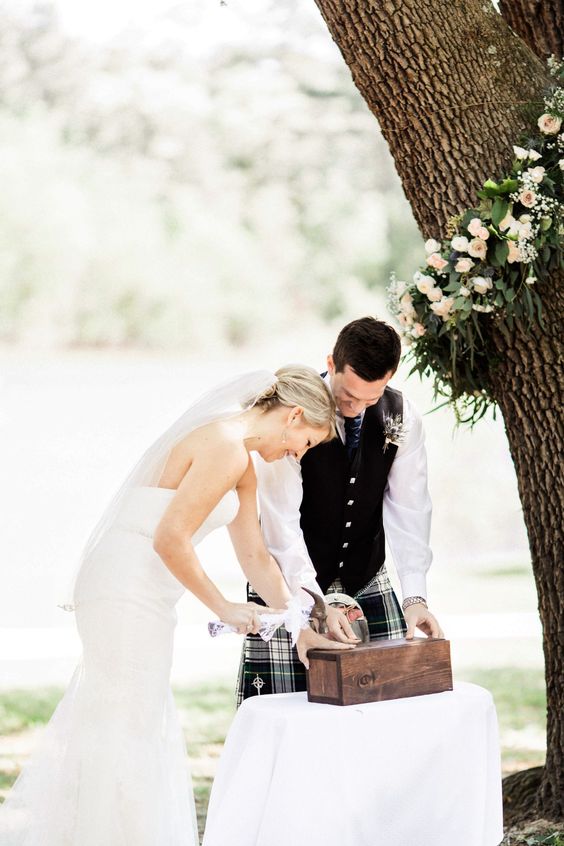 When you want a nonreligious unity ceremony, using a wine bottle time capsule ceremony is the option. This is something that would be better with time. During this unity ceremony, couples need to place a bottle of wine in a wooden box and nail it. Once you sealed it, you wouldn't open it until a specific date like your anniversary. Our advice is you should consult with a wine steward or wine expert to choose a wine that can age well. Make sure to choose something that will be enjoyable when you reopen the box. You can incorporate this romantic and memorable unity ceremony with a winery and vineyard wedding idea.
Now, that you have a picture of the unity ceremony, have you considered one of them? A unity ceremony is a ritual that's performed on the altar during a wedding ceremony. Instead of doing an ordinary vow and kiss for the unity ceremony, find inspiration to make it fun and unforgettable. You can also put cultures, religions, or traditions on the romantic and memorable unity ceremony ideas. Just get your personalize unity ceremony from the list option above. That would help you get what you really want for your special moment!