Your wedding day is one of the most special days in your life, so, it only seems right that you have the perfect venue for your perfect day. Here's what to look for in a wedding venue.
For most newly engaged couples, finding the perfect wedding venue is going to be the first move you make towards the wedding. Searching for the venue of your dreams can be a trying task, especially when finding out costs, availability and more. When looking for the right place, it's important to look out for certain aspects, in order to make sure you're not missing out on any essentials and desires you have in mind.
We've spoke the Arlington Ballroom, a beautiful wedding venue in Essex, about what engaged couples should look for when they're looking at wedding venues. With that in mind, we've created a list of essential things to look out for when looking at venues for the big day. If you want to find out what you should keep an eye on, keep reading.
The Capacity
One of the key things that couples should know before looking at your dream venue, is the actual capacity of the area. All spaces for hire have a limited capacity for safety, which means you're limited to the number of guests you can invite. Each venue will have a different capacity, and it goes without saying that the larger venues will have a larger capacity. If you've got a particularly large guest list, consider finding a bigger venue, or cut down on guests.
The Style
Some couples don't consider the style of the venue when planning their wedding. Every couple has envisioned their dream wedding in mind, so if you walk into a venue which doesn't meet the idea in your head, it can be disheartening. It's important to think about the 'theme' of your wedding. Whether you're going for 20s art deco or something a little more modern, the venue you choose needs to be styled in a way that works with your wedding.
The Location
Thinking about where your guests are coming from is important in deciding what venue you choose. Yes, it is your day, however, your guests will be traveling of their own accord. So, you need to either find a venue that is local, or a venue that pairs with a hotel – so your guests have somewhere to stay overnight before or after the wedding. If the majority of your guests are from the local area, finding a venue nearby may not be the worst thing in the world. But, like we've said, it is your day – so fid a venue you love. Your guests will travel for your big day.
The Availability
Most couples have an idea in their head of when they want to get married. Be it a spring, summer or winter wedding – some engaged couples just have a date they like the sound of! So, finding a venue that can accommodate your wedding at the date you want is key. Most wedding venues are booked so far in advanced that if you really love them, you'll have to wait. Popular wedding dates span between June to as late as October, where the sun is still shining (hopefully). If you're booking your wedding in 'peak' season, you may find that the availability of the venue is limited.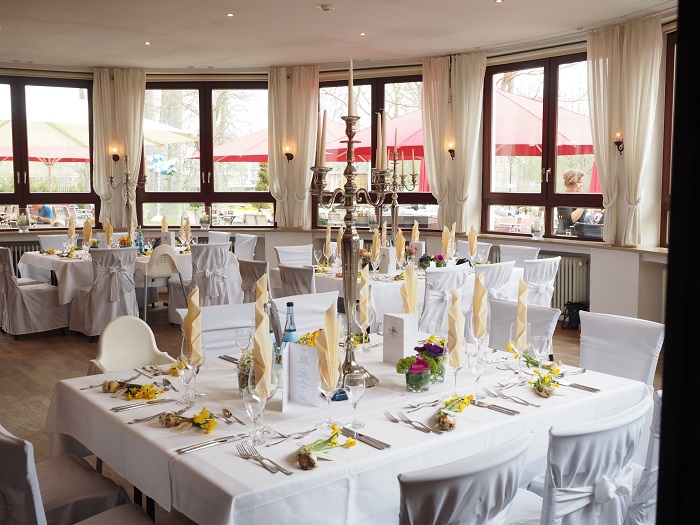 The 'Scope'
You may have some special requests for your wedding. Whether it's fireworks or candles, you need to check that your desired venue allows you to have all the added features you want for your wedding. There's lots of health and safety around open flames in venues, and candles placed all over the venue can be an accident waiting to happen. However, some venues will ensure that any added extras you want, will be safe and their insurance will allow it. Remember, if a venue says no to something, it's because they're not covered against it – they're not being difficult!
The Offer
You should be fully aware of what your venue offers as part of the service for the wedding. Can they provide the catering? Or will the catering be done externally? If so, can the venue accommodate the catering staff? These are all key things to consider before hiring out a venue for your wedding.
The Venue's Experience
Finally, all couples should be aware of a venue's wedding experience. Whilst a venue may offer to host your wedding on the cheap, it's important to know how many weddings they have hosted before. Why? Because a wedding is no easy task for a venue to host. It requires planning, organisation and experience in dealing with one. You don't want to be a 'trial run' for a venue. The day needs to go smoothly, so, you need a venue that knows exactly what they're doing.
If you keep all of the things listed above in mind, you'll be able to take some of the stress out of planning your wedding. Finding a venue is never easy, so try and go on recommendations and do a lot of research. Remember, to shop around and get a quote from each venue before you agree to have your wedding there.