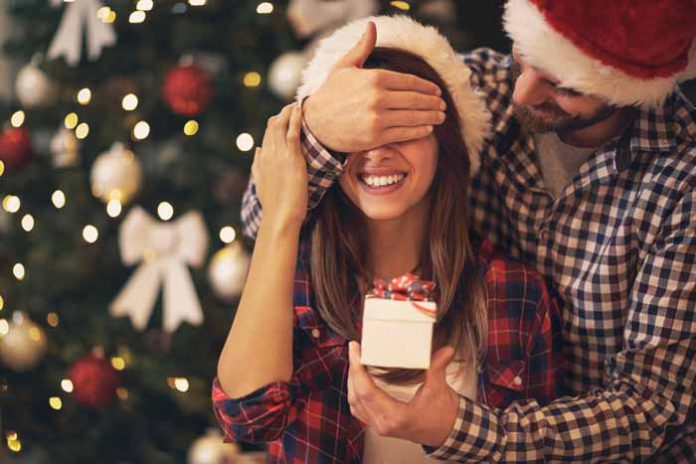 Christmas and New Year's Eve are some of the most romantic times of the year. The lights are everywhere, and, at least in much of the country, you've got a blanket of snow to make everything feel just a bit more magical. What a perfect time to pop the question!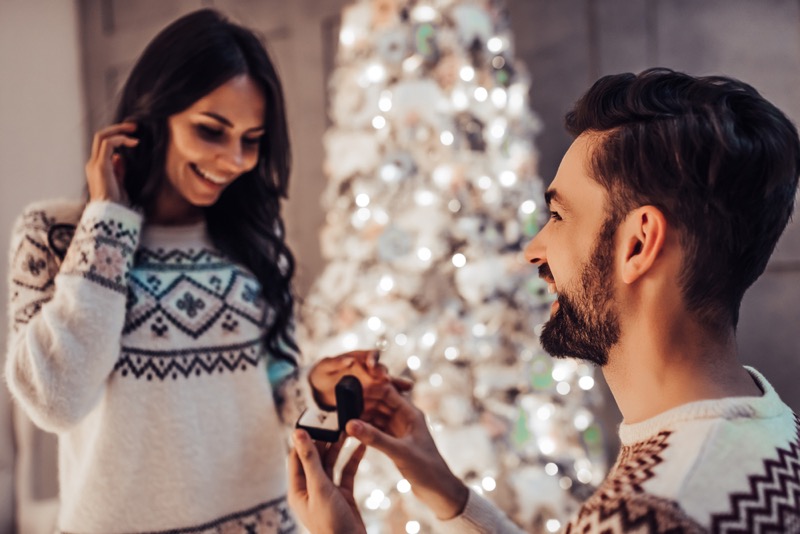 Source: shutterstock.com/4 PM production
While this is a magical time, you do want to make sure to plan adequately. Yes, you have lots of factors on your side here, but you still have to put in some work. While mishaps can make for a great story to tell in the future, you want to keep them to a minimum. Below we have seven tips to keep in mind if you're planning a winter holiday proposal.
1. Mind the Weather
Seriously though, if it's cold and windy outside, proposals are going to be a bit tricky. That pear shaped engagement ring glistens in the sunlight but isn't as visible in a whiteout. Check the weather forecast religiously (make sure to account for ice on the streets as well) and have an indoor backup plan.
If you have an indoor proposal planned, this isn't so much of an issue. However, if you want to take advantage of a beautiful blanket of snow, you aren't doing that inside. Not without a hole in your roof, at least. Fix the hole in the roof and then propose.
2. Consider Crowds…
This is especially important if you live in a metro area. The tree lighting in a country town is a quiet place to propose. The ball dropping in Times Square, though? Not so much.
If you don't mind the crowds, hey, go for it. However, if your future fiancé to be is a little more introverted, a giant crowd of people isn't going to make the proposal as exciting as it could be. With all things, consider personality traits, especially when deciding to propose in a crowded holiday area.
3. …Also, Family
It's not just crowds of strangers you have to contend with during the merry season. The holidays often mean having family at your place or traveling to theirs. While it's nice to see the family, and they're well-meaning, you want to plan around them. It's best that you clue them in on your plans (unless your aunt can't keep a secret) just to make things easier.
If you can get the family in on it, you can have them waiting to celebrate right after the proposal. Maybe even get their help with the proposal! You've got plenty of options if you play your cards right.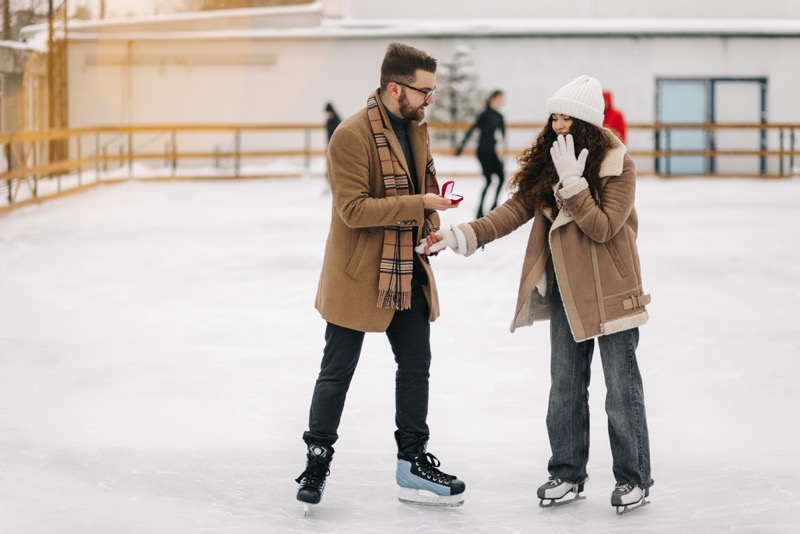 Source: shutterstock.com/JJ-stockstudio
4. Plan Well in Advance
Look, the holidays are a busy time — we don't have to tell you that. This means you shouldn't plan at the last minute. This is especially true if you want a proposal photographer to be available and standing by. December is a peak month for engagements, so proposal photographers may be booked up already if you wait too long.
5. Breathe
Seems obvious, but important to add. The holidays can be a stressful time even when you aren't proposing a lifetime of companionship. Take some time and breathe. It's gonna be all right, even if you're a ball of nerves at the time.
Of course, referring to our previous tip about planning ahead is going to make it easier to do this. Regardless, pad your schedule a little bit and reserve a couple of minutes here and there to recenter yourself.
6. Lean into the Season
It's the holidays! What time is more magical than that stretch from mid-December to New Year's? Everything is exciting — most of all the upcoming proposal — so take advantage of that.
You've got plenty of Christmas and New Year's activities you can include in your proposal, so get creative. Go all out with a carriage ride that rivals Ben Wyatt's accidental date with Larry (Gary? Jerry? Terry?) Gergich. Go simple and just enjoy the peaceful snowy walk in the park. Whatever you do, use all the holiday tools at your disposal.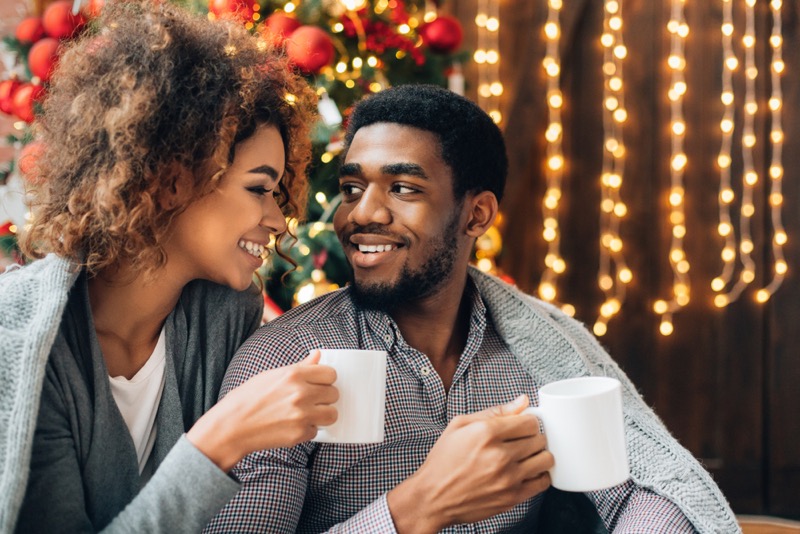 Source: shutterstock.com/Prostock-studio
7. Don't Obsess Over the Surprise
Yes, the surprise aspect of this is great. However, as we mentioned earlier, December is the most popular time of year for proposals, so she may have a suspicion that something is up. If that's the case, it's not going to make it less magical. If that isn't the case, hey, even better.
Regardless, the proposal is just the first step of many years to come, so try not to worry too much. Well, at least keep the worries to a minimum. Just do your best.
No matter what you do, it just has to come from the heart. Get a bridal set you think is perfect and find the right setting. That's really about all you need. Even if you have a couple of mishaps along the way, that's only going to add character to the story as you tell it years down the line.