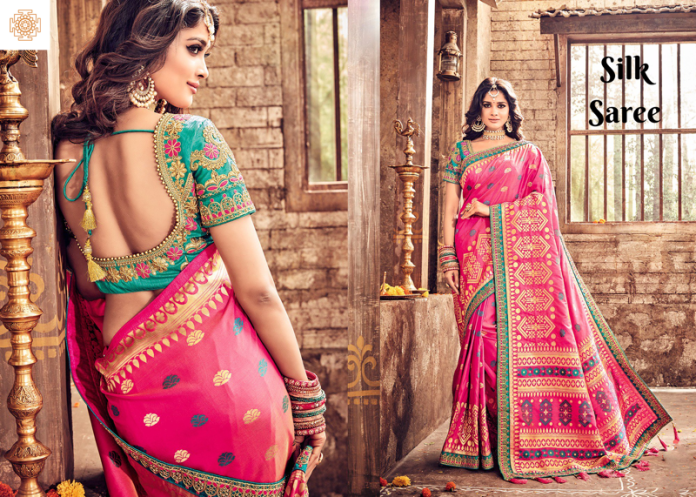 Sarees are the most common dress in India and it is considered as the national attire. In any kind of national and international event Indian women wear saris. There are different kinds of saris available in the market made from different materials among which the most expensive and qualified one is silk.
Indian silk sarees consist of prolonged historical importance. China is credited with creating and popularizing silk initially. It was first the exclusive realm of royalty and thereafter the privileged. During the pre-industrial era, silk was one of the most significant commodities traded internationally. Even the archaeological records from the Indus Valley Civilization and the Harappa period mention silk and sericulture in India. It is known that silk traveled through the renowned Silk Road from Asia to the West.
India has also long been associated with silk. Silk manufacture and use date back to the Indus Valley Civilization in South Asia, according to archeological studies. India is the world's largest consumer of silk in addition to one of its largest producers.
Silk's adaptability is a key factor in its appeal. Since silk is a natural protein fabric with numerous variations, there is no shortage of textural variety. The variances in design, color, fabric, and feel are crucial while stitching a saree. One such material that brilliantly captures all these characteristics is silk. Beautiful sarees are made by weaving silk thread into exquisite patterns and fabric.
Despite its smoothness and shine, silk's innate tensile strength is truly exceptional, as is the depth of its texture, its absorbency, and its pliability. It is commercially extracted as white or off-white yarn and is neither slick nor fragile like synthetic materials.
Silk is produced in a farming process known as sericulture. In this process, various kinds of silks are cultivated. Popular silk varieties include wild silk. Despite being more difficult to find than commercially available silk yarn, it is treasured for its gorgeous texture. One type of silk that is made from a non-mulberry source is Tussar silk. Another kind, Muga silk, is well known for its strong golden-yellow silk yarn.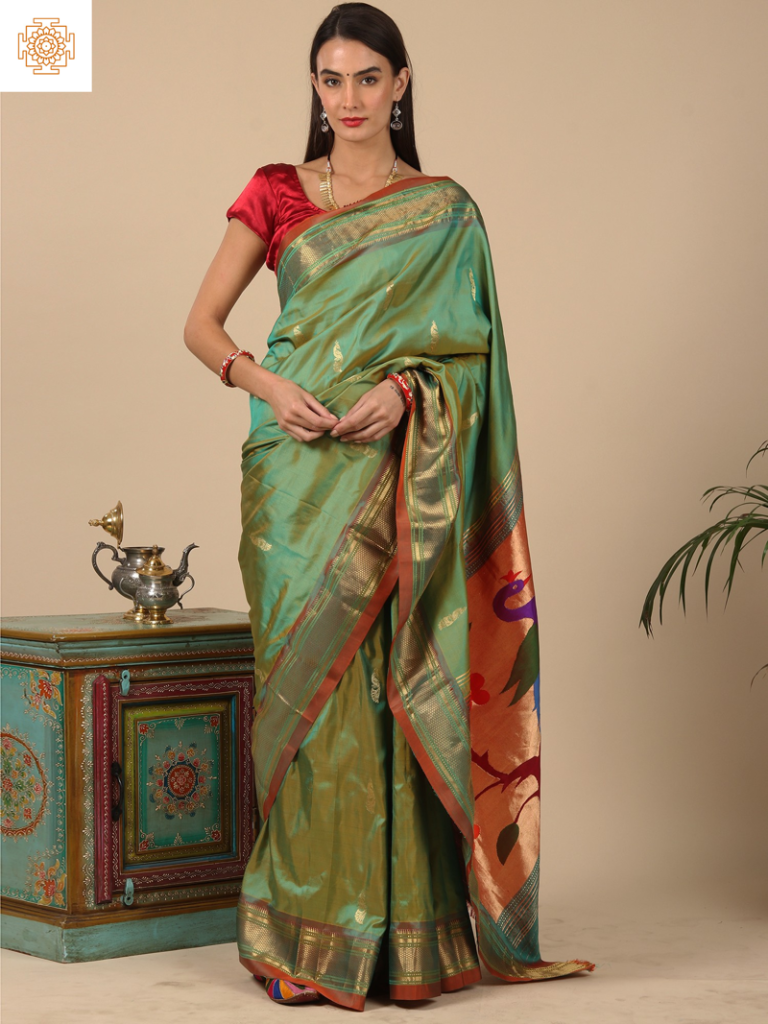 What is the importance of silk sarees?
Silk is considered to be one of the most expensive, rare, and elegant materials that are used in the making of saris. Silk sarees are considered to be of immense importance as it is explained in the following lines:
For everyone: Anyone can wear a silk saree because of the different ways it may be styled. Any body shape, skin tone, or body texture may wear a silk saree that brings out the best in them. A silk saree's adaptability extends beyond its kind and includes the fact that it works for every occasion, location, or event: occasions, offices, schools, colleges, daily commutes, at home, and wherever else.
No tailoring work is essential: Silk Sarees are the only articles of clothing that may be worn without first needing to be attended to by a tailor. It is a free fabric that each lady may wear whatever she pleases.
Promotes positive energy: Positive energy is thought to flow through the body when a silk saree is draped, keeping the mind, soul, and body of a person healthy and joyful. It maintains the health of all our senses.
Eliminates all bad energy: We are surrounded by both positive and negative energies. We need to safeguard ourselves from harmful influences. The manner a silk saree is draped is thought to affect the mind, body, and soul by shielding the wearer from outside harmful energy.
Naturally made fabric: Natural fibers, including cotton and silk, are excellent for our health when used to make clothing. The energy that is coming at us from the inside first travel through our clothing before entering and having an effect on our internal organs. Because of its round shape, a silk saree channels these energies and inhibits any that may be harmful to us.
Keep warm: Silk sarees are preferred to be worn by women to keep themselves warm. This is the reason why the Indian market demands a high range of silk sarees during the winter months and also in the winter states of India.
For precious occasions: A silk saree looks elegant and is molded with utmost beauty and charms. This is the reason why it is most widely used as attire in marriage ceremonies, get-together parties, and other entertaining and traditional gatherings.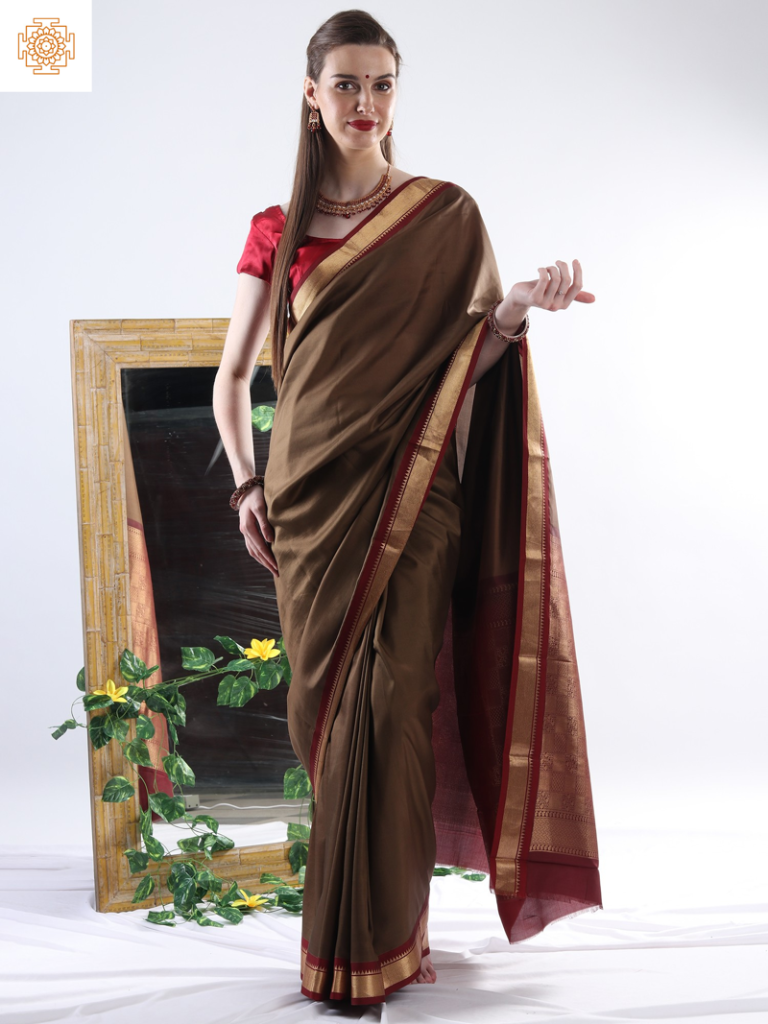 Things to consider while buying silk sarees:
Establish a budget: Establishing your budget is essential before you begin your online saree-purchasing experience. Sarees may be purchased from online retailers at a variety of price points, so having a spending limit in mind will enable you to focus your search. It's also crucial to keep in mind that a saree's price does not always indicate its superior quality.
Pick the appropriate fabric: There are many different textiles available for sarees, and each one has special qualities of its own. Weddings and other ceremonial events call for silk saris.
Verify the legitimacy of the vendor: When making an online purchase, it's crucial to confirm the seller's legitimacy. Before buying, doing some research on the vendor would be good. Verify their availability and exposure online. Look out for any warning signs, such as an abundance of bad reviews or a lack of contact details.
Look over the return policy: Check the seller's return policy before purchasing a saree because you won't be able to put it on or view it in person. Make sure you have the option to return the saree if it doesn't fit or isn't what was advertised. Before making a purchase, please read the terms & conditions and the return policy.
Search for specials & discounts: Online sales and discounts are rather common. Watch out for holiday bargains, season-ending sales, and any reductions that the online retailer may be offering. By doing this, you may be able to acquire a decent bargain and save money.
Compare costs: Finally, check pricing across several internet retailers before making a buy. You may save money and obtain the greatest deal by doing this. Don't just focus on the pricing, but take the shipping and delivery times into account.
Which silk sarees are in trend?
Recently, popular reports by famed designers have concluded that the following Indian silk sarees are extensively used and are trending over the country. The newest designs and embroideries that the fabric of these saris offer have made them widely recognizable by many.
Assam silk saree: This exquisite sea green saree with flower embroidery can enhance the beauty of ladies of various ages and shapes. Since ancient times, Assam silk sarees have been renowned for their labor-intensive production and fine workmanship. The traditional silk saree from Assam is entirely handwoven.
Banarasi Silk saree: Banarasi silk sarees are renowned for their gold work, compact weaving, and intricately detailed designs, which elude wealth and sophistication. It offers you an expensive look.
Kanchipuram Art Silk Saree: The body of the saree and the pallu are woven separately and then interwoven together with a zig-zag pattern, which is unique to Kanchipuram silk sarees. According to legend, Gods dress in silk from Kanchipuram.
Baluchari Silk Saree: The mythical figures on the pallu of the baluchari silk sari, which are well-known, have won awards for the principal weaving techniques used in the sari.
Summing up
Before investing in nice, high-quality Indian silk sarees, one must think carefully and conduct the study. Numerous reliable vendors provide a wide selection of silk weaves that seamlessly blend the finest of both worlds. Beyond that, they support the utmost openness and confidence with our clients. To help you make an informed choice, you'll discover details on everything from the fabric type to the weaving methods to the sari utilized.