Roowedding.com – For brides who love all things colorful, it's hard to pick just one color for the wedding theme. The great solution is to choose them all! Rainbow wedding bouquets are cheerful and beautiful. While you celebrating your wedding, then you hold a bouquet walk down to the aisle, your appearance more perfect and awesome. You might see a variety of rainbow color for beautiful wedding bouquets which suitable with your moment. Check out some of our favorite arrangements below and get inspired to create your favorite blooms!
Pastel Rainbow Baby's Breath Wedding Bouquets
Wedding bouquet with a bright color looks common. If you want to make your wedding day looks different, you may choose a beautiful color that compatible for the flower bouquets. A rainbow color not always identical with bright color, a pastel color also suitable to choose for blooms, especially for wedding bouquets.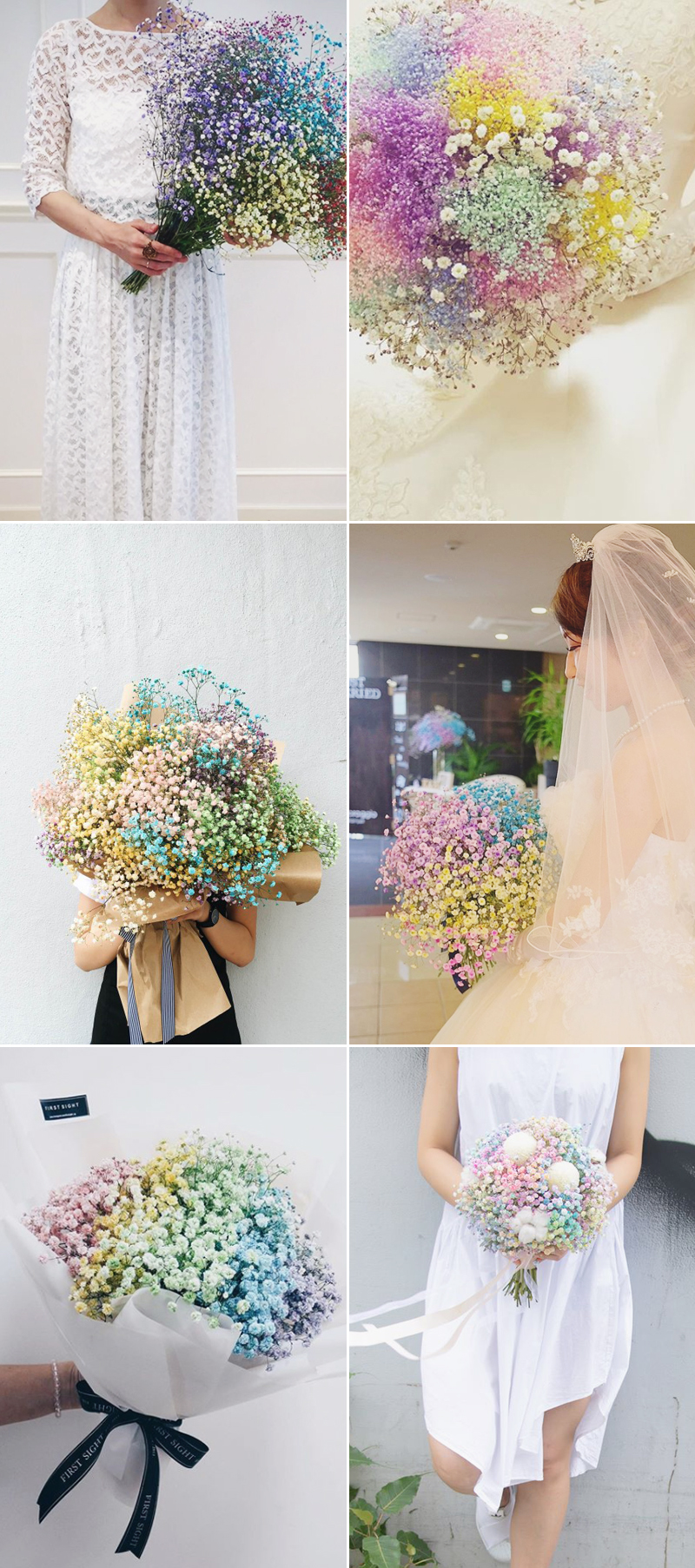 Pastel Baby's Breath Bouquets
This flower looks beautiful and unique to choose for wedding bouquets. If everyone often chooses roses for their bouquets, now another type of flowers like baby's breath flower is suitable to make your wedding looks fabulous. This very unique because the flower has small petals and if you looking from far, it looks like a firefly. A rainbow pastel color is perfect to apply for this bouquet. If you want to celebrate with a spring theme, this rainbow color for beautiful wedding bouquets will make your wedding perfect.
Gorgeous Roses Rainbow Round Wedding Bouquets
Then, roses also become the most popular and favorite wedding bouquets that look so colorful. With a rainbow color, the roses bouquets look more attractive and charming. Then, round roses bouquet also suitable to perfecting your wedding appearance, especially while you holding them.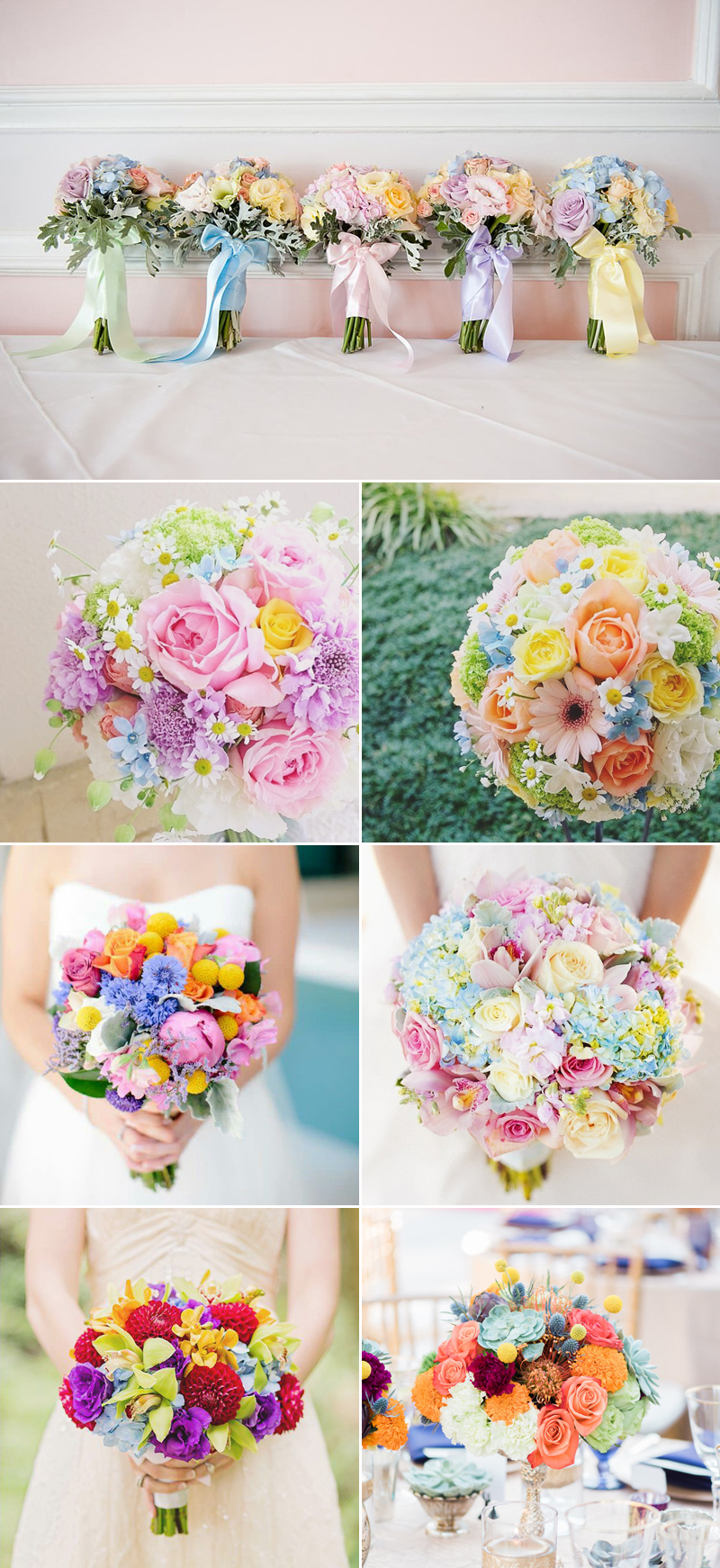 Round Roses Wedding Bouquets
Besides a pastel color, it is possible if you want to combine between bright and soft color into one bouquet. Like the picture above, round roses bouquets with a rainbow bright and soft color look so gorgeous. Rainbow wedding bouquets with roses are not bad, but it will make the wedding bouquets look colorful and beautiful exactly.
Beautiful Rainbow Combination Flower Wedding Bouquets
In other hands, you might combine some flowers with a rainbow color for your wedding bouquet. Certainly, it would not make the bouquets looks monotonous. Choosing a variety of blooms are perfect for your moment. Like a rainbow wedding bouquets ideas here, this might you choose as the reference while looking for the best bouquet designs.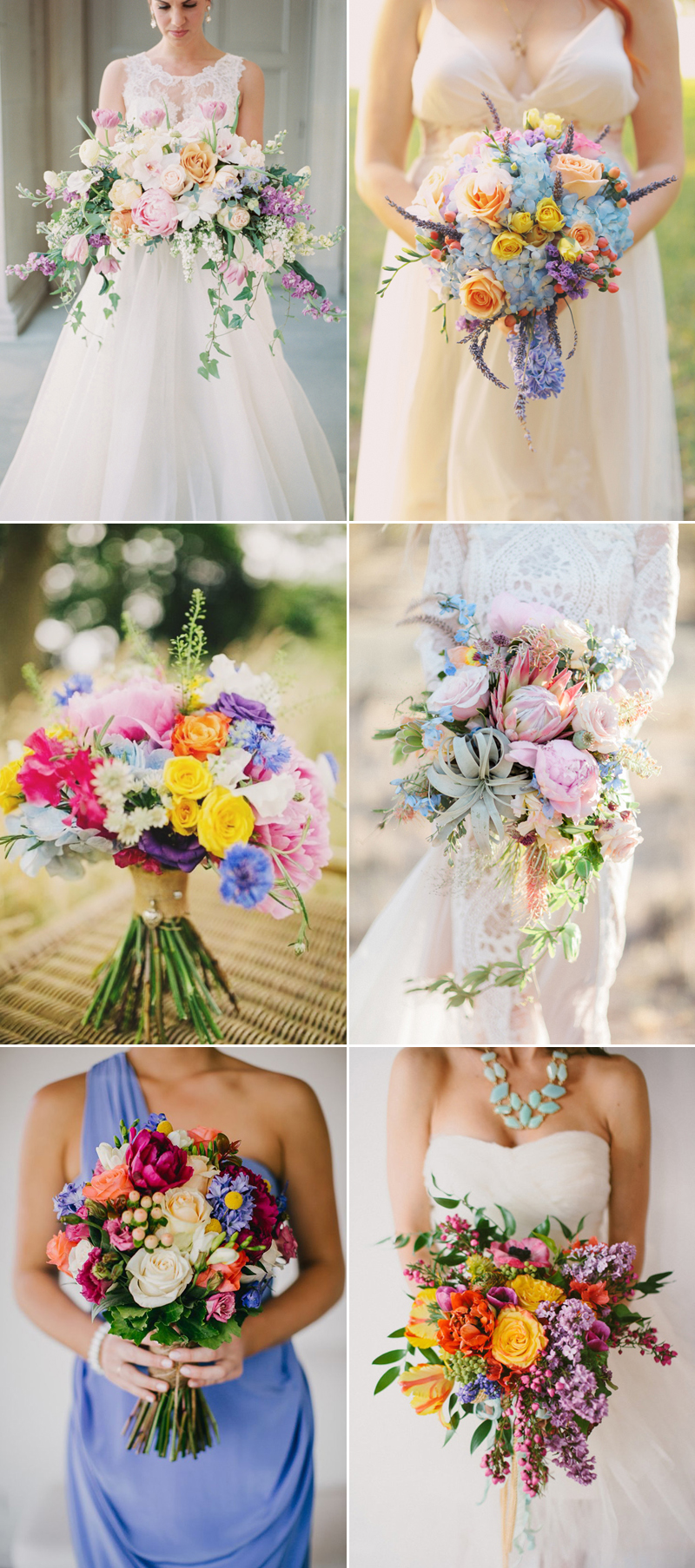 Beautiful Combination Rainbow Wedding Bouquets
These colorful wedding bouquets are suitable for your wedding day. With a variety of beautiful flowers, it will present a beautifulness. If you are flower lovers, this is very recommended for you. A rainbow color for beautiful wedding bouquets like the picture above become the best solution for a summer wedding also.
So, which are rainbow wedding bouquets you that you prefer?