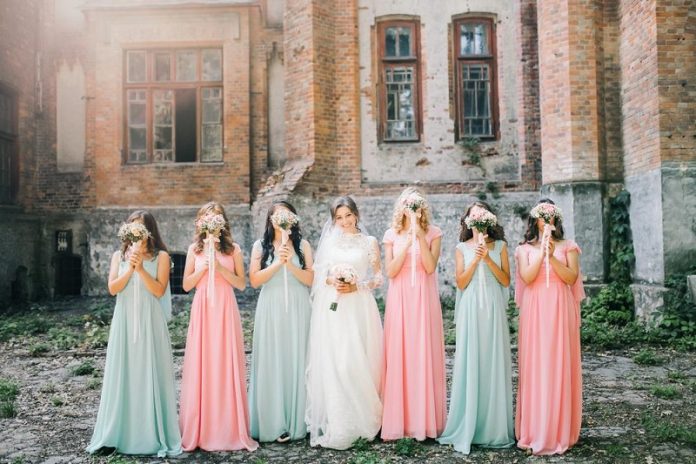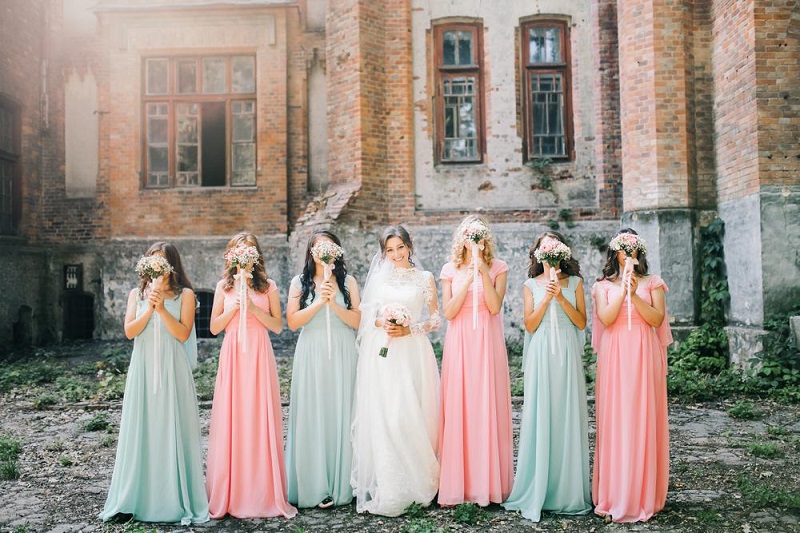 When it comes to wedding photos, the bride and her bridesmaids always steal the show. You spent a lot of time and effort into searching for the perfect wedding dress and bridesmaid dresses for your gals, so why wouldn't you want to show them off?
To capture the perfect shots of you and your bridesmaids in all your wedding day glory, you should have in mind some ideas for poses or specific moments you want to highlight. This way, you can be on the same page as your wedding photographer.
Stumped for ideas? Here are 10 shots of the bride and bridesmaids you'll want to have in your wedding album:
First Look of the Bride
It's always adorable to see the first look between the bride and the groom. Another first look photo that you don't want to miss is the moment your bridesmaids see you in your wedding dress for the first time.
Sure, they saw you in your dress when you first tried in on, but this is much different. Your hair and makeup are done, your accessories accentuate your look and you have that nervous excitement that shows on your face. The moment is now real for your bridesmaids.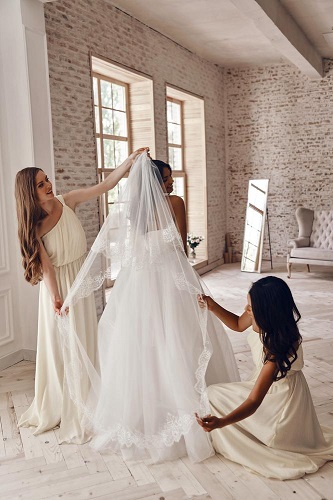 Helping the Bride Get Ready
Even if you're having your hair and makeup done professionally, your bridesmaids are there to help with the little things. You can expect a bridesmaid or two to be fluffing your dress, fixing a veil or tucking a wayward curl back into place.
These shots are always lovely because they show the attentiveness and caring nature of your bridesmaids. Your photographer should be snapping away to capture these tender moments while your bridesmaids fuss over you.
Showing Off the Dress and Bridesmaid Dresses
Both you and your besties searched long and hard for the perfect dresses to wear on your wedding day. Show off your impeccable style by hanging them all up together with your dress in the middle.
If you have mix and match bridesmaids dresses, be sure to arrange them in ways that look cohesive. For example, if you have the same dress color but in different styles, be sure to alternate them for a unique photo opportunity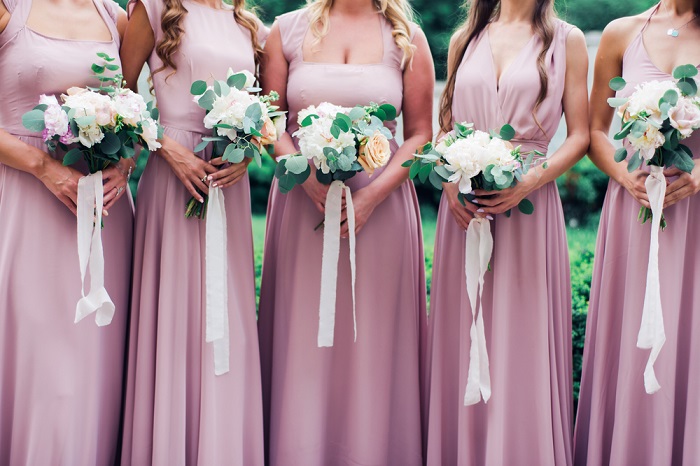 Sharing a Sweet Moment
There will be plenty of special moments between you and your bridesmaids. But if you're planning to do a pre-wedding prayer, a group hug or a toast to your girls, give the photographer a heads up. These types of candid wedding photos are the ones you'll cherish for years to come.
Accessories Shot
When taking photos of the dresses, don't forget to capture your wedding accessories as well. If you have beautiful jewelry and shoes that accentuate your bridal party style, why not show them off in a cool way?
You and your bridesmaids can show off your stunning heels — and killer legs — by standing in semi-circle and putting one foot in the middle. You could also have your bridesmaids put their jewelry on their dresses to make them stand out.
Bridesmaids Admiring the Bride
Who wouldn't want a picture of your bridesmaids marveling at how beautiful you look? The mirror shot is a classic that perfectly captures the mood right before your wedding.
Stand facing a mirror while your bridesmaids stand by the mirror. Have some of them looking into the mirror to admire you and some looking at the real you. Don't forget to have everyone holding their bouquets for a stunningly beautiful shot.
Backs Turned with Bouquets
Many brides want a shot of their backside for multiple reasons. First, a woman's back a gorgeous angle to show off her elegant shoulders and curves.
More importantly, it's a good shot of the intricate details of both the bride's and bridesmaids' dresses. If your dress includes a stunning backside, this shot is a must-have. The bridesmaids holding their bouquets behind their backs will add interest to your photos.
An Epic Shot
An epic shot is a photo that stands out in your wedding album. It could be funny — either intentionally or accidentally — or it could be a breathtaking shot of you and your ladies in front of a scenic backdrop.
For example, some brides and her leading ladies have taken hilarious mugshots, taking shots at the bar and or just a picture of everyone being goofy.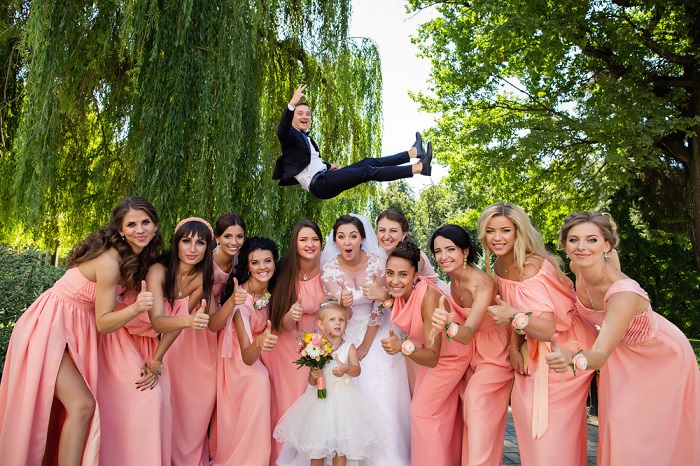 Scope out your wedding venue for epic photography ideas. Be sure to run them past your photographer to see how feasible the ideas are. They might suggest something else due to issues with lighting or safety.
Maid of Honor and the Bride
Through all the ups and downs of planning your wedding, your maid of honor has never left your side. Whether she's your sister or your best friend, you need at least a few shots of you and your maid of honor on your wedding day.
For a posed shot, you can't go wrong with the two of you standing side-by-side and smiling at each other. A good wedding photographer should also be able to capture those special candid moments between you and your maid of honor before the wedding as well.
Smiling at the Bride
A simple shot of you and your bridesmaids standing side-by-side and looking at each is a quintessential wedding shot. This gives you the chance to highlight your wedding colors by positioning your bridesmaids according to their mix and match looks.
This bride alternated different shades of blue for a beautiful and vibrant look: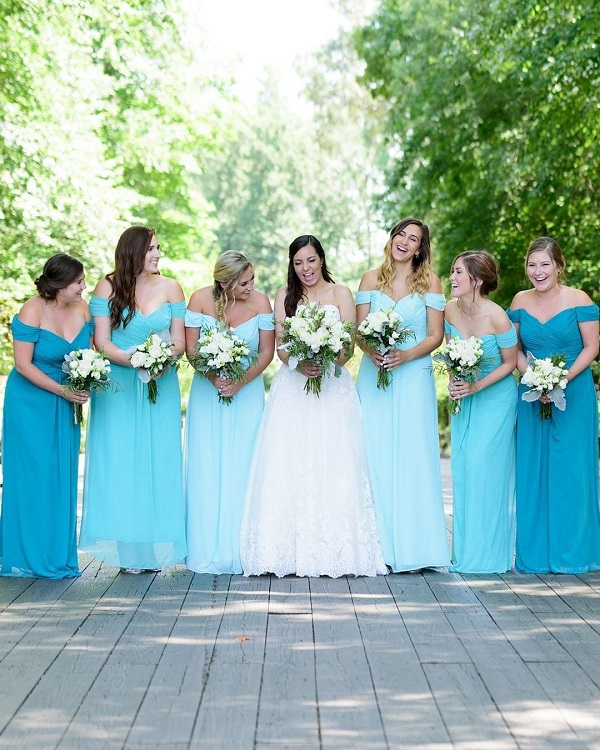 Final Thoughts
Remember that your wedding photographer can't read your mind. To capture all the shots you want, you need to go over your ideas with them well before your big day.
They will be super grateful that you gave them your vision in advance and your wedding photos will turn out to be spectacular — everyone wins!